Trinamul is planning a series of protests to demand the arrest of BJP leader Suvendu Adhikari, after Saradha Group owner Sudipto Sen purportedly accused the former state minister of blackmail and extortion.
Trinamul's state secretary Kunal Ghosh on Saturday said the party's youth and students' wing would protest in front of the CGO complex in Salt Lake — that houses the CBI and ED offices — on Monday, demanding the arrest of Nandigram MLA and the leader of the Opposition.
Ghosh added that an eight-member delegation led by education minister Bratya Basu would call on governor Jagdeep Dhankhar to urge him to speak to the Centre to act against Suvendu."The governor always speaks on different issues. Let him speak to the Union government to arrest Suvendu," Ghosh added.
On Saturday, a news release issued by Trinamul said that Ghosh, MLA Babul Supriyo, youth wing chief Sayoni Ghosh and students' wing chief Trinankur Bhattacharya will be present at the protest in front of the CGO complex.
Protests will be held in East Midnapore's Haldia and Contai, both Suvendu's turf, led by ministers Manas Bhunia and Akhil Giri, respectively.
A party statement read: "An eight-member delegation of AITC led by Shri Bratya Basu will meet Governor Jagdeep Dhankhar on Tuesday at 11:30 AM seeking action against BJP leader Suvendu Adhikari in connection with his involvement in the corrupt activities."
Dhankhar took to his Twitter handle to announce this meeting but added that "no particular issue was flagged".
Suvendu said this narrative was being spun by Trinamul since chief minister Mamata Banerjee hadn't been able to forget her defeat at his hands at Nandigram in 2021 . "Let them do all these. My TRP will only increase," he said.
CPM and Congress, however, demanded action against both Suvendu and Trinamul leaders whose involvement in the Saradha scam has been alleged.
"Trinamul is angry because Suvendu didn't give them a share from the money he has extorted," said CPM leader Sujan Chakraborty. State Congress chief Adhir Ranjan Chowdhury demanded action against all accused persons alike.
Bengal logs two Covid deaths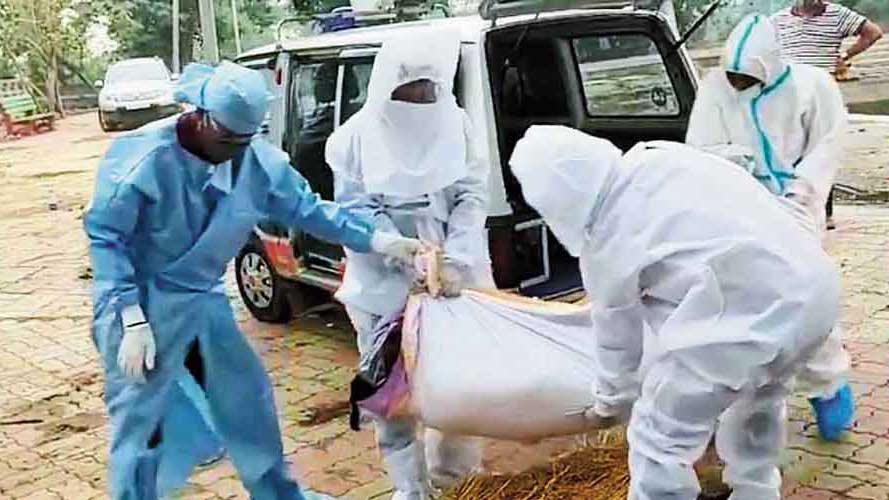 Representational file image
Bengal on Saturday reported 235 new Covid-19 infections, 217 recoveries and two deaths, with the case positivity rate at 7.04 per cent.
Currently, there are 3,496 active cases in the state, with 3,368 in home isolation and 128 in hospitals, according to the state bulletin.
The state's positive recovery rate was 98.78 per cent and mortality rate 1.05 per cent on Saturday when 3,232 samples were tested.
Since the outbreak of the pandemic in March 2020, Bengal has recorded 20,24,479 cases, of which 19,99,767 have made full recovery.
Our Correspondent