Traffic violaters turn law keepers
Road safety lessons fed with licence return bait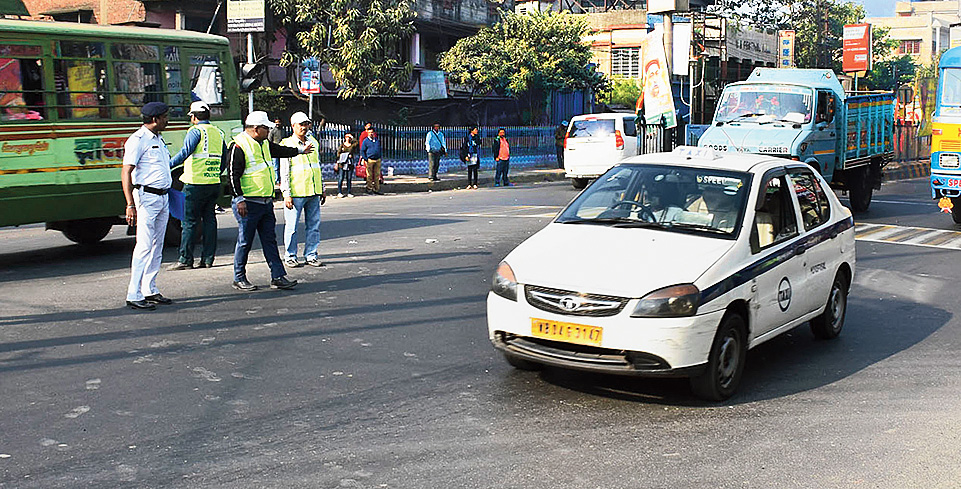 Traffic offenders regulate traffic in the company of a policeman at Birati More on Jessore Road.
Mayukh Sengupta
---
Calcutta
|
Published 11.01.19, 03:16 PM
|
---
If you are at the wheel and suddenly spot your neighbour in a fluorescent jacket, pulling you up for speeding, do not take it as a prank. Chances are he is doing community service as a traffic police volunteer.
In what was possibly a first such instance in Bengal, the Bidhannagar Police Commissionerate had started an experiment in raising awareness about road safety eight months ago in which people caught violating traffic rules are given an option to sign up for traffic management training and duty on the road. This Sunday, with 20 volunteers being trained and declared ready for deployment, the number of traffic rule violators to have opted for the programme since May 6, 2018 has crossed 300.
There are certain offences for which driving licences are suspended for not less than three months. In 2015, the Supreme Court committee on road safety had issued a directive to suspend a person's driving licence for a period of not less than three months under Section 19 of the Motor Vehicle Act, 1988 read with Rule 21 of the Central Motor Vehicles Rules, 1989 for:
i) Driving at a speed exceeding the specified limit which includes red light jumping;
ii) Carrying overload in goods carriage and carrying persons in goods carriages;
iii) Driving vehicles under the influence of drink and drugs;
iv) Using mobile phone while driving a vehicle
"But we observed that despite rigorous prosecution, the number of traffic violations was not decreasing. Prosecution is not our aim, raising awareness about road safety is. That is why we thought of a different approach. Many traffic violaters have aged parents needing a vehicle for movement or children to be ferried daily to school. Such numbers are high, especially in Bidhannagar. For them, having the driving licence suspended for upwards of three months is a genuine problem for the entire family," said a senior police officer of the commissionerate.
Such people are given a chance to opt for six hours of training and 16 hours of traffic duty alongside traffic police personnel. "They can break the 16 hours into multiple days and choose any area under the commissionerate where to do duty. Once they complete their duty hours they can get the licence back," the officer explained.
"So far, 312 drivers have opted for voluntary counselling but only 210 got their driving licence back immediately. That is because of the 312, 102 people undertook the training but did not come back for the community service," said an official at the traffic guard, headquarters.
The training is imparted every Sunday at the airport traffic guard office in Gouripur. Each person is given a fluorescent jacket with the words "Community service volunteer' written on the back.
"Most people are very enthusiastic about the voluntary service. One of them proudly told me, 'I was an offender, now I am defending the law'," smiled the senior officer.
Vishal Bagrodia of FE Block, who was caught for drunk driving near City Centre and underwent the training, points out that while one may not appreciate the risks on the road seated at the wheel, standing at a street corner, one can see for oneself how a hasty turn can cause a serious accident. "Now I obey all rules," the 44-year-old smiles.
Police say it has a greater impact when civilians speak to other civilians, asking them to follow rules, rather than policemen doing the job.
Compared to 2017, the number of road accidents under the Bidhannagar Commissionerate went down in 2018. In 2017, 56 people had died in the commissionerate area. In 2018, the corresponding number was 42. In 2017, there were 274 accidents; in 2018, it came down to 230. The number of injuries too fell from 276 in 2017 to 244 in 2018.
"With the number of vehicles on the city roads on the rise, there are greater risks of accidents too. If despite that, accident rates show a downward trend, that shows greater awareness among drivers about road safety rules. If the 300-odd people we have trained pass on the lessons they learnt to 10 people each, our mission would be a success," another officer said.