TMC asks Cong to invite all anti-BJP parties to meetings
The Aam Aadmi Party, Bahujan Samaj Party and Asaduddin Owaisi's AIMIM were not invited to Friday's virtual Opposition meeting, called by the INC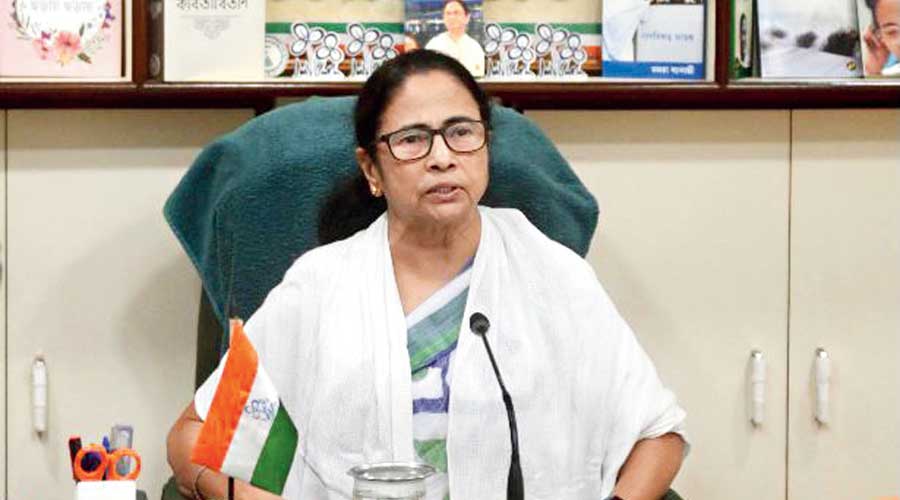 Mamata Banerjee attends the Opposition meeting online from Calcutta
Telegraph picture
---
Calcutta, New Delhi
|
Published 21.08.21, 02:10 AM
|
---
The Trinamul Congress on Friday nudged the Congress to invite all parties opposed to the BJP to Opposition meetings instead of making it a Congress-and-allies affair.
Every Opposition party should be enlisted in the fight against the BJP, chief minister Mamata Banerjee said.
Parties like the Aam Aadmi Party, Bahujan Samaj Party and Asaduddin Owaisi's AIMIM had not been invited to Friday's virtual Opposition meeting, called by the Congress.
Mamata is said to have batted for the CPIML too to be included at these meetings.
Her suggestion for broad-basing Opposition unity apparently found support from Maharashtra's Shiv Sena chief minister, Uddhav Thackeray.
Mamata also said that who would lead the Opposition was a secondary question, and that all like-minded parties should keep their individual differences and personal interests aside.
Her view was that the people would lead, and that a leadership would emerge once the joining of forces gained momentum.
"Let us forget who the leader is; let's keep our personal interests aside. The people of India will lead," a Trinamul source quoted Mamata as saying at the meeting.
"Every Opposition party should be brought in to fight the BJP. All Opposition leaders have to move fast, walk together and forget our ego to fight the BJP."
Mamata suggested that for better coordination, a core group be set up to meet at least twice a month while the larger group met monthly. This suggestion found takers, and a mechanism for regular coordination is likely to be set up.
Trinamul also differed with the Congress approach of drawing up a joint statement with a long list of demands.
"Going forward, we should restrict our agenda to only five issues of national importance," Mamata said, according to a statement issued by Trinamul on the points she had raised at the meeting.
The five issues Trinamul has identified are: vaccination for all, repeal of the contentious farm laws, a rollback of the petrol, diesel and cooking gas prices, a monthly payment of Rs 7,500 to all outside the income-tax bracket, and a judicial probe into the Pegasus snooping controversy.
Mamata also brought up the subject of the autonomy of national institutions being allegedly compromised on the Narendra Modi government's watch.
She said the Centre had "misused" the National Human Rights Commission to "malign" states ruled by non-BJP parties, such as Bengal.
Among those who participated were Uddhav, Nationalist Congress Party leader Sharad Pawar, DMK chief and Tamil Nadu chief minister M.K. Stalin, Jharkhand Mukti Morcha leader and chief minister Hemant Soren, National Conference leader Farooq Abdullah, PDP chief Mehbooba Mufti, CPM general secretary Sitaram Yechury, CPI general secretary D. Raja and LJD chief Sharad Yadav.