Tips from Rahman school tutor
10-day workshop by Swiss-German vocalist Eric Forster

---
---
A Swiss-German vocalist with more than 15 years' experience in the opera and who has recently completed a three-year stint teaching at A.R. Rahman's KM Music Conservatory (KMMC) in Chennai was at Baisakhi recently.
Eric Forster had collaborated with Roland Music School, that has a branch at AMP Vaisaakkhi mall, to impart vocal training lessons. Participants of the 10-day workshop included school students, amateurs as well as professional singers.
"These students are Hindustani classical singers, Bollywood, ghazal or Rabindrasangeet singers but it doesn't matter what stream you're from. I'm not teaching a style of singing, I'm teaching singing itself and it benefits everyone," said Eric.
There were team games and solo sessions where Eric heard out the singers, while accompanying them on the piano or guitar, and doled out individual tips.
So when a student was going out of breath singing Ava Max's So Am I, Eric made her lie down on stage, keep a book on her belly and make her sing such that she and all the others could clearly see the book rise and fall as she breathed. "You must breathe from your stomach and not chest. Your belly must expand when you inhale and contract when you exhale," he showed.
Hiranga Chakraborty, a ghazal singer, was advised to let his music — and not his face — express the emotion of his song. "Else you overdo it. You see, a comedian is funny because of his joke, not because of his mannerisms. When singing a sad song the singer shouldn't look depressed," said Forster, who is also president of the Swiss Society of Musical Education.
"I use a lot of visualisation while training. For instance, when beginning a song, I ask students to open their mouth imagining they are slowly opening an umbrella," he explained.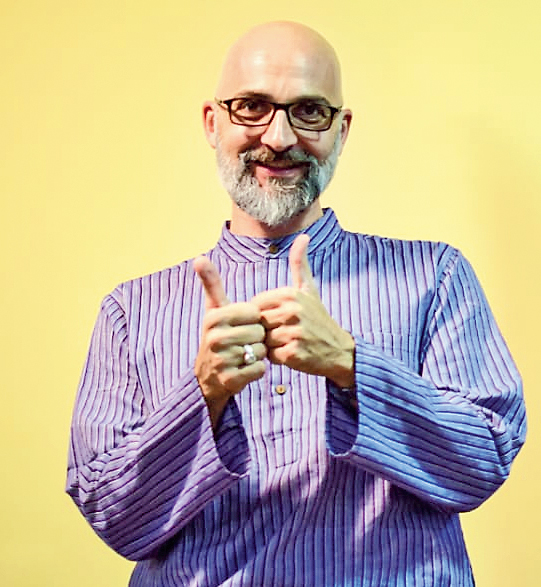 One of the students — Sharmi Chakraborty — is an alumnus of KMMC. "Most people say Kishore Kumar sounds great and stop at that without analysing why. There is science behind the art of singing. The muscles, ligaments, physiology — and not just vocal cords — make a voice sound good. Else you strain your vocal cord, lose your voice or get tired quickly," said the lady who sings with musicians like Rupankar Bagchi.
Eric himself trained in Hindustani classical music when he moved to Chennai. "I had to do it if I wanted to relate to Indian students, who primarily sing indigenous music," he said. "Not much care is taken of vocal health in India. This is why singers here often get nodules and polyps whereas western classical singers easily sing up to the age of 70."
Given how busy A.R. Rahman is, Eric didn't have much interaction with him but he loves his songs like Kadhal Rojave (the Tamil version of Roja janeman). "Rahman is a genius and this particular song I have performed on stage and recorded too. I also like S.P. Balasubrahmanyam and how he uses his voice. In fact, I use the Shazam app in taxis all the time to identify Tamil or Hindi songs for my collection," he smiled.
Eric felt talent in India was great, especially how male singers here have very high (tenor) voices, a quality rare in Europe.
On the final day, students put up solo, duet and group performances of songs like Ajeeb daastan.
Director of Roland Music School, Jyoti Bansal, couldn't be prouder. "This workshop was such a success that we want to bring back Eric and other international trainers. We want to tap the rock musicians in the city, who would benefit greatly by training with professional musicians from the West," she said.