Tea Act tweak triggers fear of oversupply and reduce profitability in the sector
On August 23, the Union commerce and industry ministry issued a notification suspending seven sections of the 68-year-old central act 'in public interest'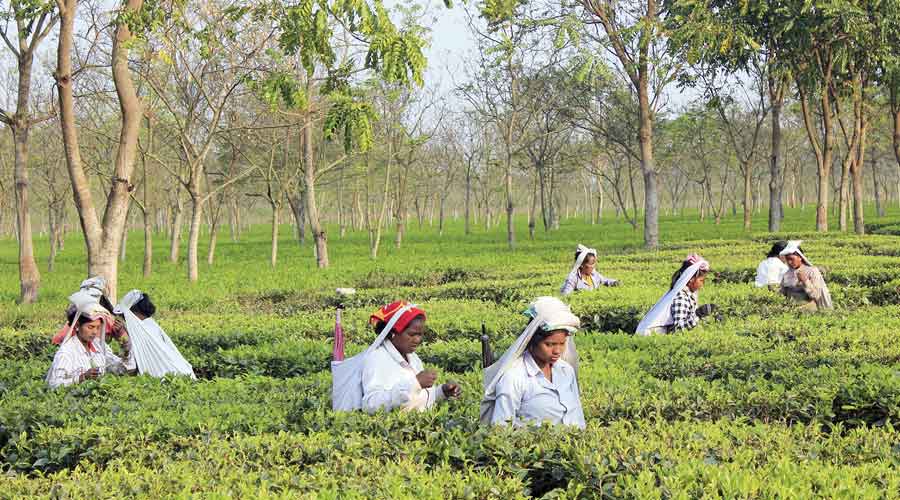 A tea garden on the outskirts of Siliguri.
Telegraph picture
---
Siliguri
|
Published 27.08.21, 03:22 AM
|
---
A recent move by the Union commerce and industry ministry to amend a 68-year-old central act that used to restrict tea cultivation without clearances has caused many in the brew belt to believe that it would result in excess supply and reduce profitability in the sector.
On August 23, the ministry issued a notification suspending seven sections of the Tea Act, 1953, "in public interest".
Sections 12 to 16 were about restrictions on tea cultivation and rules such as permission from the tea board, to plant tea in normal or special circumstances, or run a tea nursery.
Section 39 was on penalty of up to Rs 5,000 in case of violation of the earlier sections. Section 40 said in case of violation, tea bushes planted in an area without permission can be removed from the plot.
As these sections have been suspended, representatives of tea planters' associations fear unbridled mushrooming of tea plantations, especially in rural areas of tea districts.
"These sections used to safeguard the interests of the industry. Now that these sections will no longer be in force, we apprehend more tea plantations will come up across the country. This will lead to an abrupt rise in production of tea leaves and oversupply that can bring down tea prices," pointed Prabir Bhattacharjee, secretary general, Tea Association of India.
A senior tea planter in Siliguri said the decision was a fresh challenge for the industry beset with many existing problems.
For the past few years, the tea board stopped paying subsidies to tea estates for jobs such as rejuvenation of plantations, field mechanisation and improvement of factories.
"Many tea gardens invested in these jobs but haven't got subsidies. In addition, in Bengal, there is pressure from the trade unions and state government to revise workers' wages. In such a situation, many tea estates have financial problems. Now if tea prices start coming down, operations will not be sustainable," he said.
Some tea planters feel this may be one of the first reforms by the Narendra Modi government as it indicates reduced power and responsibilities of the tea board.
"A few days back, the tea board relaxed the norms for obtaining licences of tea distribution and export. This is also significant," said a planter.
The decision to suspend the seven sections has also led  small tea growers, who contribute close to 50 per cent of India's tea production, to worry. Bijoygopal Chakraborty, president of the Confederation of Indian Small Tea Growers' Associations, said they also dreaded oversupply.
"Even after the tea board's decision to fix a minimum price of tea leaves, we often sell tea leaves at lower prices and at times, it does not even cover our cost of production. Now if fresh tea plantations start coming up in rural pockets, it would only worsen the situation for us," said Chakraborty.