Taxis, app cabs defy Left-backed unions' strike in Calcutta
Loss fear prompts move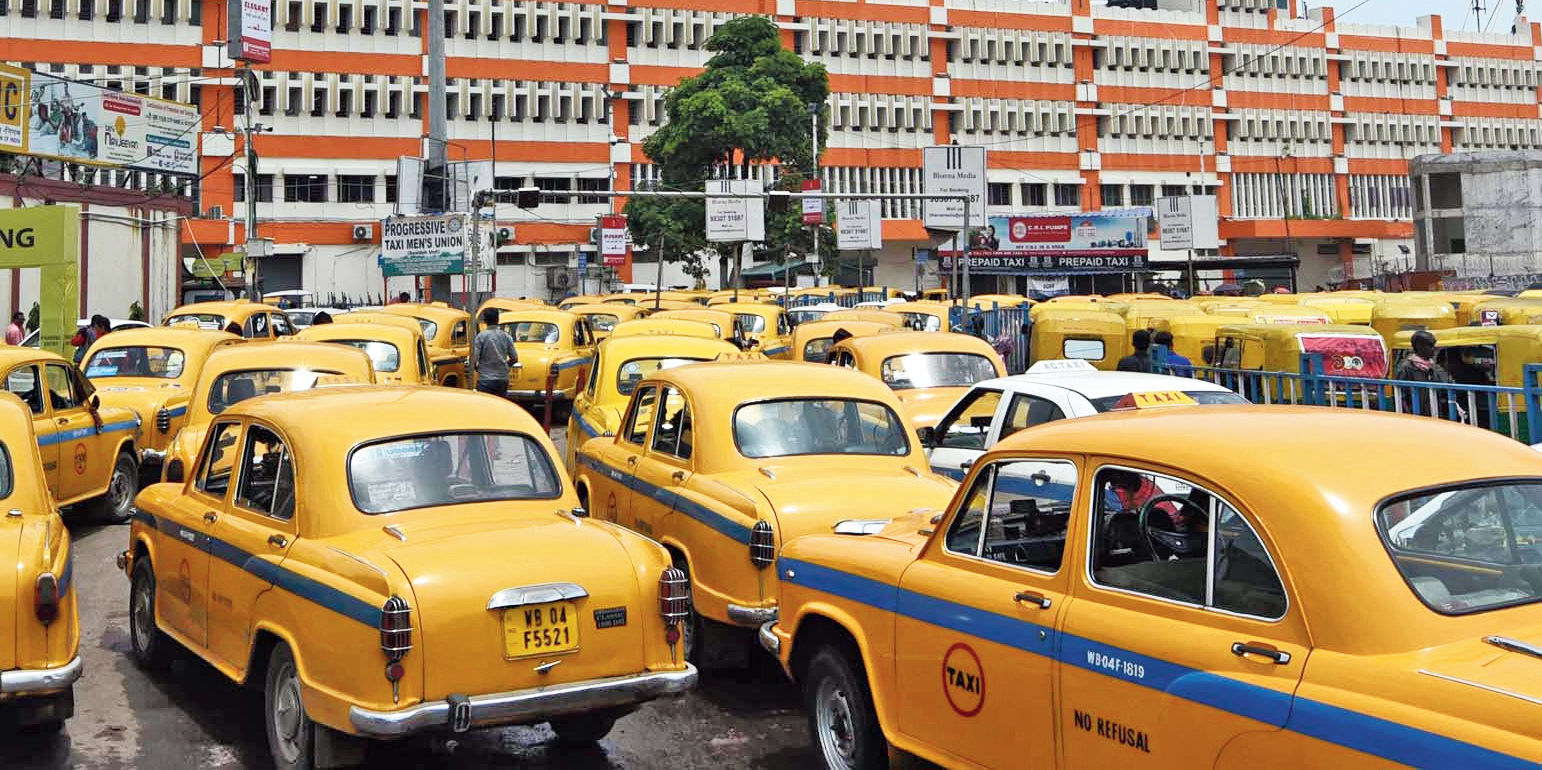 ---
|
Calcutta
|
Published 06.08.19, 09:56 PM
---
The two-day strike by Left-backed unions of app cab owners and yellow taxi operators bombed as most vehicles came out on the road, primarily because no one wanted to lose money when business was anyway down.
Yellow taxies were in plenty at Sealdah and Howrah stations and at the airport. During peak office hours, commuters faced no hurdle to either book app cabs or find a taxi. No incidence of union leaders stopping cabs and pulling out passengers was reported.
The call for a 48-hour strike across Calcutta didn't resonate with the yellow taxi operators and app cab owners. Taxi drivers said a day's loss around this time didn't make much sense.
"After paying for diesel and traffic fines, a driver carries home anything between Rs 250 and Rs 300 a day," said Bijay Prasad, a taxi driver at Kasba. "That's around Rs 9,000 a month. A two-day strike would mean a loss that the unions won't compensate," he said.
Just a month back, Calcutta had witnessed a 48-hour strike on July 1 and 2. Many app cab drivers had then joined the protest and so did the taxi drivers. On Tuesday, this lot seemed reluctant to stay offline. Many said they were close to finishing the week's target. That would mean bagging an incentive of around Rs 5,000. Joining the strike would have meant missing out on it.
"Unless an app cab owner bags the weekly incentive it gets difficult to run the service. A driver takes away Rs 60 per trip. You need money to pay the EMIs," said Manab Das, an app cab owner. "Last month we had stayed off the roads for our demands. It's too early for another protest," Das.
In July, app cab drivers and owners had protested against the indiscriminate blocking of driver IDs by the two companies — Ola and Uber — on "flimsy grounds". Since then the two companies have had meetings with leaders of the West Bengal Online Cab Operators' Guild and part of their grievances have been addressed.
"Both the companies have shown an effort to hear us out. Some of the IDs of drivers have been restored," said Indranil Banerjee, the guild's convener. "We can only hope that this bridge-building continues."
Guild members, who had extended their moral support to their Left-backed counterparts on Monday, didn't stay off the roads. Almost everyone was out.
Leaders of the West Bengal Taxi Workers' Union said the response had been "good", but it could have been "better" had some of the unions, who had promised to join, not bowed out in the last moment.
"The strike's response has been quite good. Only 30 per cent of yellow taxis were out on the roads," said Pramod Jha, secretary of the union. "It could have been better. But some unions withdrew suddenly."
Members of several taxi drivers' unions said they were not convinced with the strike call and didn't want to join.
A taxi driver, who didn't want to be named, said: "Our leaders told us there is no immediate plan of the government to increase the minimum fare. So what's the point?"