Turncoat hurt us in polls, says youth leader
Suvendu reason for big losses, says BJP's Saumitra Khan
According to sources Bengal BJP youth wing's president — also a Trinamul turncoat — believes Adhikari has hurt the party's chances in Jungle Mahal areas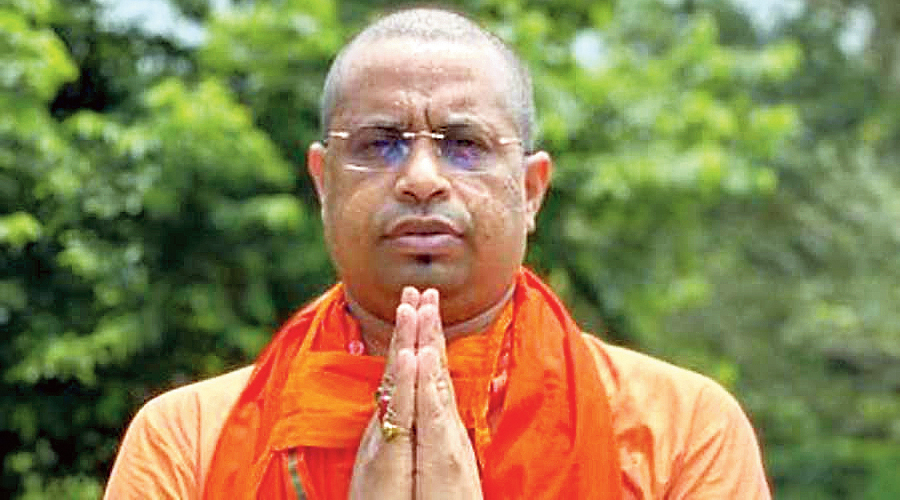 ---
Calcutta
|
Published 21.05.21, 02:25 AM
|
---
Bengal BJP youth wing's president Saumitra Khan has offered to resign from his post, citing discontent over the election of Trinamul turncoat and BJP MLA Suvendu Adhikari as the leader of Opposition.
Multiple sources in the party said that Saumitra believed that the induction of Suvendu was one of the reasons behind the drubbing BJP received in the Bengal polls and it would be a disaster to project him as the party's face in the Bengal Assembly.
"Saumitrada is upset with Suvenduda's election as the leader of Opposition. He has informed senior leaders of the party about it and sought relief from his post at a party meeting on May 11," a source close to Saumitra told this paper.
Suvendu was elected leader of Opposition on May 10.
According to multiple party leaders, Saumitra — also a Trinamul turncoat — believes Suvendu has hurt the BJP's chances in the Jungle Mahal areas. While the saffron camp made major inroads into West Midnapore, Jhargram, Purulia and Bankura in the 2019 polls, it couldn't hold on to the votes in 2021.
Saumitra believes the CPM votes in these areas, which shifted to the BJP during the Lok Sabha polls, moved to Trinamul after Suvendu joined the BJP.
"CPM voters have been victims of Suvenduda's wrath in the last 10 years. They voted for us in 2019 to defeat Suvendu and not Trinamul. In 2021, they voted against Suvendu," another source in the BJP' youth wing said.
"Electing Suvenduda as the leader of Opposition will alienate these voters forever," Saumitra reportedly told his party seniors.
Since last week's meeting, Saumitra has reportedly been asked to focus more on his Lok Sabha seat Bishnupur and has been less involved in the matter of the youth wing.
On Monday, Saumitra held a virtual meeting with leaders of the Bharatiya Janata Yuva Morcha (BJYM), which was attended by Bengal BJP's general secretary (organisation) Amitava Chakraborty.  Here, sources said Saumitra vented his displeasure over the party's not utilising the youth wing during poll campaigns.
"The youth of Bengal have voted for Mamata Banerjee. If our youth wing was allowed to exploit possibilities, things would've been different," another BJYM source said.
This leader, however, added that Saumitra did end on a conciliatory note, saying Yuva Morcha members would continue to work as dedicated soldiers of the party.
Saumitra has been at loggerheads with the BJP state unit leaders, including president Dilip Ghosh, something the Assembly poll debacle again brought to the forefront.
Asked by this paper, Saumitra declined to comment on the issue, calling it an internal matter of the party.
Another BJP youth leader Raju Sarkar, in a message sent to the official WhatsApp group of the Yuva Morcha on Tuesday, said "thieves and thugs" got central security while grassroots workers were attacked. Sarkar also resigned from his post as BJYM vice-president.