Surge pricing by Salt Lake autos during Book Fair
Drivers claim it is fair to charge higher, passengers grumble but play along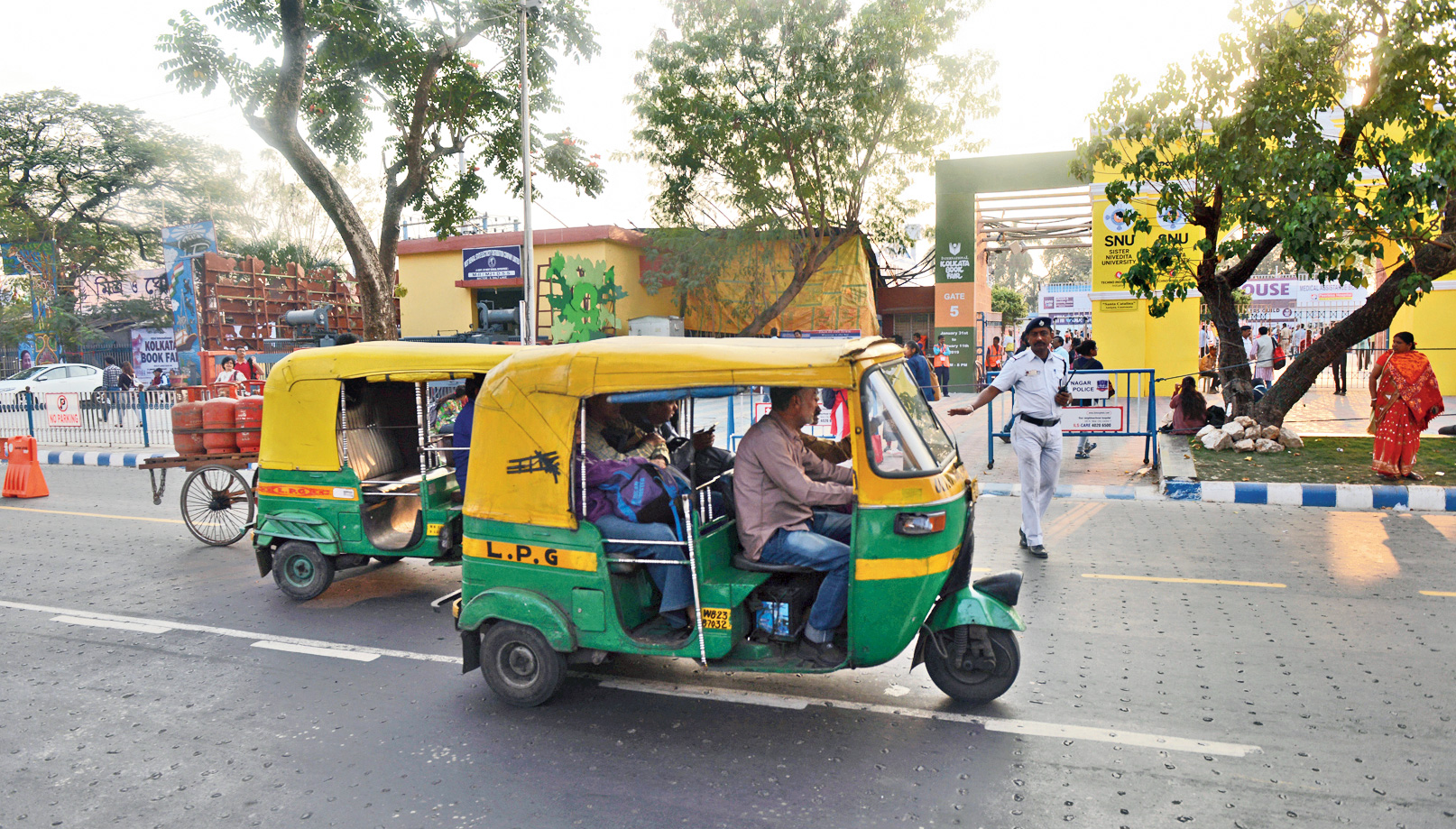 ---
|
Calcutta
|
Published 05.02.19, 09:19 PM
---
The beeline for the Book Fair in Central Park has led autorickshaw drivers to introduce their own version of surge pricing, raising fares by up to Rs 20 once demand peaks in the afternoon.
The Book Fair shifted to Central Park last year because Milan Mela, the regular venue, is in the middle of an overhaul. For Salt Lake, this has become a traffic and transport curse.
A ride from Ultadanga to Salt Lake during the Book Fair costs Rs 30, double of the usual Rs 15. City Centre to Karunamoyee by auto will set you back by Rs 15 instead of the normal fare of Rs 10. Baisakhi to Karunamoyee costs Rs 12, which is Rs 3 higher than what regular commuters are used to.
Despite higher fares, autos were in demand on Tuesday. If anyone was grumbling, the long queues suggested otherwise.
Autos are the preferred mode of transport in Salt Lake because they provide last-mile connectivity to many residential blocks where buses don't go. The sheer number of autos plying in the township give them the advantage over any other alternative.
More than 2,000 autos operate in Salt Lake alone, 10 times the number of buses that go through the township.
Bikash Jana, a 42-year-old auto driver on the Ultadanga-Salt Lake route, said he and his colleagues had raised fares because the Book Fair rush presented the opportunity to do so. "Most visitors to the fair spend a lot on books and food. We are sure that paying a bit extra to travel comfortably won't burn a hole in someone's pocket."
The auto unions usually fix fares and the rule is to put up a fare chart where passengers cannot miss it. Surge pricing is strictly unofficial, though.
Commuters whom Metro spoke to said fares had been generally higher between 4pm and 10pm since the Book Fair opened. The gates to the fair open at 12pm and visitors are allowed in till 8pm.
"We are being fleeced every day. Today, I was forced to pay Rs 35 for a ride from Ultadanga till the Karunamoyee bus stand. The fare for that distance is Rs 15. The driver told me that fares had increased because of the Book Fair and that I should get off if I had a problem with it," said 29-year-old Arpita Sarkar, who was returning home.
Utsav Bhattacharya, a 49-year-old government employee, said two drivers gave him different reasons for the fare surge. "On Monday, a driver told me that he was charging more since he would have to take a longer route because of traffic diversions. I soon realised that there was no diversion. This evening, another driver told me he was charging more because of the Book Fair."
Nirmal Dutta, a leader of the Trinamul-affiliated auto drivers' union, said he had "barred" a driver from ferrying passengers in Salt Lake for a week for raising fares.