Splotch! Uninvited guests leave their mark in Salt Lake
It is now a common sight to find cows sauntering unperturbed down a busy road in the township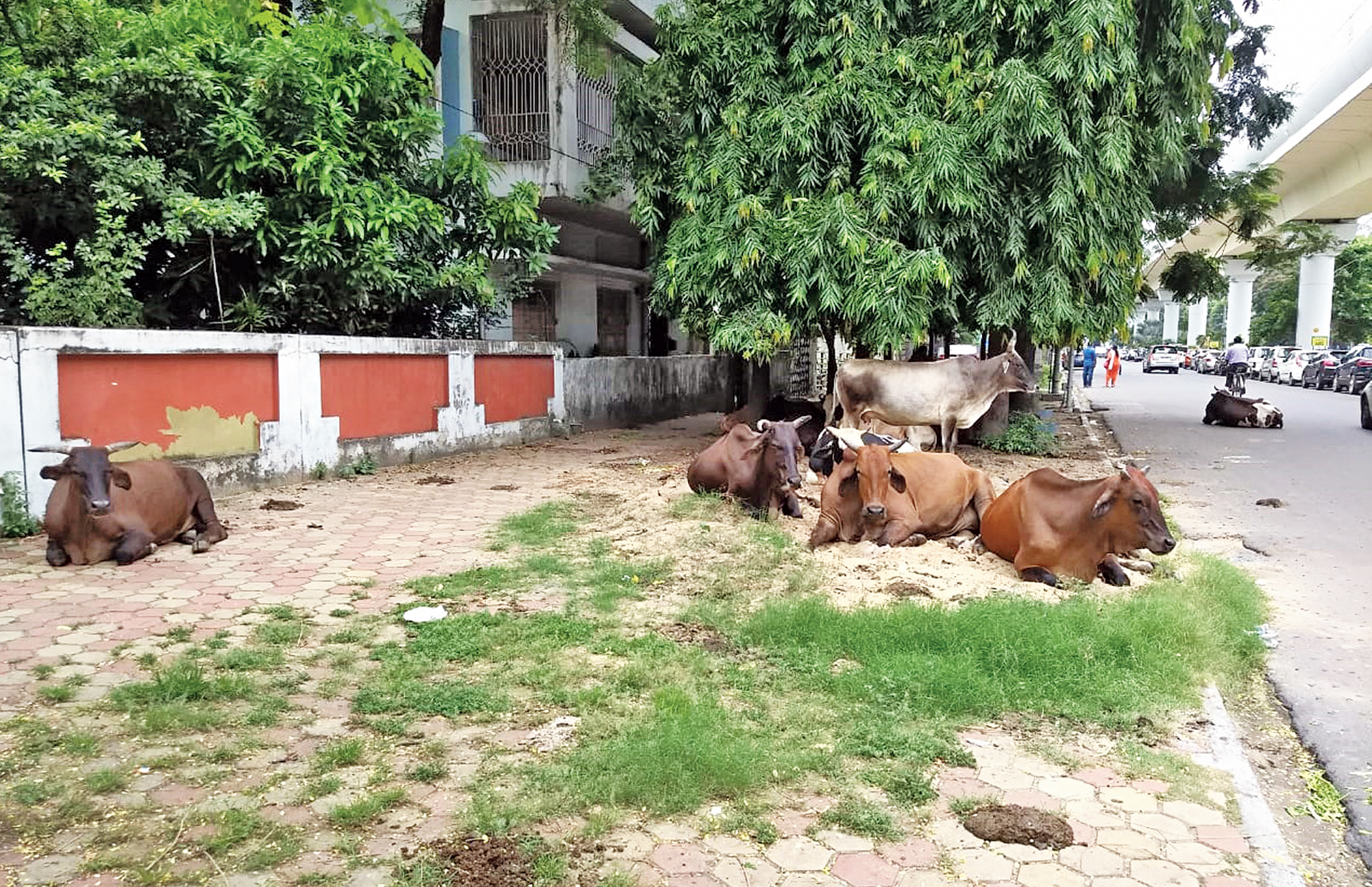 ---
|
Calcutta
|
Published 12.08.19, 11:10 PM
---
Stray cows are taking over the thoroughfares and streets of the township. It is now a common sight to find cows sauntering unperturbed down a busy road in the township, often leaving a trail of dung behind them.
The animals, quite used to having humans around them, are unafraid of traffic and often walk right onto the path of approaching vehicles causing motorists to slam on their brakes or swerve dangerously to avoid hitting them.
Metro drove around Salt Lake on at least three days and counted at least 20 heads of cattle in several places, including in front of City Centre, Labony Island, near Hariyana Vidya Mandir School in BA block, and near the footbridge across the Kestopur canal adjacent to Bidhannagar East police station in AL block.
The cows not only stray onto the roads but they also move around the blocks foraging for food. Several graze on the grass growing on the vacant plots of Salt Lake, while their favourite haunts are the beautified median dividers near the City Centre where they pluck leaves off the plants and munch on them.
Two calves were seen tied to a monkey bar inside a park in AL block, while the adults were out grazing somewhere else.
A section of residents lamented that a township that once prided for its cleanliness was strewn with dung all over, often fresh and swarming with flies. "Flies swarm around the dung and then enter our homes. Our locality now looks dirty and unhygienic," said Sayan Roy a resident of BD block.
Many others do not complain. They feed the cattle a mix of chapattis, vegetable and fruit peel.
Although no official figures are available with the Bidhannagar Municipal Corporation, a civic body official said that they were aware about "illegal cattle sheds operating out of Duttabad and on the banks of the Kestopur canal" that flows along Salt Lake's periphery.
Cowsheds or khatals had been declared illegal in Calcutta Municipal Corporation jurisdiction and any other area administered by a corporation in the 1980s. Running a khatal in Calcutta and Salt Lake is illegal, an officer of the animal resources department said.
They are supposed to be outside the limits of the municipal area. "Illegal cowsheds or khatals are unhygienic and pollute the environment. They are breeding grounds for mosquitoes and no one can run them inside the city limits," said an officer of the animal resources department.
According to the officer, the West Bengal Cattle Licensing Act, 1959, does not allow anyone in urban areas to keep cattle. "One needs to have a valid licence for keeping any head of cattle. These licences are not handed out to anyone living in urban areas. The act also allows officers to seize cattle from any cowshed operating illegally," said the officer.
Khatal removal drives had been carried out in the late 1980s and between 1994 and 1999. Nearly 4,500 cows, buffaloes and calves had been seized. The last drive in the city was in 2011, when the state government's decided to act following complaints from at least 16 different areas, including Gariahat, New Alipore, Garden Reach, Rabindra Sarobar, North Port police station areas, Chetla, Park Circus, Lower Range in Karaya Road, Behala, Garden Reach and Amherst Street regarding problems caused by khatals.
In New Town, teams from the New Town Kolkata Development Authority (NKDA) regularly catch stray cattle from the township roads.
An NKDA officer said these cows and buffaloes were taken to an NKDA-run cattle pound, where they are kept for seven days. If the cattle remained unclaimed, they were the put up for auction.
No such action has been reported from Salt Lake.
Most of the cows that stray into the township are let loose by owners of illegal cowsheds that have sprung up in Duttabad. Several residents of Kestopur also keep them in bamboo sheds.
Elisha Choudhury, a BC block resident, said cattle would often enter the block park to graze there.
"Children play in the park and have to avoid the parts where the cows graze. The mothers are worried. The herds often have bulls escorting them and all of them have huge horns," said Choudhury.
Another resident, Saptarshi Bhattacharya, said he almost crashed his two-wheeler as he could not spot a black cow sitting in the middle of the road while he was riding home one evening.
"I saw the animal at the last minute. I had to slam the brake. The rear wheel skidded but fortunately I did not lose balance," said Bhattacharya, a CF block resident.
Sajal Ghosh, 59, who stays in Kestopur opposite AL block, said that he had two cows that he rears for milk.
Ghosh who stays alone and is a tutor said that every morning he would let them loose like others in his locality.
There are around eight other families that keep cows and a boy escorts them till Salt Lake. "There are more areas for them to feed there (Salt Lake) as compared to here. Moreover, they are also given food from several houses. Once evening sets in, the boy again goes and brings them back. We cannot afford to pay for their fodder everyday so we let them loose," said Ghosh.
Babai Sardar, who runs a tea stall in AL block opposite the park where the calves were tied, said that they belonged to him.
"I also have two other cows that are set out every morning. Once evening sets in they come back. I keep the cows as I have several customers who buy their milk," said Sardar.
India is home to the largest livestock population in the world, according to the National Dairy Development Board (NDDB).