Siliguri: Schools open, traffic soars
Cops took up the uphill task of trying to keep traffic smooth across the city on Tuesday as thousands of students headed for schools for the first time after 20 months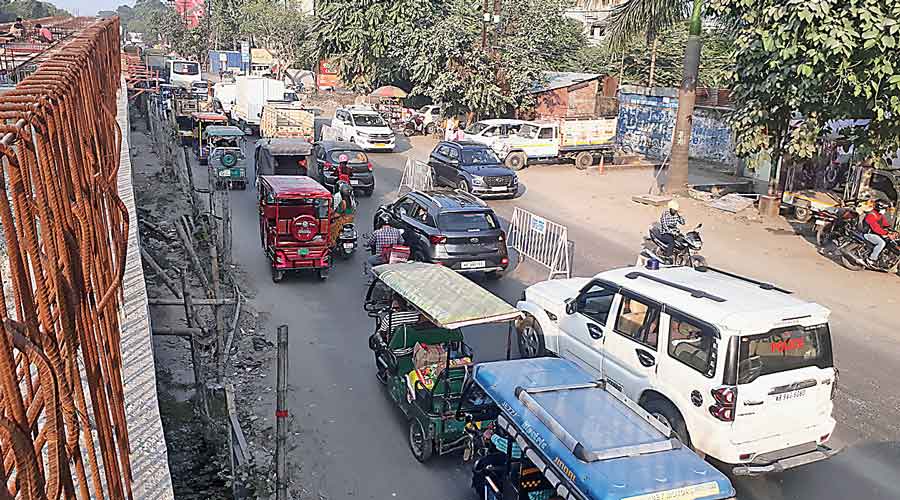 ---
Siliguri
|
Published 17.11.21, 03:34 AM
|
---
The Siliguri Metropolitan Police, especially its traffic wing, took up the uphill task of trying to keep traffic smooth across the city on Tuesday as thousands of students headed for schools for the first time after 20 months.
Along with the state-aided schools and colleges in and around Siliguri, a number of private English-medium schools and private colleges also resumed classes on Tuesday.
Over 150 school buses hit the streets to pick up and drop students.
"Today, 174 buses of educational institutions plied through various routes of Siliguri. We had to ensure that these buses as well as other vehicles move smoothly so that the students can reach school on time and back home without inconvenience. It could be done successfully," said a senior officer of Siliguri Metropolitan Police.
He said that till traffic on the Balason river bridge resumes, the police have to explore all options to prevent traffic congestion in the city.
Installation of the Bailey bridge is in progress on the Balason bridge that was damaged on October 20.
"We are in touch with the authorities of educational institutions and have collected details such as the number of buses and their routes. Unlike other vehicles, the problem with these buses is that they cannot be diverted to other routes as they need to pick and drop students from specific points. We hope that in the coming days, we will be able to ensure hassle-free movement of school buses and other vehicles throughout the city," the officer added.
Since October 20, vehicular movement has come to a halt on the Balason bridge that is on NH 31.
As a result, a major part of the inbound and outbound traffic has to move through the southern ends of the city.
On Tuesday, hundreds of students who study in schools of Matigara and neighbouring areas crossed the Balason bridge on foot.
"I stay near North Bengal University in Shivmandir. I took an auto to reach the right bank of Balason. Then I crossed the bridge by foot and could reach my school in Matigara," said a Class IX student of Matigara Girls' High School.
A schoolteacher said that now that schools have opened, installation work of the Bailey bridge on the Balason bridge should be expedited.
"Otherwise, hundreds of students will keep facing inconveniences. They will cross the bridge on foot and take another transport option to reach schools and vice-versa. The administration should see to it that the bridge is functional at the earliest," the teacher said.