Short trip to retrieve essential items from home in Bowbazar
Police allow 39 families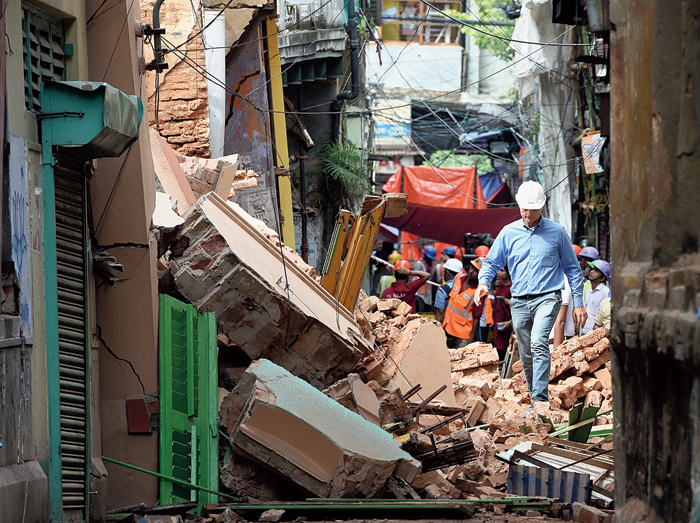 ---
---
A piece of white paper with a family member's name, a stamp of Muchipara police station and the house number written on it, is what some residents of Durga Pituri Lane and Syakrapara Lane required to enter their homes on Wednesday, for the first time since they were evacuated on Saturday.

Members of 39 families could visit their homes, the rest have been asked to come on Thursday. The coupon allowed the residents a 15-minute trip to their homes to bring back whatever they felt essential.
If it was about bank papers, identity cards and griha devatas or deities for some, for others it was a trip to retrieve garments, house deeds, identity cards, watches, fixed deposit documents, gold jewellery such as rings, earrings and chains. The rush to enter houses began early in the day. By afternoon, some of those who did undertake the trip found it challenging to identify their "essential" items.
"Koto ki newar chhilo (I had so many things to get). I had to leave behind so many things," said Sandhya Sen. "My gods…"
A resident of Durga Pituri Lane, Sandhya and her son Amartya had entered their house with a promise to be back by 15 minutes. At the end of 40 minutes, when Sandhya stepped out of her house, she paused for a few seconds, looked back and slowly walked out.
Late in the afternoon, with the sound of boring machines filling the air, a few cops helped her while Amartya took care of plastic packets.
It would possibly be the last time that the Sens visited their two-storeyed house in the epicentre of crack-hit buildings in central Calcutta. Neither police nor Metro engineers could say when the family would be allowed to enter their house next time.
Over the 40 minutes the mother-son duo spent inside their house on Wednesday, they could bring back some bank documents, prescriptions, PAN cards, Aadhaar cards, saris and garments in three plastic packets.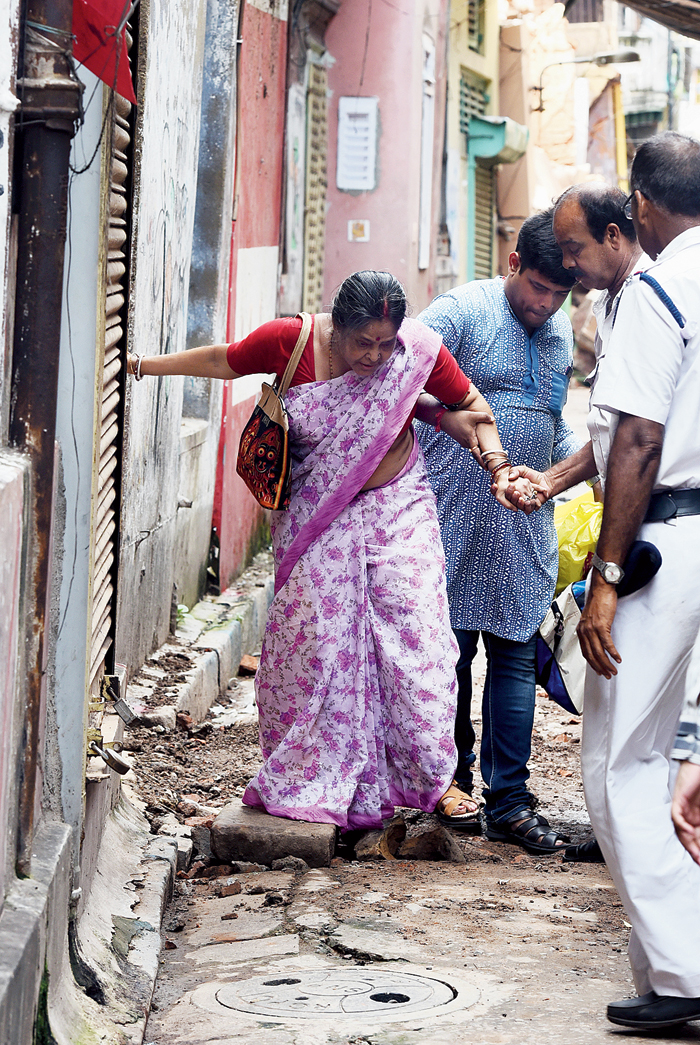 "The kitchen on the ground floor of our house was small with damp walls. But the food from here always tasted the best," said Amartya, a private bank employee.
"Internet connectivity was always a challenge because of the thick walls. But I always preferred drawing up my project reports from this house. Not anywhere else. All this would be gone now."
Amartya's father Bimal Sen didn't join his wife in getting some of the items out of the house. When the police asked the family to move out, he had tried arguing that cracks were yet to form on the walls. It didn't work.
As Sandhya walked out of Durga Pituri Lane in the afternoon, he walked up to her.
The Sens have been residing at 15 Durga Pituri Lane for several decades with Bimal occupying the ground floor and his brother Amar, the first floor. Amartya and Arijit have grown up as cousin between the floors and it never struck them that they would have to leave their para for good.
"The average age of any of the houses in our lane is around 80 years. Some are even 250 years old," said Arijit, Amartya's cousin.
"Our para would be lost for ever. More houses would possibly collapse. Engineers and machines would take over soon."
For many, all this was not on their minds. An opportunity to enter home to pick up important items seemed the only reason to be around Bowbazar, mid-week. "We got a call in the morning. When we turned up the police said 'no'," said PwC employee Anindita Dey, whose marriage is slated on December 1. "We came in the afternoon at the police control room half-way into our lunch. They refused again. We will try the next day."
Inside Goenka College of Commerce and Business Administration, where a temporary police control room has been set up, many like the Deys had queued up hoping to get a chance to enter their houses. It has been days since they left and bringing back the essential documents were necessary to move out for good may be.
"The deed of our house is lying inside," said a resident of Syakrapara Lane. "We don't know if we would be able to return again."