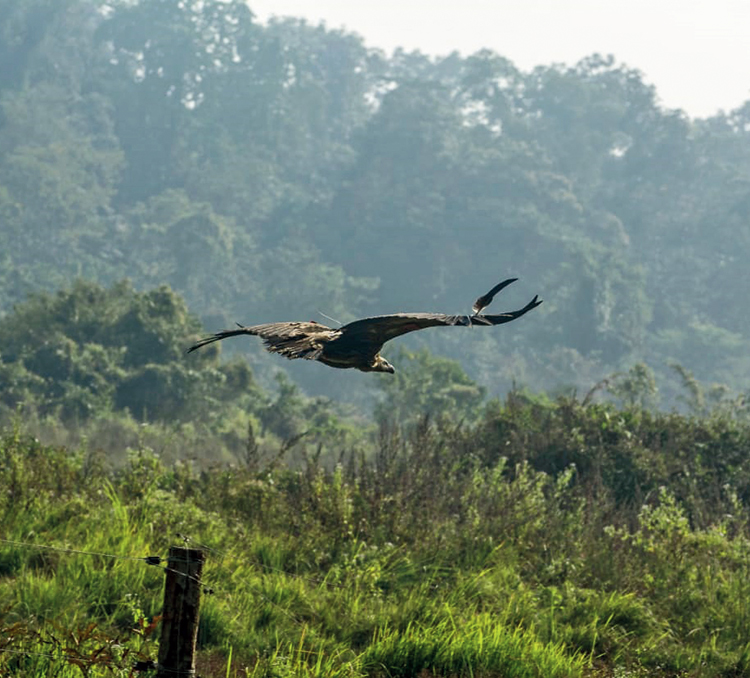 Another of the released vultures Telegraph picture
Six captive-bred vultures were released into the wild from a north Bengal park on Tuesday morning in what forest officials termed "a landmark event" in the conservation of critically endangered birds.
Six Himalayan griffons were released from an aviary adjacent to the Vulture Conservation and Breeding Centre in Alipurduar's Rajabhatkhawa. The centre is inside the Buxa Tiger Reserve.
Two of the birds have satellite transmitters — platform terminal transmitter devices — around their necks so that their movement can be monitored.
"While PTTD has been fitted on two birds, all six have been marked with red tapes. This will help us identify them in due course. The idea is to see whether the birds can sustain in natural environment," said Vibhu Prakash, the principal scientist at the Bombay Natural History Society (BNHS), which is at the helm of the vulture conservation project in the country.
"If we succeed, more vultures, which have been bred at the centre, will be released in due course. The initiative has been taken to improve vulture population across the country.'
Around 10.15am on Tuesday, state forest minister Rajib Banerjee, along with forest officials, representatives of BNHS and Chris Bowden, the director of the UK-based Royal Society for Protection of Birds, reached a watchtower at 22nd Mile inside the reserve forest.
One of the netted gates of the aviary was rolled up and the birds lured with a carcass kept outside. Around 10.35am, the first bird came out and started feeding on the carcass. It was one of the two with a transmitter. After a few minutes, the bird took flight but kept circling the sky. Within 10 minutes, it was out of sight.
The rest of the flock followed suit, some taking more time than others. When the last bird disappeared into the horizon, it was past 1.30pm.
In 2006, the breeding centre was set up to take care of the rapidly dwindling population of these scavenging birds, which were dying because of diclofenac, a common painkiller administered to cattle whose carcasses vultures feed on. Another similar centre was set up at Pinjore in Haryana. Both centres are run with the help of the BNHS.
The worst hit by the drug were the white-backed, the long-billed and the slender-billed vultures. The Rajabhatkhawa centre has 84 white-backed, 27 long-billed and 17 slender-billed vultures.
The vultures released on Tuesday were Himalayan griffons, of the same Gyps genus like the three but not as endangered because their usual habitat is in remote forests where they are relatively less exposed to the drug.
The griffons are being released in the first lot because the authorities don't want to risk the lives of the critically endangered birds in the first trial.
"By tracking the birds, we would be able to know whether the area is free of diclofenac," Prakash said.