Senior citizens' home Snehodiya opens doors in New Town
Snehodiya has facilities like dining, housekeeping, laundry and round the clock nurses, medical assistance and wellness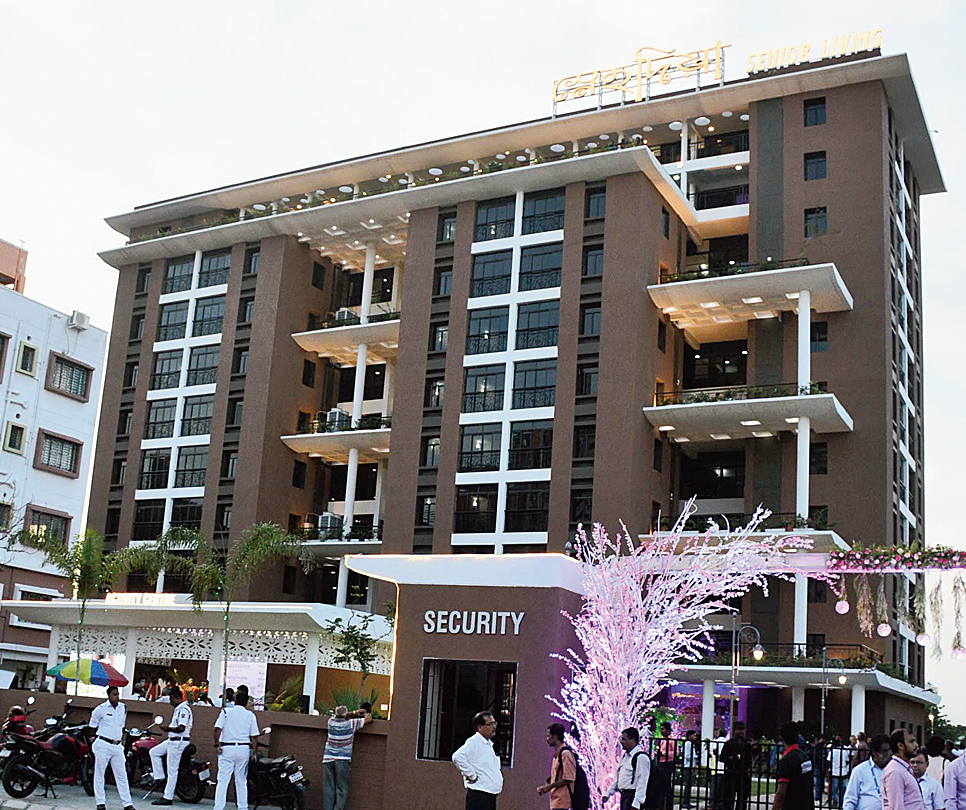 ---
|
Calcutta
|
Published 28.06.19, 12:33 PM
---
Snehodiya, the senior citizen's home in New Town, was formally inaugurated by minister Firhad Hakim on June 25.
The first citizens — the Ghoshes — had started living here from June 15 but on Tuesday a group of neighbours joined them for the festive opening.
"I do not believe in singer Nachiketa's song Briddhasram," said Hakim, referring to the song about an elderly man dumped in an old age home by his son. "My own mother, who has now passed away, would ask me to shift her to a seniors' home as my wife and I would be busy with work the whole day. But fearing society, I didn't do that." Instead he would drop her at Navanir old age home every morning where she would happily spend time with others her age.
Also present was principal secretary of urban development and municipal affairs department, Subrata Gupta. A resident of Salt Lake, Gupta said he sees an 87-year-old neighbour walking to the market daily as he heads out for his morning walk. "She lives alone and her only friends are alley cats," he said. "With nuclear families emerging and youths moving abroad for work, such elderly citizens are all around us. We should remove the stigma and embrace this concept of seniors' homes now."
Snehodiya has 57 double rooms and 90 single ones with facilities like dining, housekeeping, laundry and round the clock nurses, medical assistance, wellness (see box for details on hydrotherapy). At the ceremony, keys of two rooms and seven allotment letters were handed over to new residents of the home.
"My father-in-law will be moving into the home on June 28," said Rituparna Bhattacharya, who received her allotment letter from Hakim. "He is now in Malda and we live 10 buildings away from here. He could have moved in with us but our flat isn't large enough for him to have his privacy. Snehodiya worked out perfectly."
Debashis Sen, chairman cum managing director of Housing and Infrastructure Development Corporation (Hidco), that has built the home, mentioned the other facilities available. "Snehodiya is a marriage of modernity and tradition. While there is WiFi connectivity, panic buttons and video conferencing facilities, the walls are adorned with posters of films like Pather Panchali, which are sure to take residents back to their childhood."
There is a guest house for relatives of residents and an activity centre, where Sen said residents will be encouraged to voluntarily teach underprivileged students. An SBI ATM and medicine shop were inaugurated right outside the campus on Tuesday and a utility shop is open since June 15.
The striking architecture of the building is by Pace Consultants, that won a contest to build it and the icing on the cake is Swapno Bhor senior citizen's park, which is just across the street.
"Swapno Bhor is the reason we set up Snehodiya here. Swapno Bhor members have been going on picnics, listening to discourses by monks, playing carom, bridge….it's become so popular that we've had to freeze membership now," said Sen.
Residents of the home get automatic membership at Swapno Bhor. "The second innings of residents' lives here would be joyful and without difficulties," promised Sen.
Dip in the pool to get fit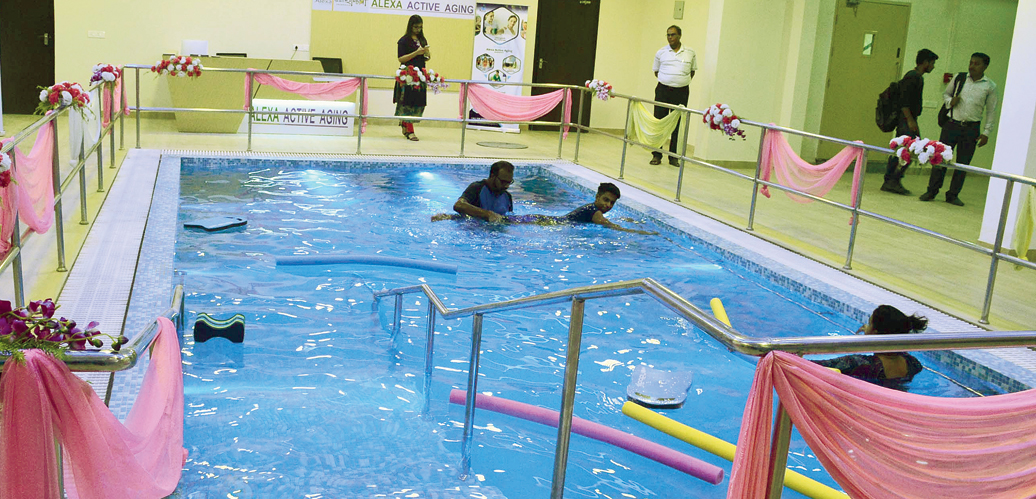 Snehodiya boasts of a hydrotherapy unit, that its operators say will help patients of joint pain, knee replacement, paralysis, Parkinson's disease, cerebral palsy, development delay in children etc and the good news is that it will be open to outsiders.
Hydrotherapy is guided exercises under water and its operators claim the unit at Snehodiya is the first of its kind in the city. The therapy will be done in what looks like a swimming pool — 30ft long and 20ft wide — but the depth and temperature of the water will be controlled as per the patient's injury. "Hydrotherapy is not possible in a regular swimming pool as patients may get spasms or even a cardiac arrest if the water is too cold," said Shipra Kumari, physiotherapist and director of Alexa Active Aging healthcare services.
So the water temperature will be between 26 and 33°C. The depth of the pool will be a maximum of 4.5ft but will be adjustable as per the patients' requirements. "After, say, knee replacement, a patient may be unable to take the impact of walking. But because of buoyancy, it will be easier for him to move his muscles under water and regain strength," said Kumari.
Hydrotherapy should be done at most for 35 minutes, twice a week. "This is equivalent to seven days in a gym but one wouldn't feel exhausted. Also, one doesn't need to know swimming for this," she said. Charges would be Rs 650 per session or monthly Rs 2,200 for four sessions. They also have a full-fledged physiotherapy room and would be conducting aqua zumba.