Rebel with a cause
Desi dude God of small things Bong business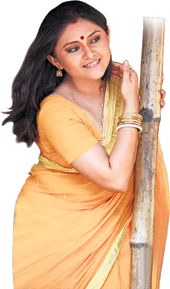 ---
---
Koneenica Banerjee: Search for self-worth
Controversy has seldom been far from Taslima Nasreen ? be it her books, or her fiery personality. No wonder bold images flash across the screen when a work of hers is adapted into a film. The bare back of a woman heralds Jhumur, based on a story that Taslima has penned specially for this TV series.
Jhumur revolves around a simple girl from a middle-class background (Koneenica Banerjee) who gets married to Shilajit (Pijush Ganguly), hailing from a conservative family. Though initially charmed by Jhumur?s liveliness, Shilajit soon feels she should change her attitude and be ?a little more sober? after marriage. Jhumur starts adjusting to the new set-up and the new norms, but a rebel takes birth inside her. Despite having a caring and doting husband, she feels suffocated and the seeds of rebellion within just refuse to die down.
The tale of Jhumur scripting her own story to freedom and finding her self-worth will be aired on the Tatka Galpe Akta Mash slot on Aakaash Bangla, May 1 onwards. Jhumur, the month-long series is slated for 8 pm, Monday to Saturday.
Directed by Sushanta Bose, the telefilm also features Pallab Kirtania, Anamika Saha, Bodhisatwa Majumdar and Tulika Basu.
Nihaal in Bhabi: Making a difference
As far as women go, Nihaal is the perfect man one would want to have as a friend. The 25-year-old NRI entrepreneur, who comes to India looking for a bride, is the new face in the STAR Plus soap Bhabi.
Despite being raised in far-off Canada for 17 years, Nihaal (played by Sudan Bhanujeet) still retains a lot of Indian values. And so he wants an arranged marriage with an Indian girl. Having set up his own eatery-cum-hotel in Toronto, Nihaal comes to India with mother Guddo. At his naani?s house in Delhi, the young man gets a taste of the Punjabi joint family. That?s also where he meets his bhabi (sister-in-law) Suhana.
The two become good friends before long and Nihaal asks Suhana to help him in his search for the perfect girl. But while the family has no knowledge of Suhana?s disastrous marriage to Vishwa, Nihaal is perceptive enough to see through. Almost taking on a mentor and a best friend?s role, he encourages Suhana to fight against the odds.
Catch Nihaal injecting a fresh lease of life into Suhana in Bhabi on STAR Plus at 1.30 pm, Monday to Thursday.
A poster of Hanuman: Monkey might
Hanuman, the animation film from Bollywood that fetched a record Rs 8 crore in the first four weeks after its release last year, is slated for a TV premiere on SaharaOne Television this weekend. Cashing in on the summer holidays, the channel has also launched a contest to give its child viewers a chance to win a trip to Sri Lanka. Hanuman will be aired on Sunday, April 30, at 7.30 pm.
Hanuman Dekho? Lanka Jao, the contest, asks kids to answer questions shown during the film. Correct answers will fetch 10 lucky families a fully paid trip to Sri Lanka. Contest posters will be displayed at 1,000 DVD parlours and 5,000 Camlin-branded stores across the country.
Produced by Percept Pictures Company, the film narrates how Hanuman, having been born to a female apsara and Vayu the god of wind, was blessed with supreme intelligence, strength and divine powers. Starting with Hanuman as a child playing pranks on saints living in the forests, the film takes us through his travails ? from being blessed with immortality to helping Ram defeat Ravana.
Who says Bengalis don?t have the brains for business? Partha Ghosh, a city boy, is going great guns on Zee TV?s Business Baazigar, having broken into the top 12 of the reality show that drew two lakh entries from across the country. So are a few others with a strong Bong connection.
And with a change in format in the show announced in Calcutta on Wednesday, it seems all of them can at least come home as Mini Baazigars. ?Initially, one person was to have had his business idea funded by Zee Network. But now the remaining 19 will be given a second chance to present their case to a jury comprising Zee group chairman Subhas Chandra, Passionfunds chairman Mahesh Murthy and Prof Anil Gupta of IIM Ahmedabad,? said Ashish Kaul, senior vice-president, corporate communications.
The show, which airs every Friday on Zee TV at 8 pm, tests the survival instincts of contestants. Those who got over the first hurdle of managing a real-life Indian wedding were hurled into this round where they had to thrive a day in Mumbai on a bottle of water, a packet of glucose and a rupee. ?I will always preserve this coin,? says Ghosh, recalling how after being refused at a number of doors he and his partner (an Asansol girl) managed to get a day?s job in Leopold Caf?. In his opinion, the best idea was of Park Circus boy Ali, now settled in Mumbai, who arranged for a foreigner to buy a laptop from a shop and ended up pocketing cuts from both sides.
The contest sticks to strict ethical standards. In the survival test episode, a team was collecting ?entry fee? with promises of a prize days later. They were hauled up by the judges and disqualified.