Pujas jolted by sharp drop in advertisement banners
Slowdown curtails budget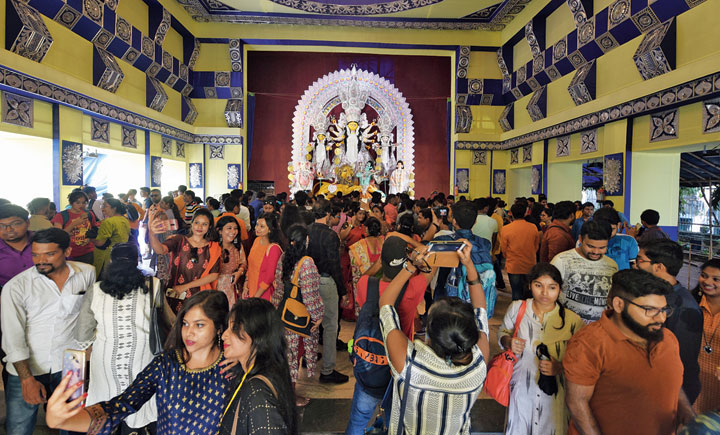 Pandal-hoppers were out in numbers on the streets through Wednesday
Pradip Sanyal and Gautam Bose
---
Calcutta
|
Published 02.10.19, 10:45 PM
|
---
If you spot bare bamboo pole scaffolds lining the streets, blame it on the market. The slump in the economy has taken the sheen off many well-known puja pandals that do not have political backing.
"Aashay, aashay bansh bendhe boshe aachhi (We have put up the bamboo scaffolds with a lot of hope)," said a glum-faced Dipankar Dutta of Dumdum Park Sarbojanin.
"The corporate houses are refusing to even initiate conversation. If we fail to get enough banners, we will try to fill up at least the space in front of the pandal but the money spent on erecting these structures will go from our pockets. We had no option but to put them up much in advance as the workers will become busy with the pandals and won't have the time for such work."
With GST collections hitting a 19-month slow, there's little doubt that retail consumption has hit a trough and consumers are choosing to keep the money in their wallets fearing a sharp drop in future earnings with the economy sinking into a rut.
Ironically, the idol at Dumdum Park Sarbojanin is portrayed as Annapurna, the goddess who provides for all and is worshipped in a warehouse that is stacked to the ceiling with food supplies.
The gloom and doom scenario has blighted the economics of puja committees — a stark reality that Sandip Chakraborty, the secretary of Badamtala Ashar Sangha, contemplates with despair.
"Our puja has had to slash its budget from Rs 42 lakh last year to Rs 27 lakh this time. We have been doing theme-based pujas since 1999 and the corporate sponsors came in from 2000. Never have things looked so dismal as this year," he says.
The advertisement hoardings that emblazoned the gates to the puja pandals used to be booked in the past at anywhere between Rs 80,000 and Rs 1 lakh. This time round, we have had to settle for Rs 40,000. Banners went easily for Rs 3,000 to Rs 4,000. This year, the going rate is barely Rs 1,500. "Chardikey sudhu bhata (The slowdown is visible everywhere)," he lamented.
At this rate, even if one manages to get a booking, there is hardly any profit left after paying off the workers. The contractors charge Rs 10,000 for erecting a gate while the charge for a stretch of horizontal bamboo framework for the banners is Rs 55 to 60 per square foot. Chakraborty still considers himself lucky: his puja committee had anticipated the situation and scaled down the budget.
Partha Ghosh, president of Forum for Durgotsav, the umbrella body of city puja organisers, is worried that many clubs will sink into debt this year. "Most of them had drawn up their budgets almost a year in advance. Sponsors, I hear, are cancelling their bookings that they had made either verbally or through e-mails," said Ghosh, who also organises the Shibmandir puja.
"A puja that gets into debt will never be able to get out of it. We hardly ever make savings," Chakraborty said ruefully.
Metro spoke to the owner of Arun Sign Service, one of the best-known outdoor display agencies dealing in puja publicity, to get to the root of the drought in bookings.
"In the 22 years that I have been in this profession, I have never seen such dismal business. The shortfall is about 40 per cent," said Prasanta Dutta with a shake of his head.
"For every 20 companies that invest heavily in puja publicity, four or five on an average trim their budget in a bad year. This year, almost every client has done so. Some had zero business to offer. So, I am left with barely six or seven clients, instead of 20," he added.
He said gutkha makers, cement producers and mobile phone companies have traditionally been the biggest advertisers during Durga Puja. "All of them seem to have disappeared from the scene this year. I was hoping against hope that some last-minute business would come in. But even that did not happen," he said.
Advertisers said the slowdown blues had bitten the corporates who were carefully evaluating the allocation of their fixed budgetary resources across different channels such as events and digital channels.
"We will fork out almost the same amount of money as we have done in the past. But we are not entertaining any new requests because it will then become an annual commitment," said Sanjay Agarwal, managing director of Star Cement, which made a splash some years ago by sponsoring the world's largest Durga idol at Deshapriya Park.
A company owner said they were still obliging "phone calls" emanating from politically connected organisers, but were not entertaining other requests.
The pujas that are organised with political backing are also playing it safe this year after receiving income tax notices to explain their source of funds and expenditures made last year.
Some companies are avoiding these pujas altogether as they want to steer clear of troubled waters.
"Compared with last year, this year we are seeing a decline in outdoor ads. There is a slowdown in the economy that has affected the industry in a negative way. Durga Puja is the largest festival in Bengal. The brands that have a strong presence in the state always seek high visibility during this period. But this time people are shying away. Neither have we been able to increase the number of advertisers, nor is there any year on year growth," said Aninda Banerjee, managing director, Enkon Group.
The Devi's bodhan (awakening) is still two days away but the market is already chanting dhanang dehi (grant us prosperity)" in all earnest.