Our Metro and their Metro, gap shows
In Tokyo, discipline key to safe ride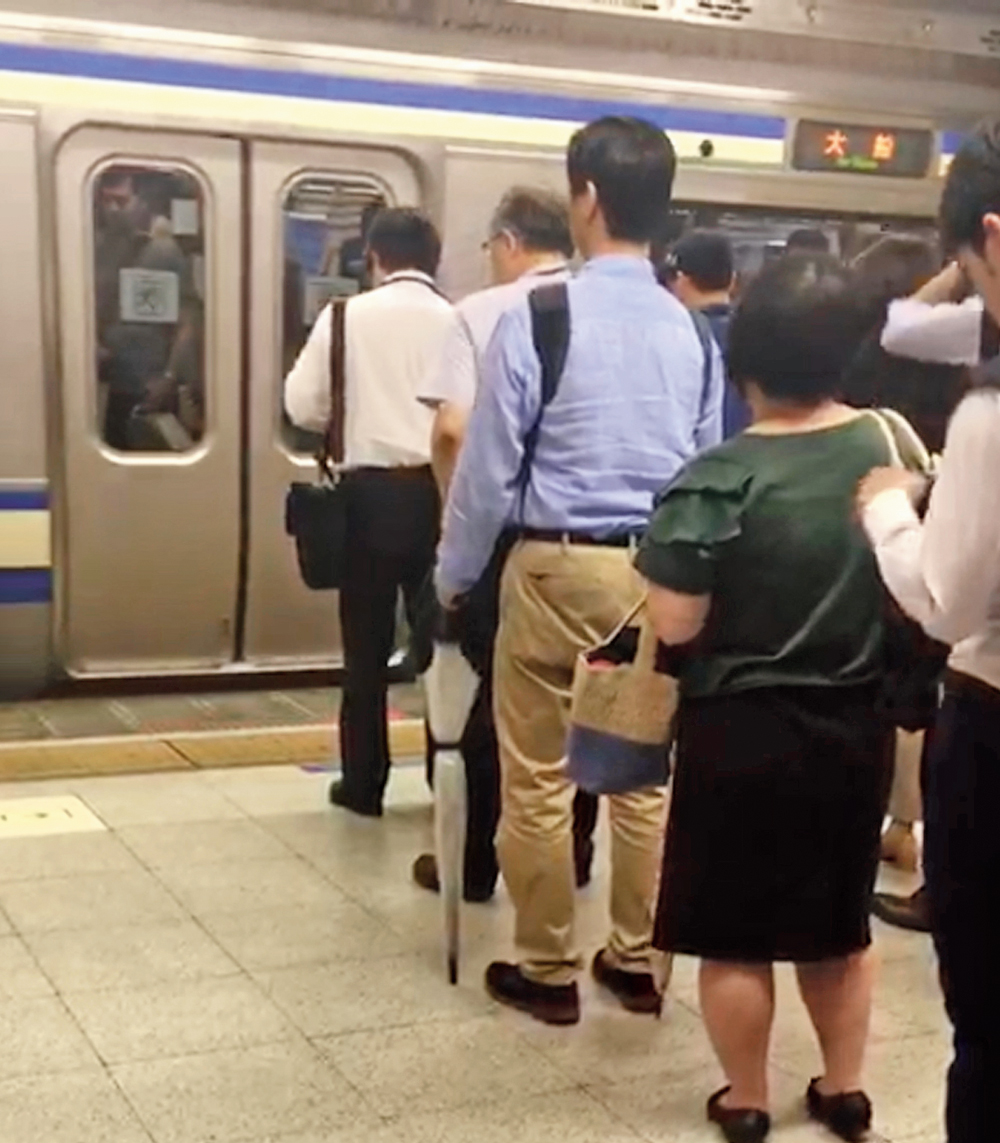 Commuters queue up to board a Metro train in Tokyo
Picture by Amal Bhattacharya
---
Calcutta
|
Published 16.07.19, 10:27 PM
|
---
Amal Bhattacharya, deputy general manager (Calcutta) of Larsen & Toubro, visited Japan last April and took extensive rides on Tokyo Metro. The engineer recounts to The Telegraph how rush hour traffic at Tokyo Metro is managed
It was around 6.30pm, Tokyo time, and I was standing at Shinagawa station to travel to Nishi Kasai station near which I was staying. The rush was almost similar to what we see at any Metro station in Calcutta during peak hours.
I was wondering whether I have to push and get pushed and shoved while boarding the train. As the crowd was swelling, I suddenly noticed one man in uniform, wearing a white shirt, a pair of grey trousers, a cap and a pair of white gloves at the platform. He was standing with a walkie-talkie in his hand.
He was gesturing to passengers to form a queue. No one protested and everyone stood in lines. In Calcutta, we don't have the habit of queuing up to board a Metro and so I ignored him. But then this man gestured towards me, asking that I too should stand in the line. I followed his order.
There were several small queues in front of signage pointing at the place where gates will open.
We were standing at the middle of the platform. I did not get into the train and instead was watching what this man in uniform would do. As the train stopped and the doors opened, the man was watching the queue of people getting on the train. He was speaking on the walkie-talkie and I could see the guard, who was peeking out from his cabin and I realised he was speaking to this man in the platform.
The train stood for a few seconds but there was no pushing or chaos. As passengers boarded from one corner of the door, others got down at the same time.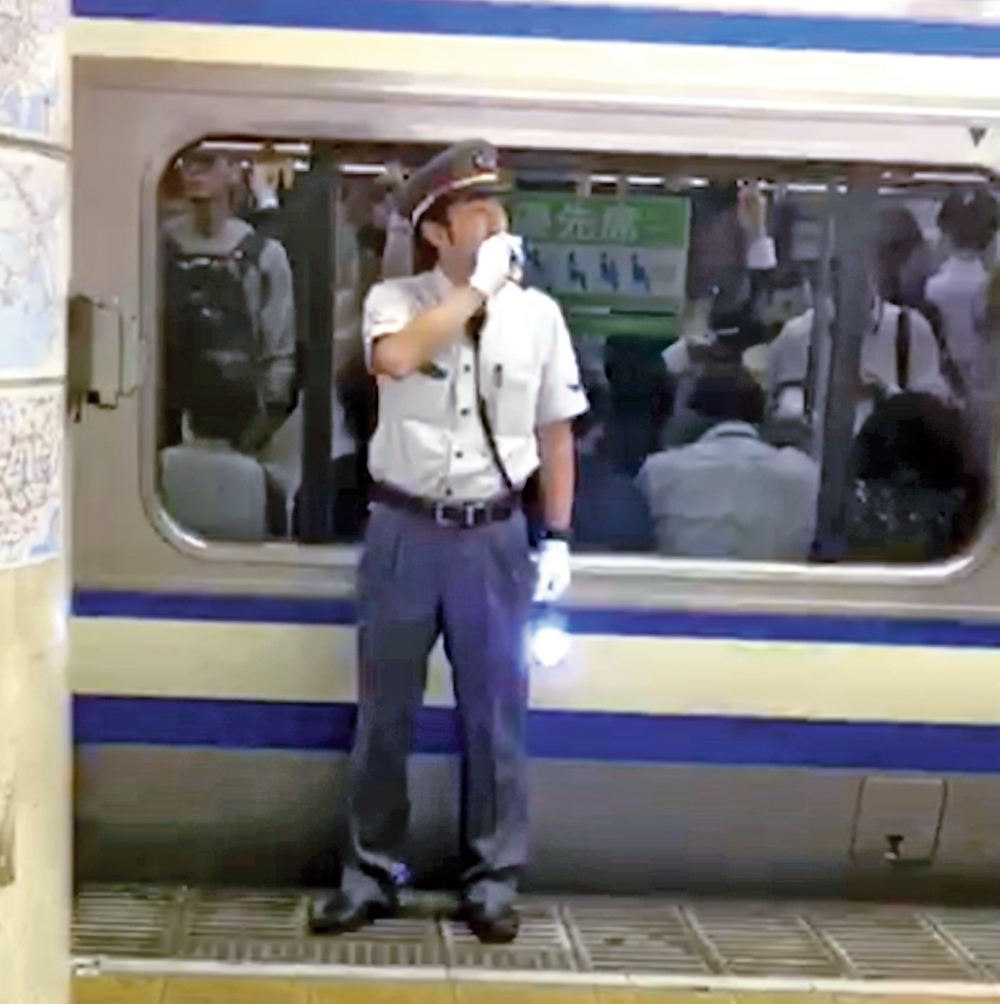 Once everyone was on board, the man walked towards a pillar on which a button was fitted. He pressed the button, which I later found out sent a signal sent to the guard, who then communicated to the driver to close the doors and start the train.
The man, who I figured out was a Metro station official, ensured that no was left and then he spoke to the driver and the doors closed. As the train started moving, I saw this man leave.
Just before the next train came, the man reappeared and it was the same drill. By this time, the crowd was more but still there was no chaos.
In Calcutta's Metro stations, I see Railway Protection Force (RPF) personnel standing at one end of a platform. They blow whistle when the train approaches a station. But I have never seen anyone trying to manage the crowd as passengers jostle to get into the train.
During my stay of two weeks in Tokyo, I used to take several Metro rides in a day. I boarded trains from several stations — Nishi Kasai, Kayabacho, Ginza, Shinjuku, Otemachi and Omeda. Some stations had platform screen doors, others did not. But the crowd management was same everywhere.
These men in uniform followed the same process at all stations and it seemed to work like a well-oiled machine.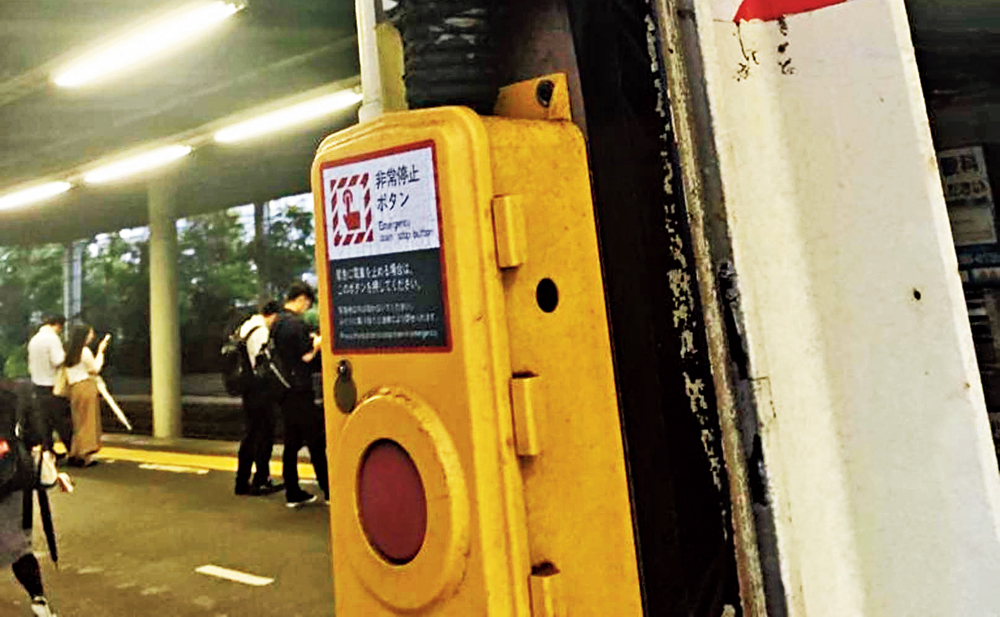 Later I heard from residents that these men in uniform are called masters who monitor and manage passengers getting in and out of trains.
There was another device which I have not seen in Calcutta Metro. This is a safety device at 30 metres interval along the platform.
The device can be pressed by passengers or officials if they notice any emergency like a passenger hand or object getting stuck between two doors.
Most passengers in Tokyo carry umbrellas specially during rainy season. I heard that in overcrowded trains frequently, umbrellas get stuck between doors. Then people press the safety device. A loud alarm is heard and the driver stops the train to open the door.
Today I was thinking if we had such systems in place in Calcutta, which is not difficult to implement, then Sajal Kumar Kanjilal's life could have been saved.