Open state-owned libraries for dusting: Bengal government
Order aimed at preserving old books and parchments not cleaned since Covid lockdown in March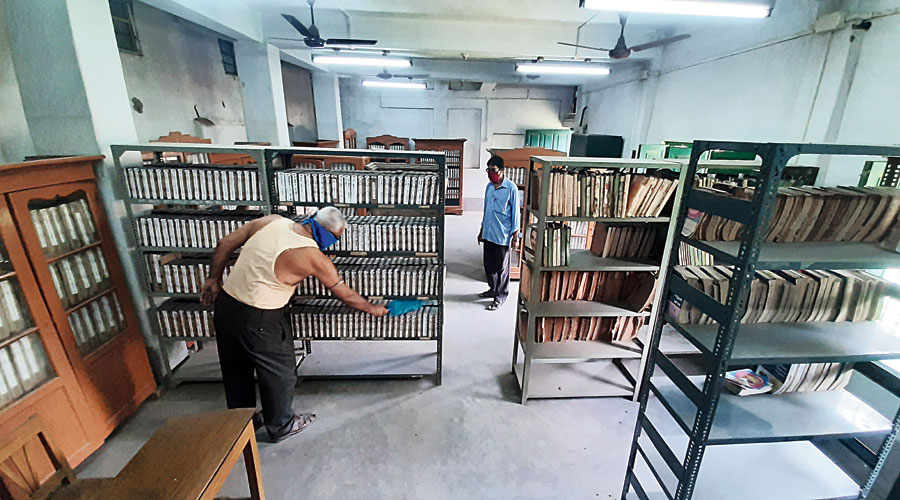 ---
|
Calcutta
|
Published 13.09.20, 02:15 AM
---
The Bengal government has ordered all state-owned libraries to open their establishments at least once every fortnight, the decision coming in the wake of reports that rare old books and centuries-old manuscripts on toddy palm leaves were getting damaged without maintenance.
All the 2,480 libraries in the state — of which 13 are government-run, 2,460 government-sponsored and seven state-aided — have been closed ever since the Covid-induced lockdown was imposed in March.
Several libraries have rare collections like Vaishnav Padabali, Chandimangal and books on ayurveda, philosophy, logic, grammar, poems, verses on epics.
"Nabadwip Public Library has 450 manuscripts while Krishnagar Public Library's count is around 150. Lalgola MN Academy Library, Kandi Ramendra Sunder Tribedi library and Murshidabad District Library have good collections of old manuscripts. These libraries have a rich collection of old books suffering from lack of maintenance," a senior librarian in Hooghly said.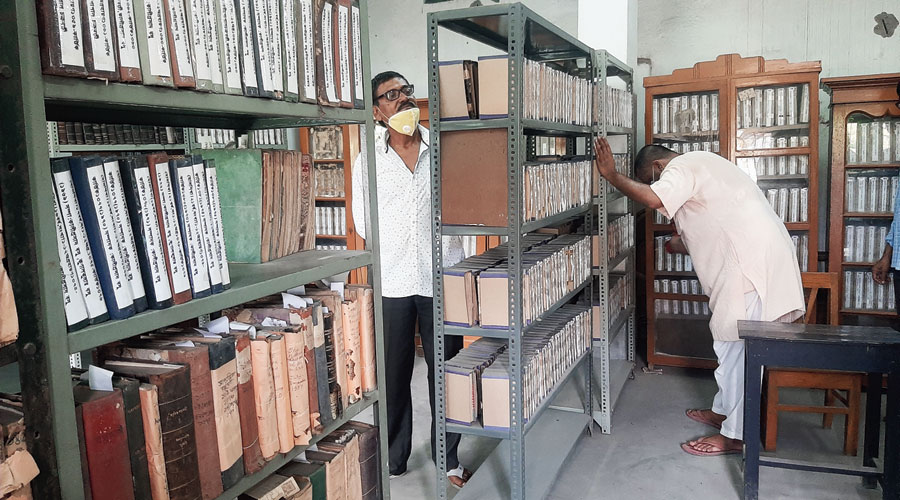 Sanjit Dutta, a retired librarian in Krishnagar, said regular cleaning was a must to reduce insects, abrasion and acid degradation. "Most libraries are on public thoroughfares that lead to rapid accumulation of dust and dirt in books. This requires books to be cleaned with soft cloth. Vacuum cleaners are useful too. Formalin and pesticides need to be sprayed to kill insects," he said.
Krishnagar Public Library, inaugurated in 1856, is a treasure trove of old books and manuscripts that employees say need regular cleaning against dust and insects.
"The library has a special archive of about 150 old and invaluable books. These include rare books like the 1815 edition of The History of Rome by Thomas Arnold, Himalayan Journals by Joseph Dalton Hooker (1854), An Indian Journalist by Sambhu C. Mookerjee (1895), History of Brahmo Samaj by Sibnath Sastri (1911), and History of Aurangzib by Jadunath Sarkar (1912)," an employee said, and added that the library was opened on Saturday for cleaning.
Libraries, he said, would continue to stay out of bounds for readers because of existing Covid protocols.
The order to open libraries to maintain books and old manuscripts was issued earlier this week but many fear the long closure since March might have adversely affected the collections. They rued the delay in the order though a resolution to open libraries for maintenance had been adopted at an internal meeting of the directorate of library services on August 12.
A librarian in North 24-Parganas said: "The absence of light and air for long periods causes immense damage to old books and manuscripts. It is pathetic that our officials took about six months to realise the need to dust books."
Mrityunjay Mitra, officer on special duty at the directorate of library services, refused to acknowledge any delay in the order. "We have local managing committees monitoring the condition since long for which no such order is required," he said, but admitted that "a specific order does help".
Some librarians took special permission from local authorities to clean books before the government order. "Lack of light, air and daily cleaning lead to dust and moisture gathering on books. This can be disastrous for old books. So we persuaded the authorities to let us open the library for cleaning," said Sachindranath Mandal, a librarian in Murshidabad district.
Most libraries waited for the government to issue a formal order on cleaning. , the lack of staff because of lockdown made it difficult for most libraries to carry out cleaning jobs.
"The government should have issued this order for fortnightly cleaning much earlier to avoid any damage to books," retired librarian Sanjit Dutta said.
Shamik Roy Burman, a librarian in North 24-Parganas, said: "As the government has finally issued the order, we will open the library on Monday for cleaning. We are keeping our fingers crossed about the condition of the books."