On visit to see Puja, teen dies of dengue
16-year-old boy from Jharkhand dies of dengue in Calcutta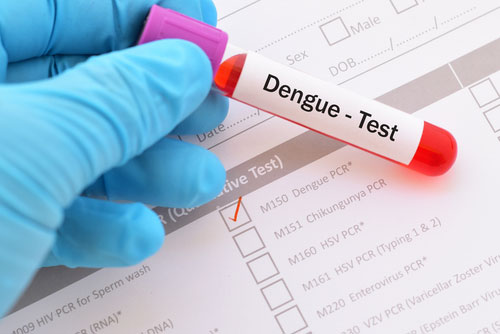 ---
Calcutta
|
Published 07.10.18, 09:08 PM
|
---
A 16-year-old boy who had come to Calcutta from Jharkhand about a fortnight ago to see Durga Puja died of dengue at a private hospital in Alipore on Saturday afternoon.
Karan Kumar Shaw, who was staying with his parents in a shanty on Mayurbhanj Road in Mominpur, was admitted to Kothari Medical Centre on Friday afternoon.
"My son had come to stay with us about two weeks ago. He wanted to see Durga Puja in Calcutta," said Karan's father Vidyanand Shaw.
The teenager, who was studying at a school in Jharkhand, had been running a temperature since Wednesday. "We took him for a blood test on Wednesday. The test revealed he had dengue. We got the report on Thursday and got him admitted to the Alipore hospital the next day. He passed away at the hospital yesterday," said Vidyanand, a neighbourhood grocer.
An official of the Calcutta Municipal Corporation (CMC) said they had collected the report of Thursday's test. "The NS1 antigen test (a non-confirmatory test for dengue) came out positive," the official said.
"Kothari Medical Centre collected blood samples on Friday, the day the boy was admitted. The IgG test report was positive, too. It's likely the boy contracted the disease in Jharkhand."
Immunoglobulin G or IgG is an antibody.
Metro tried to contact Kothari Medical Centre officials but the calls went unanswered.
A doctor with the CMC said: "A patient who tests positive for IgG must have been infected with the dengue virus earlier, too. It could be this patient had dengue last year or the year before last. Such patients are more vulnerable."
The condition of such patients is likely to turn critical if he or she is infected with a strain of the virus that is different from the earlier one.
"If the same strain infects a person a second time, it is resisted by the antibody formed after the previous infection.... Antibody takes time to develop. When a new strain infects, the situation often turns critical before the body can produce the required antibody," the civic doctor said.
The CMC has decided to conduct IgG tests on patients testing positive for NS1. This helps doctors monitor and take adequate care of the dengue patients who were infected with the virus earlier, too.
About 1,600 people have been infected with dengue in the city so far this year. "The worst may not be over yet," another civic official said.
"The maximum number of dengue cases are reported in end-October and November. A slackness in monitoring during the Puja and hot and humid conditions during the period create the ideal atmosphere for the Aedes aegypti mosquito, which spreads dengue, to breed," the doctor said.
At Mominpur, the boy's death has sparked fears among residents, many of whom complained that the civic body did not clean the place regularly and garbage is allowed to accumulate for days on end.