North Bengal poll results to be declared today
GTA and SMP elections as region's political barometer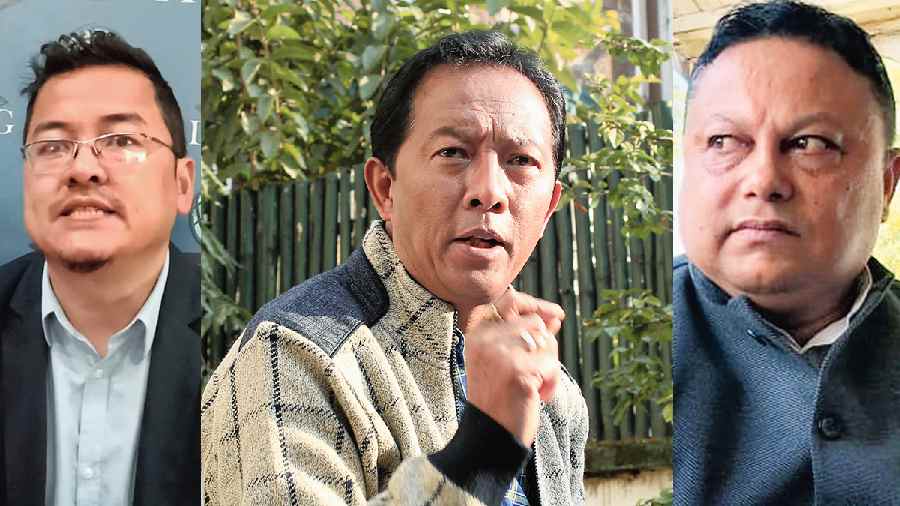 (From Left) Ajoy Edwards, Binay Tamang and Anit Thapa.
File picture
---
Siliguri
|
Published 29.06.22, 01:25 AM
|
---
Political parties in north Bengal are eagerly waiting for the results of two local elections to be announced on Wednesday.
With a few hours left before the counting of votes in seven different venues — four in Siliguri sub-division and three in the hills — a number of leaders of these parties have admitted in closed quarters that despite being elections of local bodies, results of the Gorkhaland Territorial Administration (GTA) Sabha and the Siliguri Mahakuma Parishad (SMP) are significant and can change the political discourse in the region.
On Sunday, hill residents voted for the 45 constituencies  under the GTA Sabha after 10 years. In  rural Siliguri, people voted after seven years to elect representatives in all three-tiers of the panchayat. 
In the GTA polls, principal political forces are the Anit Thapa-led Bharatiya Gorkha Prajatantrik Morcha (BGPM) and Hamro Party headed by Ajoy Edwards.
Both these parties were floated less than a year ago but have emerged formidable forces in the hills within a short time. Edwards's party managed to secure a majority in the civic polls of Darjeeling that was held earlier this year.
"Hamro Party's win indicated that it has managed to consolidate support in Darjeeling town. But the GTA poll results are significant as these would show if the party enjoys similar clout in rural areas or whether the BGPM or any other force is stronger," said a veteran in hill politics.
Former Morcha leader Binay Tamang, now in Trinamul, is also contesting the GTA polls.
Sources in the Darjeeling district administration said  seats 1 to 17 of the GTA would be counted in Darjeeling, 18 to 32 in Kurseong and 33 to 45 in Kalimpong. In all, 277 candidates, including a number of Independents, are in the fray.
In rural Siliguri, results of the SMP polls are important for both BJP and Trinamul, asserted leaders of these parties.
Earlier this year, when elections were held in municipalities of north Bengal districts, including civic areas where BJP had secured the Assembly seats a year ago, Trinamul made a clean sweep.
"After the Assembly elections, the SMP election is the first rural poll. Also, the SMP area comprises two Assembly seats and both held by the  BJP. Wednesday's results will show if Trinamul continues to bleed BJP in its strongholds  or the saffron party has retained its support," said an observer.
A senior Trinamul functionary, who has actively campaigned ahead of the rural polls here, said a win will bolster his party's confidence.   
He said that last year, Trinamul's fared badly in Darjeeling district as the party could not win any Assembly seat. "We won the Siliguri Municipal Corporation for the first time this year. A  win in SMP, which will also be a first for us, will boost our morale," the leader said.
For the SMP area, counting will be done in four centres in Matigara, Naxalbari, Kharibari and Phansidewa.
"The counting will start with panchayat seats, followed by the panchayat samiti seats. Votes of the SMP seats would be counted in the third phase," said an official.
Altogether, there are 462 seats in 22 panchayats, 66 seats in four panchayat samitis and nine seats in SMP. Over 1,800 candidates are contesting in all these three tiers.