NGO takes Covid-19 awareness to slums
The members of the NGO have started working in their neighbourhoods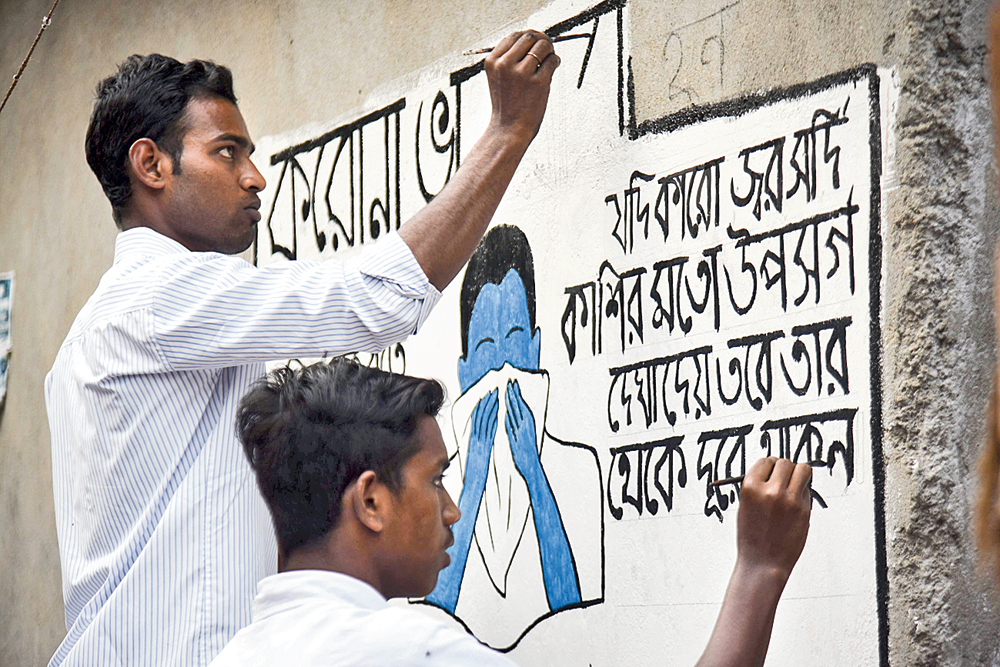 ---
|
Calcutta
|
Published 19.03.20, 08:48 PM
---
Prayasam, a CG Block-based NGO, has undertaken a novel coronavirus awareness programme, reaching out to those in the lowest financial and educational rung to whom information is least likely to percolate.
From Sunday, the members of the NGO who live in various slums and colonies in and around Salt Lake, have started working in their respective neighbourhoods. "We have 20 area health minders, ranging in each group from six to 25 years, in each locality which we service. We also have community ambassadors in each locality, who are aged 13 to 25 years. They have been divided into two groups. Under the guidance of a resource person from Prayasam, they are spreading out into the community, drawing communicative graphiti on walls and in the post-lunch hours, gathering people of a street in groups of 25 or 30 and telling them about the importance of hand washing and the safe way to cough or sneeze," explained programme officer Manish Chowdhury.
Prayasam regularly holds health and hygiene classes for women in 15 neighbourhoods. These are the women who are helping in gathering the neighbourhood folk for the awareness interactions. "We started with Mahishbathan on Sunday. The first day these ladies are getting trained in our weekly class. The next day we are going to the community with them," said Monish. Dakshindari and Khashmahal have since been covered.
"We are also doing video documentation of these classes so we can reach out to the younger generation which might not have been home during our campaign but are active on social media," he added.
In Dakshindari alone, Prayasam expects to reach 10,000 people in five areas — Nehru Colony, Rishi Aurobindo Colony, Saroj Mukherjee Colony, Sisikol and Sadhana. "Yesterday, our resource person Mili Roy was taking a health and hygiene class in Jyotinagar, near Kestopur. A woman told her that her family was protected against novel coronavirus as a goddess had appeared in her dream and asked her to drink the water used to wash her porch! But two other women agreed to take their husbands to a doctor on learning about the virus's symptoms of cough and fever," said Amlan Ganguly, the founder-director.
Classes in Prayasam's own playschool Sahaj Path, for kids aged three to six years, have been discontinued. Attendance in English classes for those aged 14 to 25 years is being scattered across time slots to avoid larger gatherings. "We did not stop as we do not want them to go out of practice and drop out," Ganguly said.
The Prayasam team says it would be happy to hold such workshops in the locality on request.