Murshidabad: Police, locals clash over power cables
Seven villagers, mostly farmers, and seven cops were injured in the incident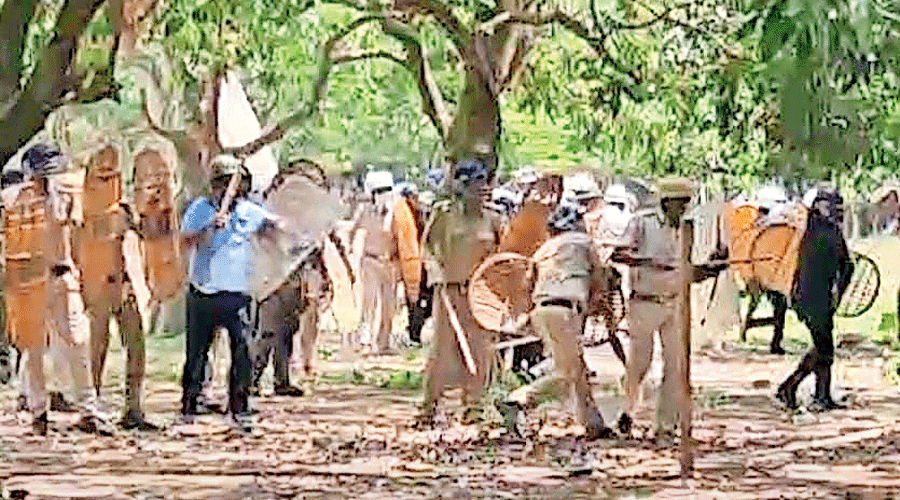 Villagers and police clash in Farakka on Saturday.
Samim Aktar
---
Behrampore
|
Published 03.07.22, 12:51 AM
|
---
Police and residents of Dadantola village in Murshidabad clashed on Saturday morning over the installation of high-tension electricity lines that are necessary to supply power from an Adani Group-owned power plant in Jharkhand's Godda district to Bangladesh as part of a bilateral trade agreement.
Seven villagers, mostly farmers, and seven police personnel were injured in the clash that took place at the base of transmission tower 84 of the project. Villagers accused the police of resorting to a lathicharge to dispel protesters.
Sources said contractual workers accompanied by the police turned up unannounced at the site to resume work, angering villagers.
"The officer-in-charge of Farakka police station, Debabrata Chakrabarty, was present at the site and even ordered the police to use violent measures against us. They are clearly siding with corporate interests and did not wait for an amicable resolution to this dispute," said a villager.
Sources said among those injured, two police officers were admitted to Jangipur sub-divisional hospital.
Among the protesters was Congress zilla parishad member Asif Iqbal, who reportedly clashed with the police and was injured. "The OC was present and is responsible for these injuries," said Iqbal.
Police sources acknowledged needing to use teargas but denied resorting to a lathi-charge.
"The police cannot turn the other cheek if they are being attacked with bricks and stones. We were following orders in accompanying the project workers," said Chakrabarty.
Villagers on Saturday reiterated their complaint of "high-handedness" on the part of district officials in facilitating such a project without prior and proper consent.
"By hoisting these wires above my home, they are depriving me of the right to future construction," said protestor Wasif Momen.
Workers resumed construction at the tower site after the police dispersed the protesters.
The Samyukta Kisan Morcha, which spearheaded the farmers' agitation against the Modi government's controversial farm laws, issued a statement later in the day condemning the police violence.
National president of the Jai Kisan Andolan, Avik Saha, termed the police action as a "barbaric act".
"Through the Singur and Nandigram movements of farmers, the present ruling party of the state came to power with huge support of farmers. Today this government is shedding the blood of farmers," Saha said as he sought chief minister Mamata Banerjee's intervention.
Farm movement leader Yogendra Yadav reminded Mamata that "in the interest of this very Adani group, the Narendra Modi government at the Centre had brought the anti-farmer laws against which there was a historic peasants' movement which was won by the farmer".
Warning the Mamata government, Yadav said: "It is a great pity that in the interest of the corporate Adani group, the police administration has shed the blood of peacefully protesting farmers. I would like to state if the farmers of Bengal are oppressed in the interest of Adani, the Samyukts Kisan Morcha will not be a silent spectator."