Mother, hymn of compassion
Tribute to Teresa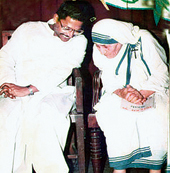 ---
Published 05.08.16, 12:00 AM
|
---
Mother Teresa's words have always inspired me:
"The Fruit of Silence is Prayer. The Fruit of Prayer is Faith. The Fruit of Faith is Love. The Fruit of Love is Service. The Fruit of Service is Peace".
The canonisation of Mother Teresa gives us an opportunity to sufficiently and deeply reflect on her life and work for the poorest of the poor. Mother has long been a saint.
For us in Calcutta, she is the song of celebration, hymn of compassion. The city of Calcutta shall shine in her holiness. I wish and pray that her Sainthood washes away our sinfulness.
Mother believed that God is specially revealed in the mystery of the human person who is "created in the image and likeness of God" - she probed the meaning of human life and arrived at the radical goodness that resides in every individual.
She has inspired thousands of followers in several nations as well as individuals around the globe. World leaders have recognised her as an inspiration.
She was one among us, one among the poor, dying and destitute. She identified herself with them. She demonstrated that a person could live a faith-filled life even when in agony and doubt.
Her message is universal. No matter what religion a person belongs to, or if they don't believe at all, Mother Teresa's message is to serve with love. "Not all of us can do great things, but we can do small things with great love."
Mother Teresa was misunderstood - critics blamed her for working for conversion. In her epic years as a missionary, Mother has not converted a single person to a particular religious faith. She converted many, to the communion of Humanity, beyond considerations of parochial religious culture.
I have had a close association with Mother. Whenever I invited her to St. Xavier's College to address the staff and students, she was there with her characteristic smile, humility and a presence that created an atmosphere of prayer and veneration.
I discovered in this lady the divine dispensation that reached the core of my heart. Every word she spoke, every touch and every look exuded a transformative tint. Mother Teresa is the universal Mother, she is like Goddess Durga for the cultural connotation of the people of Calcutta.
She performed the mission of destroying the evil of pain and poverty and propagated peace of thought and purity of act. The permeating bliss that spread across Mother's missionary journey of charity removed the emotional distance between people - she healed our race.
We are eagerly awaiting the canonisation of Mother as Saint. We would have preferred our Holy Father to canonise Mother in the very city where she lived and served. It would have been a momentous gift from the Pope to the people of this country.
Now that the canonisation will be officially held in Rome, in St. Peter's Square on September 4, 2016, we express our gratitude to Pope Francis for his extraordinary gesture of approving the canonisation of Mother Teresa.
As a mark of respect to Mother and preparation for the canonisation, St. Xavier's College is organising a symposium on "Mother Teresa's Contribution to Humanity" on Sunday, August 7, from 5.30pm to 7.30pm at the Depelchin auditorium of St. Xavier's College.
Cards are available from the college reception.
Father Felix Raj is principal of St. Xavier's College