Mom at wheel of truck with road as teacher
Law degree to life on the highway, Bhopal woman is a pathfinder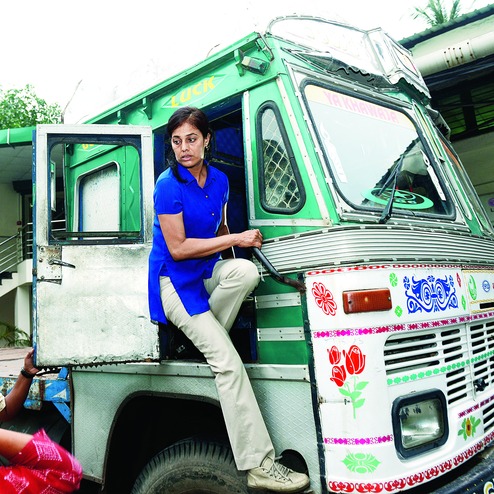 ---
Calcutta
|
Published 21.06.18, 12:00 AM
|
---
Calcutta: Her slight build and soft voice belie the steel she has shown in smashing the glass ceiling.
Yogita Raghuvanshi, a mother of two, drives a ten-wheeler across states with a confidence that she didn't know existed within her 15 years ago.
The 47-year-old from Bhopal, in town for conclave on Thursday organised by the Seva Kendra Calcutta, used to be a homemaker who never missed working despite having a degree in law.
Then tragedy struck in 2003, changing her life forever. A woman who didn't know how to drive, let alone take the wheel of a transport business, became a trailblazer.
"It was necessity that drew me to this profession," Yogita recounted to Metro. "My daughter was eight and son only four when my husband died in a road accident. I realised I must work to fund their education," she said.
After working for a month as a legal assistant and a few days as an assistant to a boutique owner, Yogita felt she needed to do something substantial to survive. "My husband was an advocate who ran a transport business on the side. He owned three trucks. I decided to hire a driver and a helper to keep the business going," she said.
A decade and a half later, Yogita lives a trucker's life on the road in between managing the business her husband had left her. She makes long inter-state trips, sleeping and cooking inside her vehicle and using public toilets.
The deadlines are tough, especially when she is transporting alcohol and fruit. There have been occasions when she has single-handedly fended off people trying to take advantage of her.
In Calcutta for the first time to address truck drivers from across Bengal, Yogita said the road had been her best teacher. "My driver fled within six months of being hired. He drove the truck into a field near Hyderabad and I went there with a mechanic and a helper, got the vehicle repaired in four days and returned to Bhopal. My kids were alone at home during those four days," she recalled.
By the time she was back, Yogita knew what she wanted to do. "I was determined to learn driving," said the trucker and entrepreneur.
She got her driving licence in 2004 and hasn't looked back since. "I had a helper accompany me on trips at first, but soon gained the confidence to travel alone," Yogita said.
She has steered her truck across Andhra Pradesh, Telangana, Karnataka, Tamil Nadu and Maharashtra over the past 15 years. "I know almost every nook and cranny of some places down south. Sometimes, I have to drive all night, especially if I am carrying perishables. If I feel sleepy, I park the truck near a fuel pump and steal a power nap," she said.
So, how does she ward off threats? "I walk like a confident man, wearing a turban and keeping my shirt collar up," she said.
Yogita was once attacked by three men while cooking on the side of a highway. "I fought them off. I was injured by the time help arrived, but I did give it back to them," she said.
Yogita's daughter is now an engineer and her son is in college.