'Minor' accident is no less serious
Woman battles for life at Calcutta hospital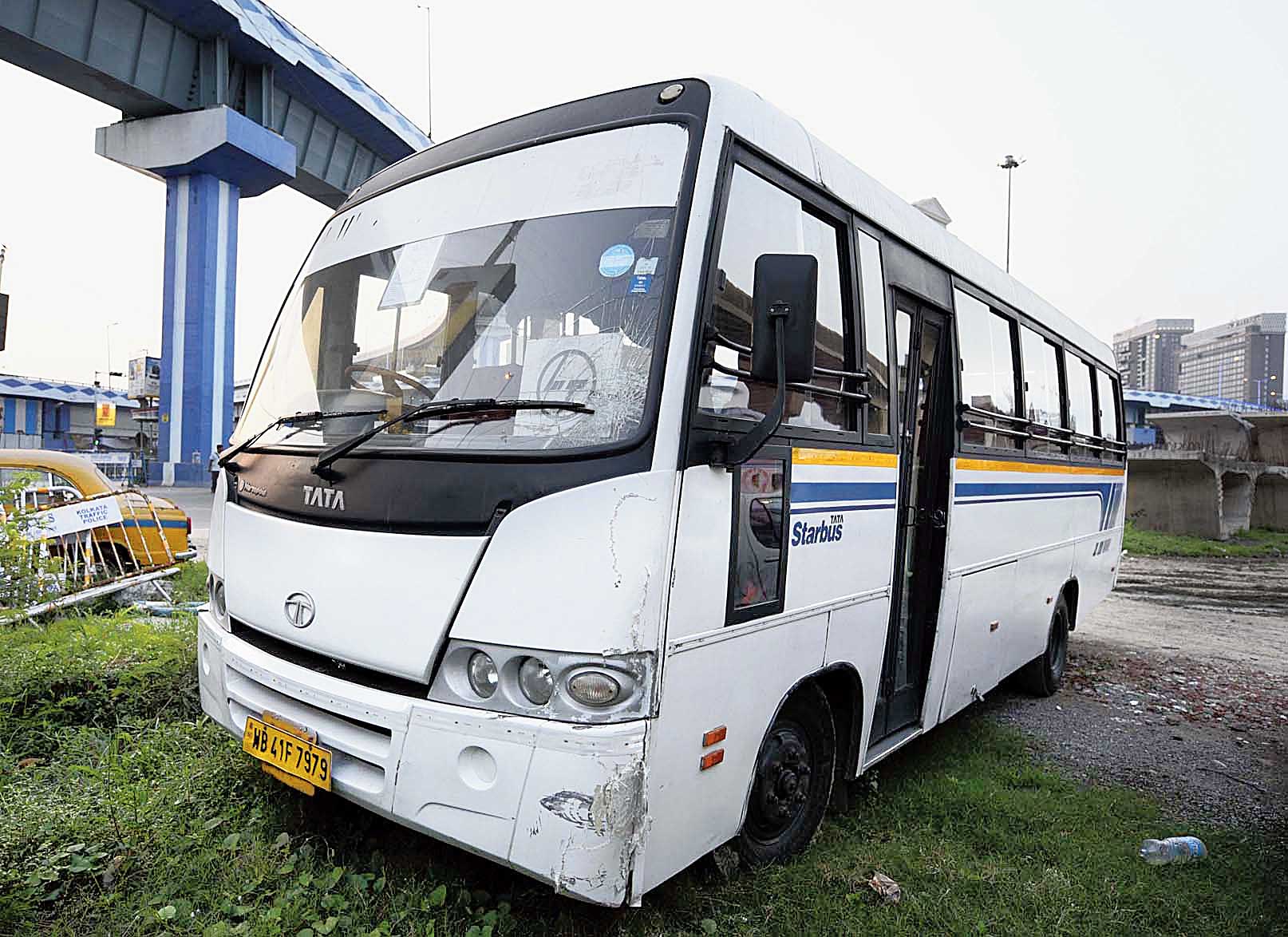 ---
|
Calcutta
|
Published 13.04.19, 07:59 PM
---
A road accident termed "minor" in official records is often a close brush with death.
Metro had recently reported one such "minor" accident involving a couple — Rahul Basu Thakur, 29, and Papiya Chakrabarty, 30. While Papiya had been "treated and discharged" from a government hospital, the couple's traumatic ride is yet to end with the woman continuing to battle for her life at a private hospital.
Papiya suffered brain injuries when their bike was hit from behind by a bus that had ignored the stop line at the Science City crossing red light.
Papiya is one of the 69 people who became victims of "non-fatal" road accidents reported from across the city in a span of nine days in April. Despite wearing a helmet and having done the right thing to stop at a signal when it turned amber, the couple's bike got hit as the bus had chosen to do the usual — not follow the rule.
Admitted in the Institute of Neurosciences (INS) in Mullickbazar, Papiya's skull had to be opened, her family said.
"I saw the signal turn amber so I slowed down and came to a halt around 50 meters from the stop line at the Science City crossing. My wife was riding pillion. The last memory I have is of seeing in the rear-view mirror something huge and white approaching us from behind," said Rahul.
The bus engaged with a private company fled from the spot with the driver abandoning the vehicle a few hundred metres away. Both the vehicles — the bus and the bike — have been seized by officers of Pragati Maidan police station.
Taking the EM Bypass to reach their office in Salt Lake has been routine for the couple married for a little over a year. Last Monday was also no exception. The couple were on the Beleghata-bound flank of the EM Bypass at the Science City crossing when the accident took place around 8.40am.
Though injured, Rahul was back on his feet in a couple of minutes only to find Papiya lying motionless in the middle of the road.
"Her eyes were wide open and her pupils were pointed upwards. There was no motion in her body as blood gushed out of her head," Rahul said. An ambulance and police officers posted at the crossing helped the couple reach Calcutta National Medical College and Hospital.
Rahul, who was also bleeding from his face, managed to get hold of a trolley and put his wife on it. With the trolley's wheels missing, he had to drag it to the hospital's emergency department.
However, the doctor on duty advised Rahul to take his wife to a private hospital better equipped to handle "a neuro case".
She was rushed to the ICU of a nearby nursing home, where Papiya started to vomit blood and blood trickled out of her ears too. The doctors advised Rahul to shift Papiya to a neuro hospital.
After she was shifted to INS, doctors carried out MRI and CT scans to find out if there were any injuries to Papiya's lungs and abdomen, one of Rahul's colleagues said.
The family has already spent a few lakhs on her treatment with no idea when Papiya would be able to talk or walk again.
"She is moving her hands in reflex. She is yet to gain consciousness. I don't know how long she will stay like this...," Rahul said.