Millennium Mams get expert investment tips
Participants at the event on Friday. Picture by Anup Bhattacharya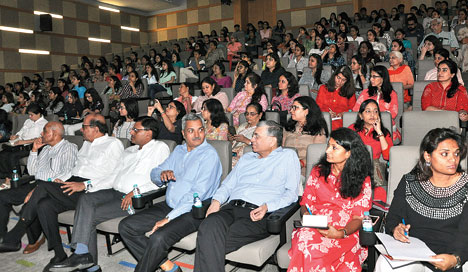 ---
Published 15.04.18, 12:00 AM
|
---
Alipore: The stock market is going to be the main generator of wealth for investors in India in the next decade, two financial experts told an audience of over a 100 women on Friday.
Saurabh Mukherjea, CEO of Ambit Capital, an Indian investment bank, and Gaurav Mehta, a fund manager at the same firm, gave investment tips at a session titled "Smart Money Choices" at an auditorium in Alipore.
The event was organised by Millennium Mams', an organisation that has been promoting financial literacy among women over the last two decades.
"More than 90 per cent of the wealth in India is in the form of physical assets like real estate, gold and consumer durables. More than 75 per cent of this wealth is in real estate," said Mukherjea, an alumnus of the London School of Economics.
Real estate however was already a "dead asset class" he said, predicting that a large chunk of that wealth would migrate to the equity market.
Equities are going to be the main engine of growth and wealth generation, said Mukherjea, who has authored several books on investment strategies.
His colleague Mehta said sitting in front of computer screens and analysing stock markets was not mandatory for good returns. "Buy stocks of good companies and sit tight. Don't watch TV every day and get bogged down by market fluctuations," said Mehta.
Clean accounting, lack of political connectivity and conservative capital allocation were the qualities to look out for in companies while buying their stocks, he said.