Mamata's pay hike gift dashes teachers' hopes
The chief minister was addressing a post-Puja get-together attended by around 15,000 teachers from across Bengal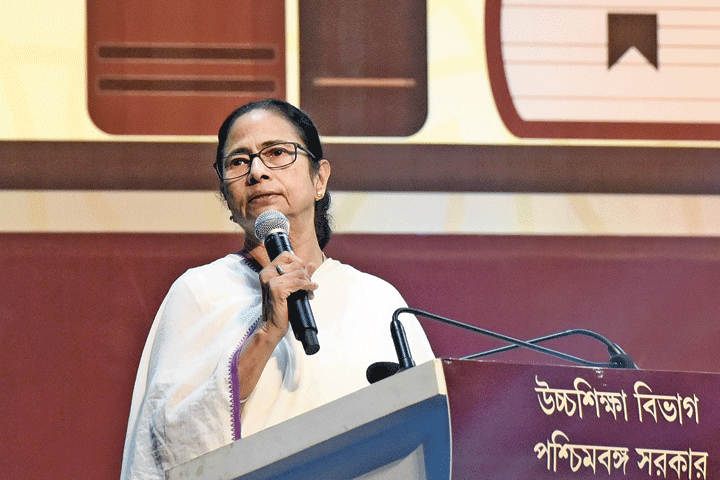 ---
|
Calcutta
|
Published 05.11.19, 08:18 PM
---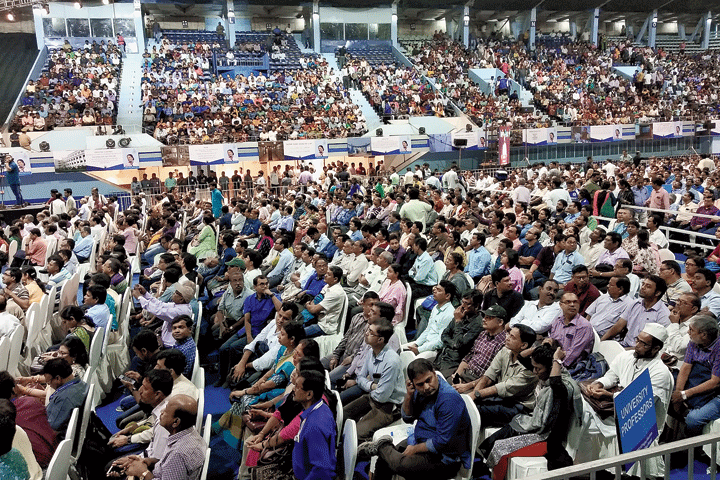 Chief minister Mamata Banerjee on Tuesday announced that college and university teachers would be paid according to the seventh central pay commission's recommendations from January next year.
The announcement dashed the hopes of many teachers who had expected the raise to take effect from January 2016, when the human resource development ministry had notified that the recommendations would be implemented.
Sensing the disappointment among the teachers at Netaji Indoor Stadium, Mamata said: "Are you not happy?... I don't see anyone smiling."
The chief minister was addressing a post-Puja get-together attended by around 15,000 teachers from across Bengal.
"The state government has decided to implement the revised UGC pay-scale for all teachers of state-aided universities and colleges... with effect from 1.1.20, giving notional effect from 1.1.16," the chief minister said in her speech.
Mamata perhaps realised that the audience could mistake "notional effect" for "retrospective effect".
She came up with a clarification immediately. "Na na eta annya, na na eta annya…. (No no, this is something else). With effect from 1.1.20, giving notional effect from 1.1.16 with addition…. Danran, bhul bujhben na (Wait, don't misunderstand me). Get this clear. We will implement the order from 1.1.20. And for the previous four years, we will give you an annual 3 per cent increment. This much resource I could gather for you after putting in a lot of effort," the chief minister said.
"Do you know what will be the financial implication? Only Rs 1,000 crore. It is not a small sum… 1,000 crore."
The section of the audience that had clapped hearing the announcement of the notional effect fell silent after the clarification.
"Aasha kori aamader ei chhotto daan aapnara grahan korben. Ki khushi holen na? Ki holo bhai? Khushi hon ni? Aapnader demand to sarkar mene nilo. Tatey aapnara khushi hon ni? Jatota perechhi korlam…. (Hope you will accept this small offering. So aren't you happy? What happened, brother? Aren't you happy? The government has accepted your demand. Aren't you happy about that? I have done as much as I could)."
She continued pleading with the audience to cheer. "Kintu aami ektuo haasi dekhte pachchhi na. Ektu khushi hole bhalo hoy (But I don't see any smiles. Would be good if you show some happiness)."
The teachers later came up with figures to show how much they would miss out on following the government's decision to implement the hike from January next year, instead of January 2016.
"An assistant professor (at the starting level) would miss out on Rs 6.4 lakh for four years," said Partha Ray, of Jadavpur University.
The seventh pay commission had said that an index of rationalisation — 2.67 — had to be multiplied with the entry pay (basic pay plus academic grade pay) of the teachers.
The entry pay of an assistant professor, associate professor and professor (all at starting level, known as academic level 10) is Rs 21,600, Rs 49,000 and Rs 53,000, respectively.
An assistant professor now gets Rs 43,200 at the starting level. The salary will increase to Rs 57,000 from January 2020.
Once an assistant professor becomes associate professor, he or set gets a salary of Rs 98,400. That will increase to Rs 1,31,400. The starting salary of a professor will increase from Rs 1,06,000 to Rs 1,44,200.
"The higher the rank, the greater is the loss. The increment (3 per cent) is no match for this," said Keshab Bhattacharya, general secretary of the Left-backed West Bengal College and University Teachers' Association.
The chief minister kept trying to assuage the teachers. "Those of you are in the gallery? Why don't you feel happy, considering that you would get the revised scale from January 2020," she said.
Contractual teachers
The chief minister said the salary of part-time, whole-time contractual and guest teachers at state-aided colleges would be raised by Rs 5,000 a month. "You don't come within the ambit of the revised pay-scale, that's why we raised the salary. Their post-retirement benefit has been raised from Rs 3 lakh to Rs 5 lakh," she said.
In August, the government had announced that those who were working for less than 10 years but had the requisite qualifications would be offered Rs 26,000 a month. Teachers who don't have the required qualifications but have worked for more than 10 years will get Rs 20,000.
Those with less than 10 years' experience will get Rs 15,000.