'Beware of internet frauds'
Mamata opens credit window for students, but warns of fraudsters
Didi defends her govt and party, says vaccinegate an isolated incident; asks minister Bratya to ensure nothing goes wrong with new scheme that allows Rs 10 lakh loan to those above Class 10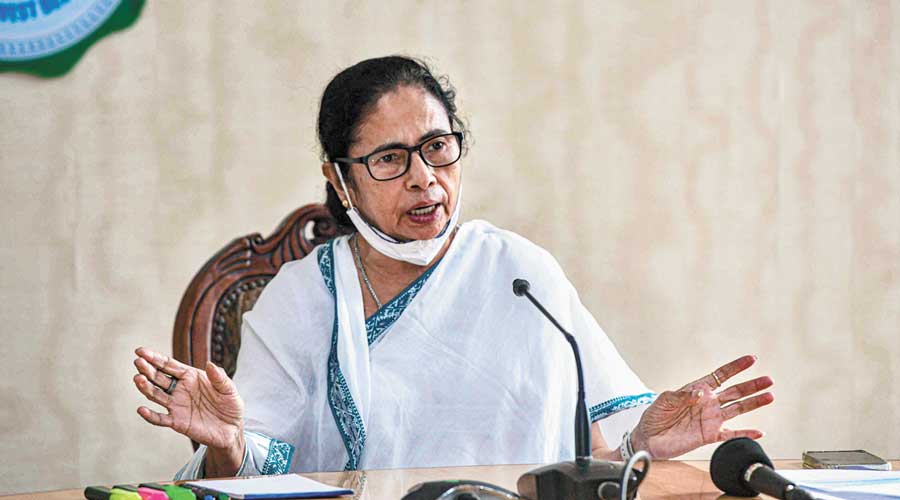 Mamata Banerjee.
File picture
---
Calcutta
|
Published 30.06.21, 05:03 PM
|
---
Bengal chief minister Mamata Banerjee launched one of her biggest welfare schemes, easy credit for students, on Wednesday but used the occasion to caution the youth against fraudsters, particularly those that use the internet to dupe people, at a time when her government is being targeted by the Opposition BJP for a recently unearthed fake vaccine racket.
"Look at the vaccine scam. It had nothing to do with the state government, it was an isolated case," Mamata said, while launching the student credit card scheme, the latest among welfare programmes promised before the elections, which would entitle students to soft loans for higher education. 
"When the attack on Parliament took place, the vehicle used had a logo of the Parliament. Government logos are copied and used. These things happen," she said alluding to the prime accused who was impersonating as an officer of the Calcutta Corporation while organising fake vaccination camps, all the while armed with forged documents to prove his "official" credentials. 
Debanjan Deb, the prime accused who has been arrested with a few of his accomplices, went around the city conducting raids, distributing masks, seeking funds for projects from contractors while posing as an IAS officer. He had photographs and his name engraved in foundation stones with the who's who of the Trinamul Congress. All of which have contributed to the embarrassment to Mamata and her government.
Mamata's comments on Wednesday came hours after the Calcutta High Court's acting chief justice Rajesh Bindal questioned the state government. "Even if he had been an IAS officer could he have moved around with a blue beacon in his car? He moved around as a joint commissioner of the Calcutta Municipal Corporation. What was the municipal commissioner doing? How could he not identify the person?" asked the acting chief justice .
Mamata, however, defended her government and party, saying none could be blamed. "Many people ask for selfies. I refuse sometimes. No one knows how the photographs will be used. I am sitting in the first row of an aircraft and the photos are getting clicked from row 20. These things are happening," she said.
Mamata reminded state education minister Bratya Basu that the education department would have to take complete responsibility of the students' credit card scheme and monitor the process. "The communication code for the system should only be known to two persons and they will be held responsible if anything goes wrong," she said.
Under the scheme, a student of Class X or higher can avail a soft loan of up to Rs 10 lakh to pursue higher studies in schools, colleges, institutes in Bengal, other states and, also, abroad."No guarantor is needed for this loan. The state will stand guarantee," Mamata said at an online press conference.
 Any applicant can avail the facility till the age of 40. The loan would have to be repaid in 15 years.
"There are many who were forced to take a break from studies for personal reasons but would like to get a second chance. This scheme will offer that," said Mamata. "Undergraduates, post-graduates, doctoral and post-doctoral students in India and abroad can avail of a total of Rs 10 lakh as loan."
The Bengal government is among the first to offer a student credit card. Bihar is in the process of organising one. Currently, credit cards for students are only offered by some private banks, including ICICI Bank, HDFC Bank and Axis Bank.