Mamata scoffs at 'goli' admission
Mamata warned the BJP against trying to replicate the model in Bengal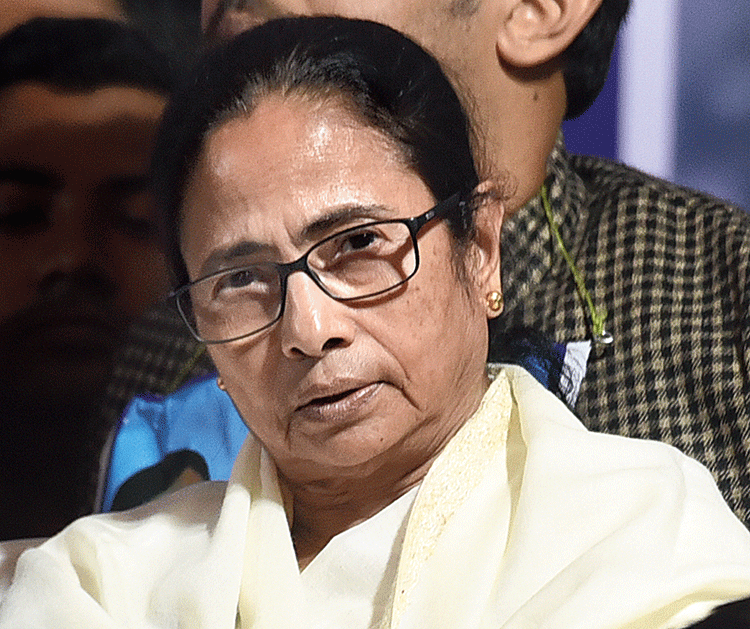 ---
|
Calcutta
|
Published 14.02.20, 08:53 PM
---
Mamata Banerjee on Friday apparently lashed out at Union home minister Amit Shah for his comment that hate speech and inflammatory slogans like "goli maaro (shoot)" should not have been used by the BJP in the Delhi Assembly election campaign, saying it was as pointless as "the doctor arriving after the patient's death".
Warning Shah — albeit without naming him — and his party of consequences for having "poisoned" the political culture in India with hatred, divisiveness and violence, the chief minister said workers and supporters would be misguided if leaders said such things.
"If you have told them to open fire and people have actually hit the streets of Delhi more than once and done exactly that, what is the point now in trying to apologise? Get a grip on yourselves," Mamata said in the Bengal Assembly, addressing the BJP's Madarihat MLA Manoj Tigga, the legislature party leader in the House.
"Now what is the use of saying it was not correct, after the shots actually got fired? What is the point of the doctor arriving after the patient's death?" asked the chief minister.
Mamata was clearly referring to Shah, who had on Thursday said slogans like "goli maaro" should not have been raised and such exhortations "may have cost the party". But the Union home minister and the BJP's campaign spearhead chose to publicly address such provocation only after the polls.
Although Shah claimed that those who had said such things — like Union minister of state for finance Anurag Thakur, Uttar Pradesh chief minister Yogi Adityanath and MP Parvesh Verma — had been pulled up, there has been no indication of action against them.
On Friday, Mamata said the BJP would be held accountable by the nation and its history for the kind of "venom" it had spewed.
"Now, some people are seen openly threatening, encouraging to shoot peaceful protesters, simply because they do not agree with the cause. If you do not agree with them, you will shoot them? Boli nahi, goli chala do (Not words, use bullets — a reference to an Adityanath speech)? What is this? I cannot believe it has come to this," she said.
"Shoot everybody, says the leaders…. Such venom was unimaginable in the past. Every question will have to be answered some day. If you cannot control yourselves now, you will never be able to. History, this nation, will never spare you for this," she added.
Mamata warned the BJP against trying to replicate the model in Bengal.
"Explain to your (Tigga's) party that this is Bengal, not Bihar or Uttar Pradesh. What they think works there will never work here…. The people here will never accept this culture you want so desperately to introduce. Do not try to import violence and hatred that is alien to us," she said.
Mamata repeatedly got into arguments with Congress and Left Front MLAs, accusing them of relentless efforts to cause unrest in the state.