Mamata Banerjee govt to scrap active ration cards of dead
Sources said a rough estimate of the government put the total number of such cards in the state marginally less than 10 crore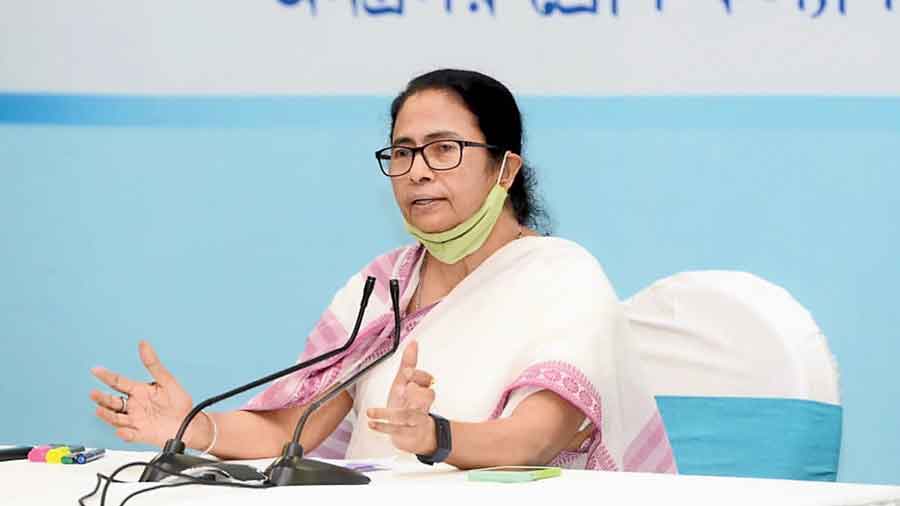 Mamata Banerjee.
File photo
---
Calcutta
|
Published 28.09.21, 02:11 AM
|
---
The Mamata Banerjee government is likely to cancel lakhs of ration cards in Bengal because of authorities' assumption that the cards belonged to people who died in the past few years but free food grains were being collected against them.
"The total number of active ration cards in the state is 10.44 crore. After the Duare Sarkar programme, the figure is set to touch 10.5 crore as 6 lakh more people have applied for cards. The figure is abnormally high considering the fact the total population of the state according to the 2011 census was 9.13 crore," said a senior government official.
Sources said a rough estimate of the government put the total number of ration cards in the state marginally less than 10 crore.
"If 10.50 crore active ration cards are in place, it clearly suggests a huge number of ration cards of the dead beneficiaries were not cancelled," a source said.
If excess ration cards are in use, it costs the state exchequer dear as the government gives a handsome subsidy to run free food grain schemes for all.
As the state government has launched several other welfare schemes like Lakshmir Bhandar which requires additional Rs 17,000 crore a year, various departments are trying to cut down expenditure by all possible means.
"Right now, the state government spends nearly Rs 4,500 crore a year to run the free food grains scheme for all. If cards of a few lakh dead beneficiaries are cancelled, the government can save up to Rs 500 crore a year," said a senior government official.
The food and supplies department has already initiated several steps to identify active ration cards of dead beneficiaries. First, district authorities have been asked to ensure the registrars of birth and death play an active role in identifying the dead beneficiaries.
Second, ration dealers were also asked to play an active role by sending lists of dead beneficiaries at a regular interval to food inspectors, who would verify the facts with the families of the deceased.
The procedure would be adopted to identify dead beneficiaries in the past four-five years.
Moreover, the authorities have been asked to collect the lists of Samabyathi — a scheme where the government gives Rs 2,000 for funerals of needy persons.
Another instruction is that the authorities verify the voter list of a particular area to find out those whose names were deleted following death.
"Moreover, the state government would launch an awareness programme across the state asking people to come forward and report in case any of the family members dies or has already died," said an official.