Mamata appeal to Congress, Opposition parties
The TMC chief said she would build a pan-India movement demanding a return to ballot papers and other electoral reforms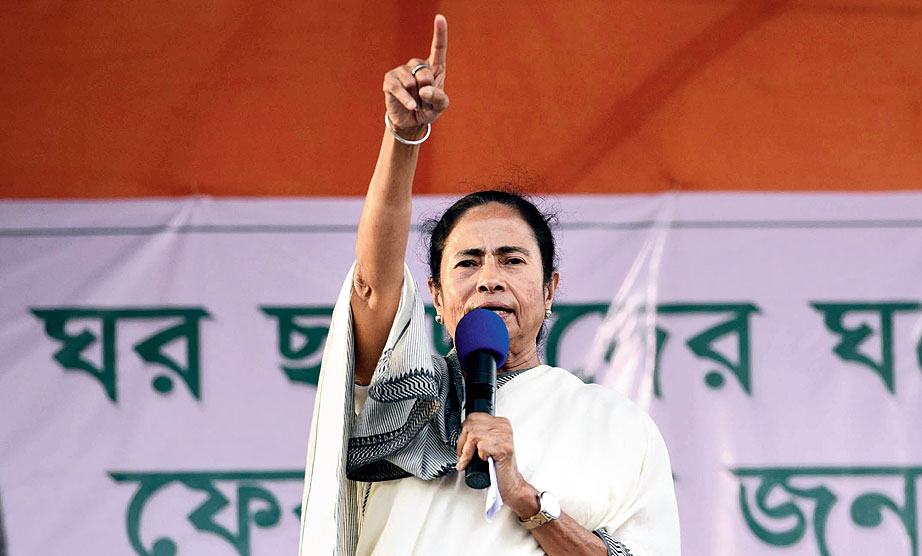 Mamata Banerjee
(Gautam Bose)
---
Calcutta
|
Published 07.06.19, 08:59 PM
|
---
Mamata Banerjee said on Friday that she would launch a pan-India movement to demand electoral reforms and protest alleged malpractice in the Lok Sabha elections, adding that she would "personally" request the Congress and other Opposition parties to join her movement.
"I think there should be a fact-finding committee to bring all of this (alleged irregularities in the conduct of the Lok Sabha polls) to light. From the programming of EVMs to the hawala transactions…. We will stage a sit-in in front of the office of the Election Commission, and will request other Opposition parties to join us. I will personally speak to the Congress," the chief minister said.
"I know how much money they (the BJP) spent for the elections. Some are saying it could be thousands of crores. I demand to know, where did all this money come from? All parties cannot spend so much money. This is corruption," Mamata said.
The Trinamul chief said that from July 21, she would build a pan-India movement demanding a return to ballot papers and other electoral reforms.
Mamata demanded the establishment of a collegium, like the one in the Supreme Court, to appoint the chief election commissioner and election commissioners, accusing the poll panel of bias in handling the general election.
"For the Supreme Court, there is a collegium that decides (the appointment of judges). In case of the Election Commission as well, there should be a collegium to decide on the appointment of the commissioners…. Three nominated persons cannot have the mandate to conduct the elections that decide the fate of the nation," she said.