Lunch on lotus leaves
Read more below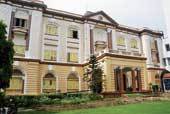 ---
Published 21.06.09, 12:00 AM
|
---
Birla Industrial and Technological Museum. Picture by Aranya Sen
Landmark buildings in cities often have interesting histories. There is every possibility that they were constructed after demolishing another building with an equally interesting past. The Birla Industrial and Technological Museum (BITM) at 19A Gurusaday Road that is celebrating its golden anniversary is one such.
It is widely known that Dr B.C. Roy, after visiting the Deutsches Museum in Munich was so impressed that he decided to build a similar institution back home. He was on cordial terms with Ghanashyam Das Birla and approached him for a suitable plot. G.D. Birla told him that they had already shifted from their Birla Park home and the space could be used to build the museum.
N. Guin & Company, that had designed and constructed the BITM, was founded by Nundlal Guin (1874-1963) of Serampore. His office still exists on CR Avenue.
The museum building with a porch and a pediment is a mishmash of various European architectural styles and was constructed by N. Guin & Company in 1922. It still has a staircase that branches out to the two wings of the building, but neither in dimension nor in grandeur is it any match for the staircases that have survived in some of the buildings in Dalhousie square.
The company revised its original plan for the Birla residence and gave it a European façade on the request of this family of industrialists whose name has become a byword for wealth in popular imagination, no matter whether they command that pre-eminent position any longer or not.
But the house that Guin built was constructed only after Satyendranath Tagore's house that stood there was demolished. The address was 19 Store Road then, and perhaps the only living Tagore to have seen it is the daughter-in-law of Surendranath, who was Satyendranath's son.
Sati Rani Tagore, close to 80 now, is the widow of Sunrit Tagore, Surendranath's youngest son, who was born in that house. She had never been inside the house but had seen it from outside. Subhas Choudhury, husband of her niece, Surpurna Tagore, said that after her marriage, Sati Rani lived in the house at 1 Palm Place that was planned and constructed by Surendranath. When I called Sati Rani Tagore, she admitted she did not remember much of the building, nor do any photographs exist.
"It was a huge building. It was palatial. I have heard that it had a large terrace," she said. She did mention the famous pond, but that was all. But the various BITM publications brought out to celebrate the museum's anniversaries provided more information.
G.D. Birla had bought the property covering 18 bighas, 17 cottas and three chhattaks from Surendranath Tagore in 1919 for Rs 4 lakh. The Tagores had bought it from Mirza Abdul Karim and eight part owners in 1898. The earliest owner listed in the Corporation's records of 1878-79 was A.W. Chapman. The Corporation plan of 1907-1908 shows that the Tagore building was partly two-storeyed and partly three-storeyed with a tank to the north and another on the eastern side.
In her reminiscences, titled Smritikatha, Meera Devi, the fourth of Rabindranath's five children, wrote about the tank that was full of lotus blooms. The family used it for occasional boat rides. The other pond was haunted by a European couple who had accidentally drowned in it. It is said that Rabindranath and other members of the family celebrated Holi in this house, when lunch was served on lotus leaves.
Surendranath was in the business of buying and selling land, but without much business sense, he incurred huge losses. His wife, Sangadebi, who after widowhood became a sanyasin and was rechristened Swarupananda Saraswati, has left behind an account of how her husband had founded Hindusthan Insurance Society, while they lived at 19 Store Road. This later became Life Insurance Corporation. Ultimately, the house at 19 Store Road had to be sold off.
After the Birlas took it over, the pond was filled with mud from the Dhakuria Lakes at the instance of the Ballygunge Cricket Club, which had lost innumerable balls there. Earlier, the Birlas lived at 6 Rainey Park, where B.K. Birla, G.D. Birla's youngest son, was born in 1921.
When Surendranath lived there, Sister Nivedita and Japanese scholars and artists, Chittaranjan Das and Aurobindo Ghosh came to visit him. Congress leaders like Surendranath Banerji, Rashbehari Ghosh and Anandamohan Sen were the guests of his father, Satyendranath Tagore.
When the Birlas owned 19A Gurusaday Road, nationalist leaders like Mahatma Gandhi, Motilal Nehru, Lala Lajpat Rai, and Pandit Madan Mohan Malaviya were visitors. Chiang Kai-shek and his entourage stayed there. Sarala Birla, B.K. Birla's wife, who came to this house in 1942 as a young bride, remembers how there was a pond on the eastern side of the building. It was surrounded by trees then.