Log in to brush up on lessons
Xavier's launches online learning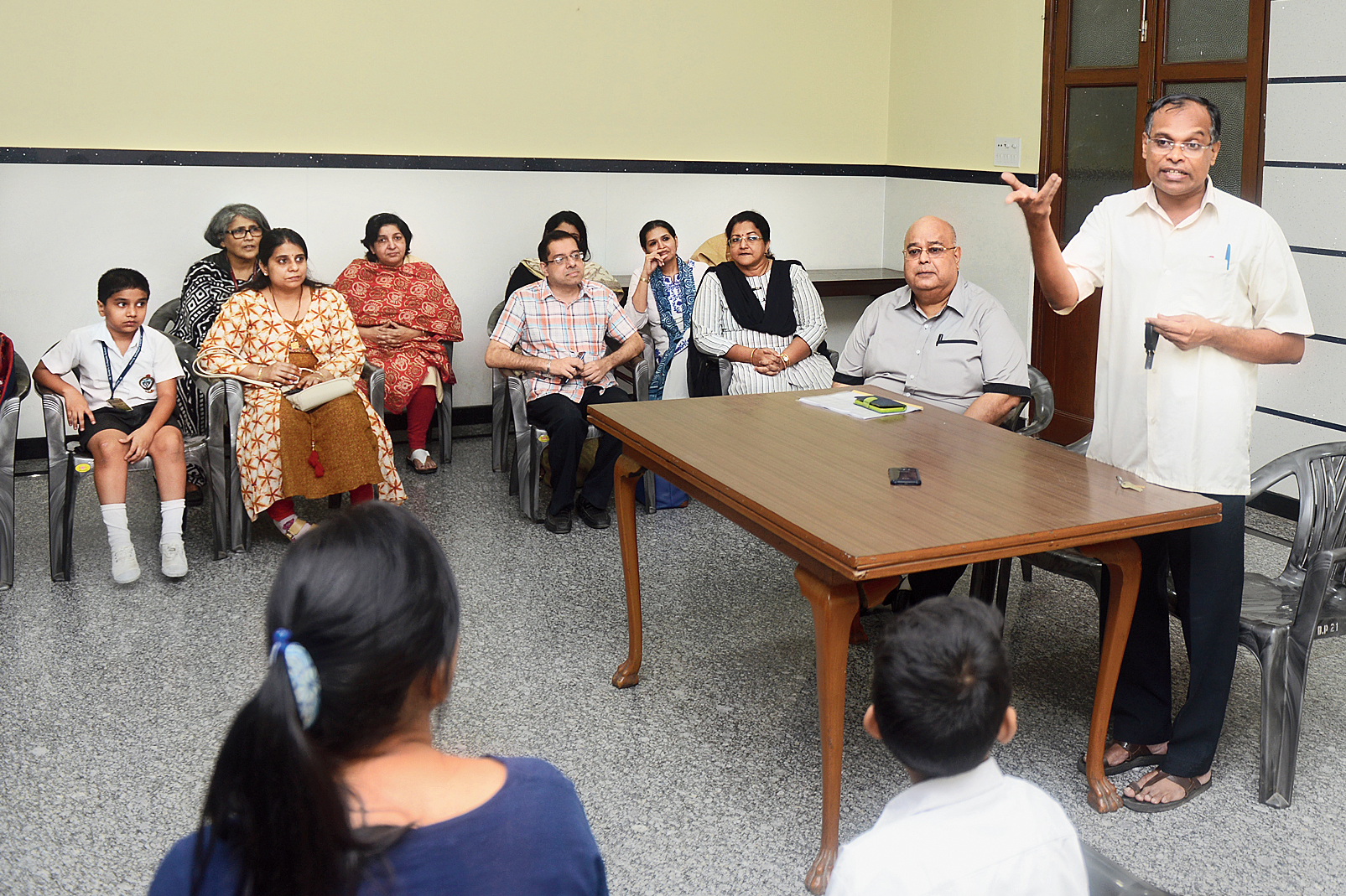 Father Benny Thomas, the principal of St Xavier's Collegiate School, addresses a session on digital class revision.
Picture by Bishwarup Dutta
---
Park Street
|
Published 07.11.18, 06:59 PM
|
---
Students of a city school can now catch up on missed lessons, get doubts cleared and take extra classes sitting in the comfort of their homes and tapping a few fingers on their laptops or even mobiles.
St Xavier's Collegiate School has introduced digital class revision for students of classes III to VIII to help children learn and study at their own pace and revise a subject of their choice at home or on the go by logging in.
"Digital class revision is meant to be an additional learning tool for students. It is not a substitution for regular classes. The role of teachers is of utmost importance and cannot be replaced by the use of technology, equipment or smart boards," said Father Benny Thomas, the principal of the school. But digital learning can help make up for the "constraints of timetable, routine, syllabus, number of working days", he said.
The resource pool includes software developers and retired teachers who upload the content in keeping with the syllabus and what is being taught and customise it. The St. Xavier's School Old Boys' Association (Alumnorum Societas or Alsoc) initiated the project, in collaboration with the school, about a year ago.
"Today's children are familiar with gadgets and this is how technology can be leveraged. The institution takes its role seriously in ensuring this kind of technology. Infrastructure is not just about air- conditioned classrooms, it is also about technology," said Amit Banerjee, member, Alsoc.
The online content will be a value addition to what is being taught in class, Banerjee said. The content allows recapitulation of concepts through audio and video lectures, especially for visual and aural learners.
"The system also uploads assignments that students are expected to complete within a certain time frame," said Sharmistha Nayak, whose son is in Class IV.
Digital class revision is optional and can be accessed against a monthly fee. About 600 students have opted for it so far. Students can book a slot — as part of small groups or for individual sessions of 45 minutes each.
Nishant Singh of Class VIII said digital revision helped him with clarifications. "It helps to clear doubts while I am studying and allows me to simultaneously seek some extra information," said Nishant.
Teachers feel "instant clarification" is one of the advantages of digital class revision. "There may be no classes of the subject in which the student has a doubt for a few days. By that time the class is held, the student might have forgotten the doubt. But with digital revision, he can seek a clarification instantly," a teacher said.
The system also allows students to see how their classmates have fared and compare performances.
"It would help students because it reiterates the points taught in class," said Soma Gomes, the vice-principal of the primary section.
"A lot of children do not speak in class. But now they can open up and ask questions," Banerjee of Alsoc said.