Locked Malda school building reduced to rubble
The Chhatra Bondhu Primary in Kalitala under ward 10 of the town was run by the District Primary School Council, founded in 1969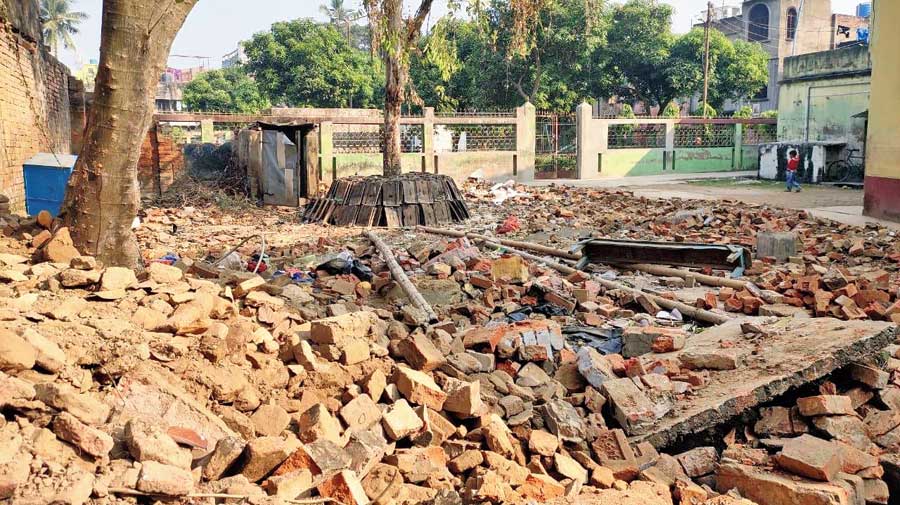 ---
Malda
|
Published 04.12.20, 02:15 AM
|
---
An old primary school building in Malda town has reduced to rubble overnight, much to the concern of residents and officials of the district education department.
The Chhatra Bondhu Primary School in Kalitala under ward 10 of the town is run by the District Primary School Council (DPSC), founded in 1969, has a campus spread over some 1,500 square feet, 40-odd students and two lady teachers.
Like thousands of other academic institutions of the state, the school was closed since the middle of March this year amid the Covid-19 outbreak and lockdown.
On Thursday, residents of Kalitala were surprised to see that the school building — with concrete walls and a roof of earthen tiles — was no longer there and debris was strewn all over the premises.
The "mysterious disappearance" of the building led to a hue and cry, prompting former minister and local ward coordinator Krishnendu Narayan Choudhury to rush to the spot. The school, residents said, is barely 30 metres from Choudhury's Trinamul party office.
Choudhury called up Suniti Sapui, district inspector of schools (primary) and told him about the building. Sapui, after a site inspection, filed a complaint at Englishbazar police station.  "We have asked the police to find out how the building got dismantled. Our senior officials have been told," he said.
Choudhury, the most prominent Trinamul leader of the area, said he did not suspect foul play. "The building was in a deplorable shape. It seems  Amphan further weakened it and the building collapsed on its own. I do not think there is any foul play. Arrangements have been made to clear the debris as there is information that the building, under lock and key for months, has turned into a pit of snakes," he said.
Administrative officials are not ready to buy the theory. Though Rajarshi Mitra, the district magistrate, denied making any comment, administrative sources revealed they sought a quick report from the police. "The building may be old but there is no reason to believe it fell on its own. We suspect that it was deliberately demolished with some other interest. Police are probing and we hope the truth is out soon," said a source.