Laureate in eyes of Shagata Mukherjee
Abhijit Vinayak Banerjee has been "a huge professional influence" on Shagata Mukherjee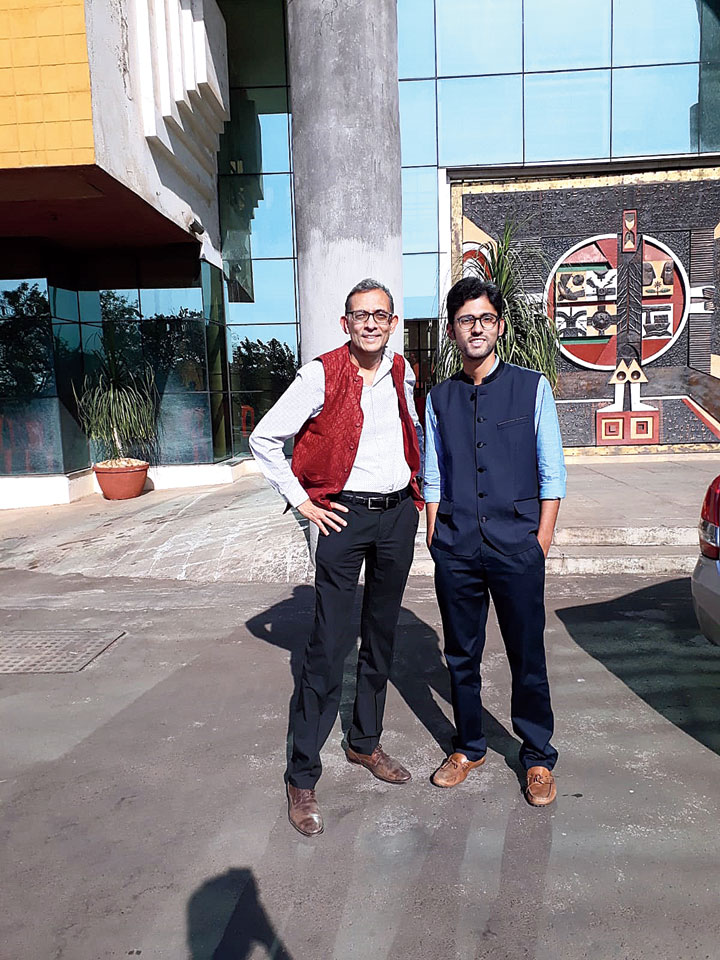 Abhijit Vinayak Banerjee and Shagata Mukherjee outside the Indira Gandhi Institute of Development Research in Mumbai on December 20, 2018. It was Mukherjee's birthday and the two spent a lot of time together
Shagata Mukherjee
---
Calcutta
|
Published 15.10.19, 02:28 AM
|
---
Abhijit Vinayak Banerjee's biggest quality is having zero airs, said a young economics teacher from Calcutta who spent his last birthday with the Nobel laureate.
"He was a big shot even before winning the Nobel. But he has no airs whatsoever. He will keenly listen to a young researcher and give feedback on his work. His humility sets him apart," said Shagata Mukherjee, 31, assistant professor at the Meghnad Desai Academy of Economics in Mumbai.
The Calcutta boy, like Banerjee, did his bachelors in economics from Presidency College (now university). He went on to complete his post-graduation from Jawaharlal Nehru University and PhD in experimental and developmental economics from Georgia State University.
Banerjee's book, Poor Economics, is part of the curriculum at Meghnad Desai Academy. Banerjee has been "a huge professional influence" on the scholar and since both work in the sphere of developmental economics, the two meet often in conferences in India and abroad. The most recent meeting happened earlier this year on the sidelines of a talk in Mumbai.
Before that the two met on Mukherjee's birthday, December 20, 2018, in Mumbai. Banerjee had come for a conference and the two spent hours together.
Apart from his humility, Banerjee's "Bangaliana (Bengaliness)" has also impressed Mukherjee, whose parents still live in Dover Lane, not far from Banerjee's family home in Ballygunge. "He is a true Bengali at heart. His accent has not changed. He loves to talk about Calcutta," recounted Mukherjee.
Mukherjee belongs to the 2006-2009 batch of Presidency College and had studied briefly under Dipak Banerjee — the Nobel laureate's father and a much admired economics teacher — until he took ill and passed away.
He first met Banerjee at Presidency College after the death of his father.
Mukherjee shared why Banerjee tries to reach a lecture venue well before the scheduled time. "Once, he was supposed to deliver a talk at a society in the US. But that day he had to drop his son to school. He got late on his way to the venue from his son's school and at one point of time, got off the car and started running towards the venue. By the time he reached, he was panting profusely and could barely speak at the lecture."
The story was shared by Banerjee himself during one such informal meet, said Mukherjee.
Mukherjee's next project, funded by Georgia State University, is also an extension of Banerjee's work. Mukherjee is about to carry out a randomised control trial (RCT) on the impact of micro finance loans on women in the Northeast. The Abdul Latif Jameel Poverty Action Lab, founded by Banerjee in 2003, has conducted a series of RCTs throughout India. "A decade ago, one such trial was on the same subject but in Hyderabad," said Mukherjee.