Labourer arrested over triple murder
Hate politics: spin in haste, repent at leisure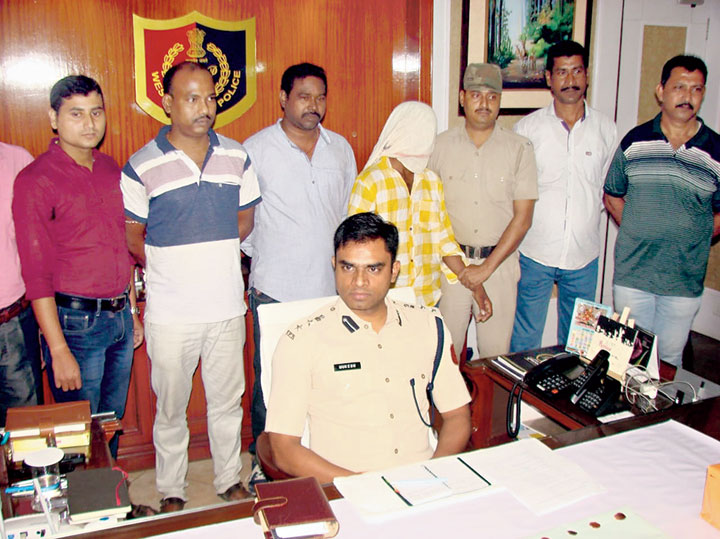 ---
---
Utpal Behra, a 20-year-old construction labourer, was on Tuesday arrested over the October 8 triple murder in Murshidabad's Jiaganj, ruling out political and communal dimensions to the crime that the saffron camp had been trying to highlight.
The BJP-RSS parivar had tried to assign political — even communal — motives to the murder of primary schoolteacher Bandhuprakash Pal, 40, his pregnant wife Beauty, 30, and their six-year-old son Bandhuangan.
The saffron camp's propaganda machinery had gone on an overdrive to claim Bandhuprakash had RSS ties and said that is why he and his family were murdered in a minority-dominated district bordering Bangladesh.
On Tuesday, Murshidabad police chief Mukesh said Behra had killed the three "in less than five minutes" over a financial dispute as Bandhuprakash, who used to also work as an insurance agent, did not give the labourer any receipt for Rs 24,000 taken from him for a policy. Behra, who hails from Sahapur in Murshidabad, has no criminal background but carried out the murders in such a way in his thirst for revenge, Mukesh said.
"Bandhuprakash was involved in several activities apart from teaching, including as an agent of various insurance companies. Behra was one of his clients and did not get a receipt for Rs 24,000. After heated exchanges over the phone with Bandhuprakash, Behra planned to kill the teacher, his wife and son," said Mukesh.
Another senior police officer said Bandhuprakash's wife and son were killed to eliminate witnesses. "Behra was one of the victims extremely annoyed with Bandhuprakash. He had been demanding either a receipt or a refund. Earlier this month, when Behra called up Bandhuprakash, the schoolteacher abused him," said the officer.
The police have said the investigations revealed that Behra first came to Jiaganj, where his elder sister lives, on October 5 and bought a hasua (a scythe-like dagger) from the market. He came back on October 7 and tried to locate Pal's home. As he failed, he called up Bandhuprakash and asked him for forgiveness, before seeking an appointment at home.
"As soon as Behra entered the house, he pulled out the weapon and hacked the neck of the schoolteacher. He then rushed to the next room, where he hacked the neck of his wife Beauty, and then the child," said Mukesh.
Behra's family claimed that he was innocent, while the relatives of Beauty said the murders could not have been the work of one person.
Chief minister Mamata Banerjee on Tuesday tweeted Bengal police's statement on the crime. "Persistent and sincere investigation of the Jiaganj PS murder case of Murshidabad has resulted in a person confessing the crime and his arrest. He had financial transactions and animosity with the deceased person."