La Martiniere boy paints gift for schoolkids
Harshit Jain of La Martiniere for Boys spent two weeks last winter painting two walls of Dum Dum Park school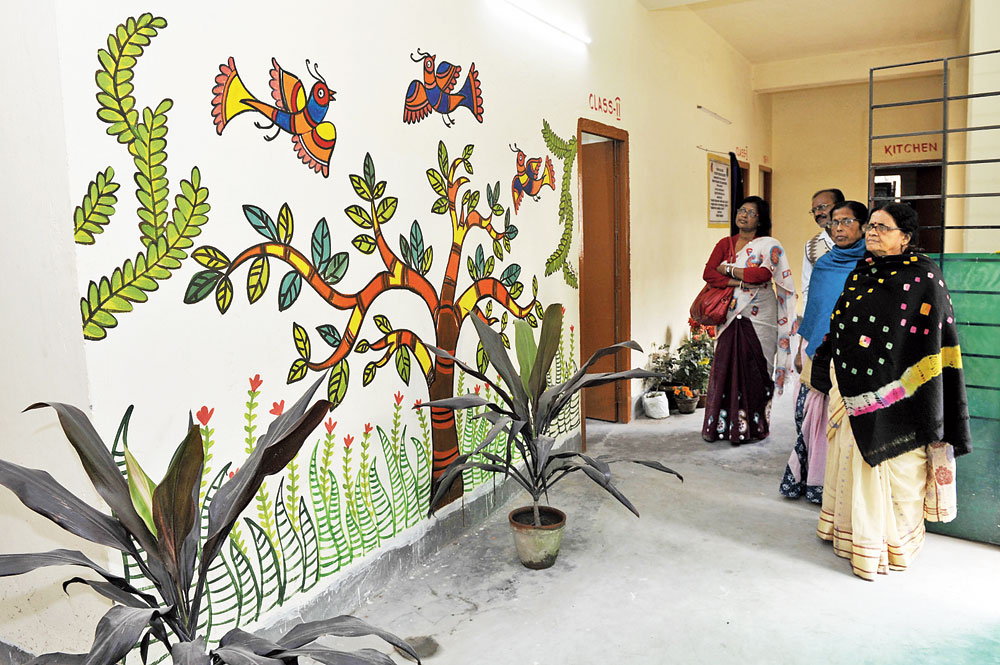 ---
|
Calcutta
|
Published 28.05.19, 11:09 PM
---
The plight of underprivileged students in a Dum Dum Park school moved a 17-year-old student so much that he skipped holidays with parents and lunches with friends to gift the kids what he loves most — paintings.
Harshit Jain of La Martiniere for Boys spent two weeks last winter painting two walls of the Dum Dum Park school, Nandipur Swami Vivekananda Vidyamandir, which is run by a fish seller.
The Telegraph had reported on fish seller Biswanath Naru, whose four-decade-long effort helped replace a leaking structure with a two-storey building that now has eight classrooms and wide corridors.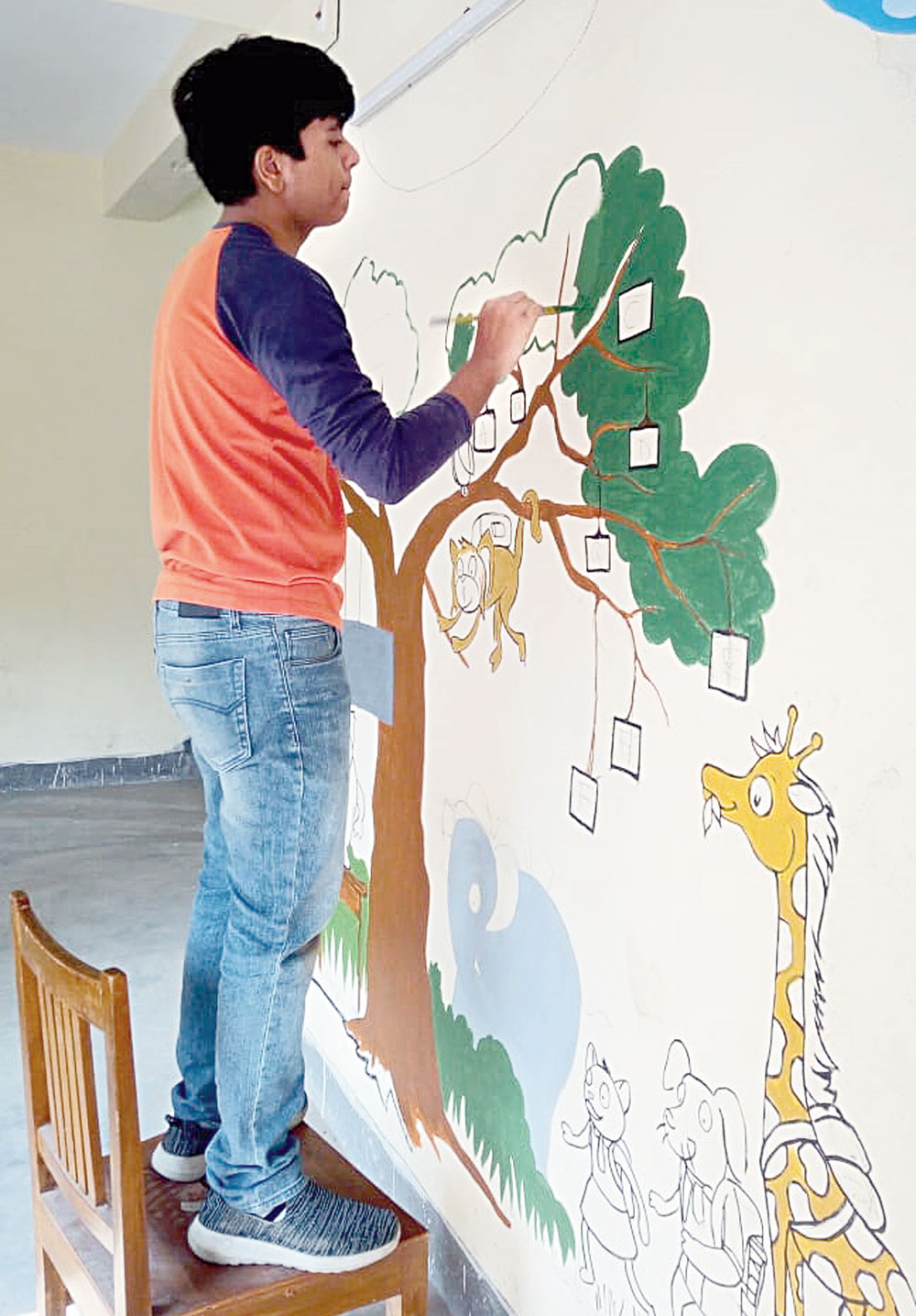 When The Telegraph had first visited the school and reported about it in October 2011, it had no classrooms but only a hall where each class was segregated by a 2ft gap that acted as an imaginary partition. The students studied sitting on tarpaulin mats on the floor.
Harshit, who stays 10km away from Dum Dum Park on EM Bypass, was introduced to Nandipur Swami Vivekananda Vidyamandir during a school fest two years ago. Prayatna Foundation was one of the participating NGOs at the La Martiniere fest and they had shown a clipping of the Dum Dum Park school. Touched by the condition of the students, Harshit had taken down the NGO's contact number because he wanted to visit the school.
"We didn't want to support them monetarily because that would have been an easy way out. When we spoke to the NGO they were open to ideas and when we suggested about painting the school walls they got interested. Harshit wanted to do something that would reflect his interest as well," said his mother Vanita Jain.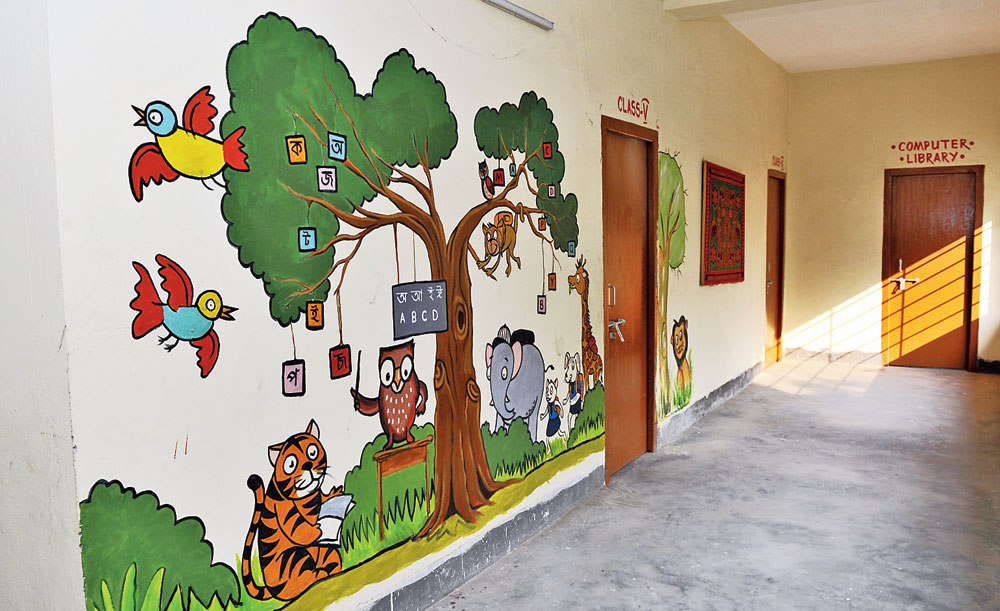 Harshit visited the school last summer and saw how the fish seller "mastermoshai" and his group of dedicated teachers were taking classes on the "dusty" ground floor, while cement bags and pipes remained stacked on the upper floor.
"I was moved because the children were still studying though the school was under-construction. If I were in their place, I would not have gone to school," said the Class XII student.
The visit was an eye-opener for the young boy.
"Going to one of the best schools in town and coming from a privileged background, I have always believed that every child has the right to education. But if I hadn't witnessed the hardships they go through, I wouldn't have understood what it takes to come to school," Harshit said.
The visit got Harshit even more determined and he wanted to make his contribution to the school.
When Harshit zeroed in on the idea to paint two walls of the school, he thought of rekindling his childhood passion of reproducing cartoon characters in his scrapbook. Only the scrapbook reproductions would get a bigger canvas — school walls — this time.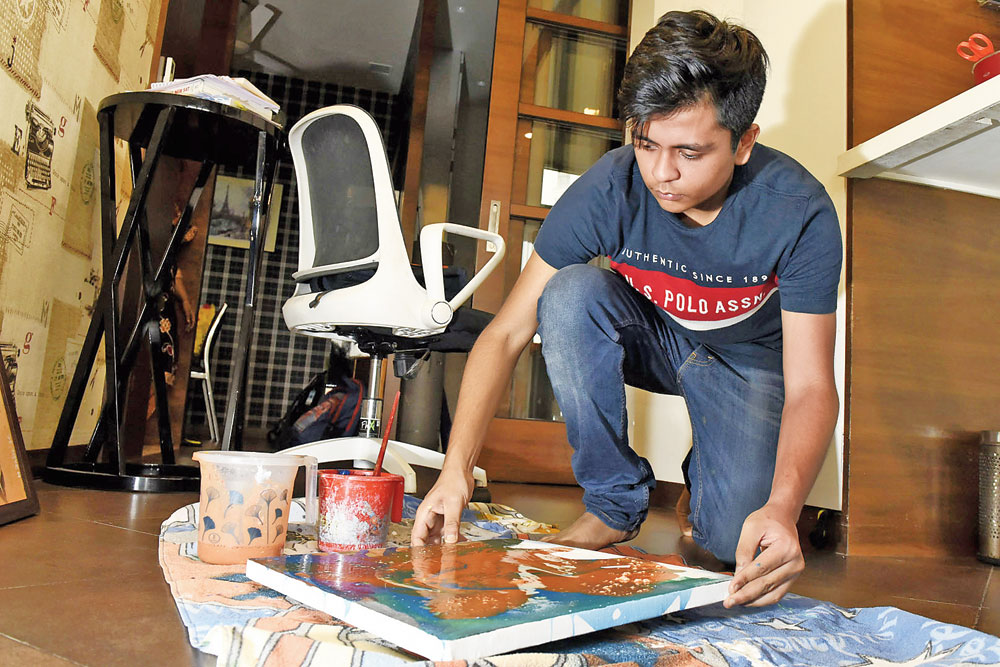 As the school is spread over five classes — kindergarten to Class IV — and attended by children of daily wage labourers, rickshaw van pullers and domestic helps who can barely afford an education, Harshit thought of painting cartoon characters as that would appeal to his younger audience.
Harshit drew a learning tree with cartoons characters, all animals, getting introduced to the letters. His painting in acrylic and charcoal fascinated both students and teachers so much that they wanted him to paint another wall.
The smiling faces of the children, who appreciated his work of art, enthused Harshit so much that he became more than eager to give in to their request.
"The children were endearing and while their teachers told them not to disturb me they would stand behind me to watch me paint. I wanted to use their hand prints on the wall, but that did not work out eventually," Harshit, who wants to pursue architecture, said.
While Naru and the teachers said his contribution would inspire the children, the project has left Harshit content. "I haven't done something really great so far in my school life, but this work makes me feel that I have done something for a group of children. It felt good to see the kids love and appreciate the work," said Harshit, whose workplace at home is full of canvases, some complete and some incomplete.