Kulgam kindness wins over Bengal
The villagers of Katarsu also took Jahiruddin Sarkar — part of the seven who was shot in the leg — to hospital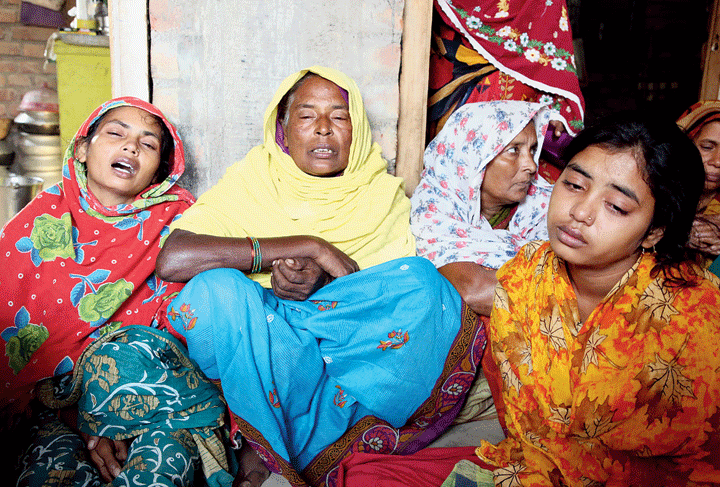 Family members of Mursalim mourn in Murshidabad's Bahalnagar
Telegraph Picture
---
Bolpur(Birbhum)
|
Published 30.10.19, 08:16 PM
|
---
Babu Sarkar, nephew of Najem Sarkar, another of the labourers, said: "We have heard that the militants don't spare those who shield their targets. It took a lot for the people of Katarsu to help our people….We will be ever grateful."
Nazir Ahmad, the owner of the orchard where Bakkar and Babu worked this season, said migrant labourers like them came from Murshidabad by hundreds. "They are usually put up in tents outside the village. But after the attack last night, we decided to take the survivors to our houses."
A pall of gloom descended on Katarsu where the labourers from Murshidabad have won praise for their hard work and integrity. "Labourers like Babu or Bakkar are so humble, so hard-working, so honest… we never hesitated to employ them. It is impossible to get such workers easily," said an apple farmer from Kulgam.
The attack has affected other orchards. Nursalem Sheikh, another labourer from Murshidabad who used to work in Chogalpora, 15km from Katarsu, was sent home by the orchard owner. "I did not risk it. I bought him a bus ticket for Jammu. Nursalem is like my own brother and I have known him for 20 years. I speak to his family. I will visit his home when I go to Calcutta next for my business," said the owner of the orchard where Nursalem worked.
In Bahalnagar, Samirul Islam of Bangla Sanskriti Mancha, which works to ensure all Bengal labourers return safely from Kashmir, said: "Even in this hour, the help these people from Bengal got in Kashmiris is exemplary." 
Several labourers from Murshidabad have spoken of heart-warming hospitality and generosity in distress by the villagers of Kulgam's Katarsu, the site of Tuesday's carnage.
The assistance ranged from rushing one of the workers injured in the attack to hospital, giving shelter and telephones to others so that they could talk to their families, and arranging for return tickets to Bengal.
According to most in Bahalnagar, the Murshidabad village home to the families, "this is the Kashmir Bengal has always known".
Bahalnagar residents said 30 of their men had gone to Kulgam for seasonal employment and the attack killed six out of a group of seven that stayed together in Katarsu.
On Wednesday, the courage and kindness of the people in Katarsu won hearts around 2,220km away in Bahalnagar.
Family members of Bakkar Sheikh, one of the labourers, said he was staying with nine others from Bahalnagar in a tent just outside Katarsu, around 67km from Srinagar. "When the attack took place, Bakkar and three others were in shock. The common people of Katarsu rushed to the spot and took them to their houses to save them from fresh attacks. This was overwhelming," said Nurbanu Bibi, Bakkar wife.
The villagers of Katarsu also took Jahiruddin Sarkar — part of the seven who was shot in the leg — to hospital. Murtiz Batt, a doctor in the Katarsu Government Hospital, said: "About a dozen villagers brought him to the hospital. He was shot in his left leg. I took the bullet out and referred him to Srinagar for better treatment," Batt said over the phone.