Kiosks to collect swab samples in Birbhum
Cheaper but safe Kerala clone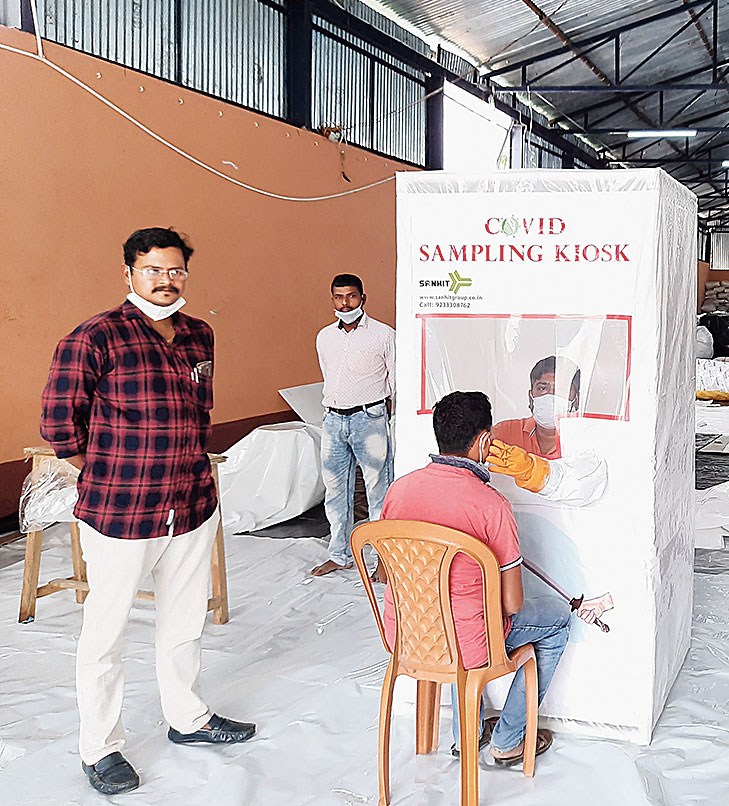 ---
---
A Bengal company has developed kiosks for collecting swab samples from suspected Covid-19 patients.
The company has already supplied four such kiosks to two Birbhum hospitals in Suri and Bolpur and orders are pouring in from across Bengal, mainly from hospitals.
Kerala was the first state to unveil portable kiosks to collect samples as the facility will not require the health workers to wear personal protective equipment (PPE). While the kiosks installed in Kerala cost Rs 40,000 each, the Bolpur company, which primarily manufactures tarpaulins, has tweaked the model and are selling each unit for Rs 4,500.
"These kiosks are lightweight and cost less. The Kerala model is a fixed installation but our units are portable and made of unplasticised polyvinyl chloride (uPVC pipe) and polymer. However it's completely sealed and airtight," said Santanu Majumder, one of the owners of the company.
Unlike the Kerala model that has sealed glass partition in the front, the cheaper version is made of polymer and has a sealed transparent plastic screen in the front.
Health officials said the kiosks were cheaper but were effective as the three-layered walls had sealed platforms. The polymer doors have three layers with velcro fasteners to seal them. One pair of gloves hang in front of the kiosks for health workers to collect samples.
"The Kerala model is costlier and could be better but the Bolpur company's kiosk is enough to safe guard health workers from infection," said a health official.
Suri Sadar Hospital has installed two such kiosks and collected at least 50 samples.
"We loved the Kerala model as the kiosks save PPE. So, we have procured kiosks built on the Kerala model for safe collection of samples," said Shovan Dey, the superintendent of Suri district hospital.
The manufacturers said they had already received orders from several district hospitals in the state.
"We are receiving several orders already after we supplied it to government hospitals. As the cost is low, hospitals will be able to buy multiple units," said Majumder.