In Mother's city, orphans find 'mommy'
US DOCTOR WHO FIRST CAME TO ADOPT A CHILD MAKES CITY HER HOME AND CHARITY HER MISSION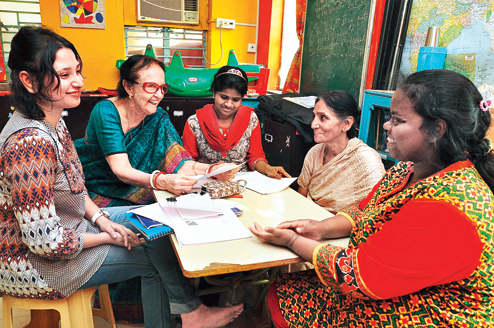 ---
---
A pinch of red vermillion streaks the parting of her hair, conch and red lac bangles adorn both wrists and a cotton printed sari wrapped neatly around her slender frame completes the quintessential Bengali look.
Michelle Harrison has been trying to pick up the language too so that she can communicate better with her extended family.
The 74-year-old American gynaecologistand psychiatrist is "mommy" to 14 abandoned girls living in Shishur Sevay, an inclusive home for orphans that she helped set up at Sahapur, near Taratala on the city's southwestern fringe, a decade ago.
For Michelle, who sold her house in New Jersey to fund Shishur Sevay, the shelter is an extension of a personal mission that had first brought her to Calcutta in 1984. "I adopted my second daughter in Calcutta in 1984. Those days, there were not many agencies that found a single mother like me suitable to adopt a kid. After much deliberations, International Mission of Hope in the city gave their nod. But what bothered me was the plight of other kids who did not get a family," she told Metro.
Michelle would keep returning to the city to volunteer for Usher for Education, an NRI non-profit organisation based in the US. And with every such visit grew her urge to do something for abandoned kids.
"In 2006, fresh from winning my battle with cancer, I sold my house in the US and moved to Calcutta to build another one here," she recounted.
For 14-year-old Ria (names of all the girls have been changed), Michelle is the only family she has known. "Whenever I am down or upset, I run to mommy. She never fails to cheer me up. We live like one big family here and each of us is very protective about the other," said Ria, who likes playing the tabla.
She aspires to become a teacher someday and do her mommy proud.
If Ria is expressive, her friend Rita, who has cerebral palsy, says little. But mommy knows how to read her eyes. "Rita doesn't need to say much. I know what she is up to. She is one of the mischievous ones who love to pull pranks on their friends. She is also the one who tries the hardest, loves to study and understands humour," Michelle said.
Shishur Sevay, 17/2/7 Sahapur Main Road, is a three-storey house amid rows of multi-coloured buildings hard to distinguish from one another. Walk in and a whole new world awaits you.
Rita and six of her differently abled friends who live there lack nothing that they would need to be able to function like anybody else. "Their disabilities do not make them any less competent than the others. I have girls with microcephaly, autism and cerebral palsy. Each of these girls has a different aptitude level. We have installed specialised keyboards, head-pointers and eye-trackers for them. I have also hired special education teachers for them," Michelle said.
So what made an American with a successful career and a family back home give up everything to work for the abandoned in Mother Teresa's city? Michelle attributes it to a calling. She had been an assistant professor of psychiatry at the University of Pittsburg and had worked with distinction in Johnson & Johnson's childcare division before she was diagnosed with breast cancer. She spent six years fighting the disease but her spirit was never broken.
The same spirit was in evidence when Shishur Sevay took shape. Michelle hadn't known about the hurdles she would have to cross along the way - from spending hours at the registration office to scouring for a property to set up the home and tackling extortion calls from political goons, she survived everything.
"Nothing could deter me from the cause or make me impatient. I would spend sleepless nights worrying about the safety of my children. A lot many people wanted to profit from my home and I had a tough time fending them off. Thankfully, there were a few kind souls who supported me in my endeavour," Michelle reminisced.
Ashokendu Sengupta, chairman of the state child welfare committee, said Shishur Sevay was an exception in terms of being granted permission to adopt kids from a government-run orphanage. "There are complexities involved. But what matters at the end of the day is the well-being of the kids and I would like to congratulate Michelle Harrison on her efforts."
Seema Gupta, a former registrar of Calcutta High Court and Michelle's neighbour, has been part of Shishur Sevay's support system for years. "It is like a temple to me and serving children is like serving god," she said.
Michelle's daughters - Heather Volik, 43, a lawyer by profession, and Cecilia Devyani, 31, a rock-n-roll drummer - have set up an organisation called Friends of Shishur Sevay in the US to raise funds for the home. "My daughters have always been my pillars of strength," Michelle said. "Heather was here last summer with her two kids. Both my daughters come visit me once in a while."
Michelle has set up a learning centre called Ichhe Dana on the top floor of Shishur Sevay, where the girls attend classes every day. Three of her girls will be appearing for the National Institute for Open Schooling examination next year.
Besides academics, the girls learn music and the arts. Five of them have enrolled for training at Udayan, the home of the Mamata Shankar Ballet Troupe. "I wish to become a dancer when I grow up," Monica, one of the girls, said.
Mommy's heart dances in anticipation of the day she will fulfil that dream.
What message do you have for Michelle? Tell ttmetro@abpmail.com