IIT alumni tips for Bengal's growth story
Initial focus of 300-member group on food processing and MSME sectors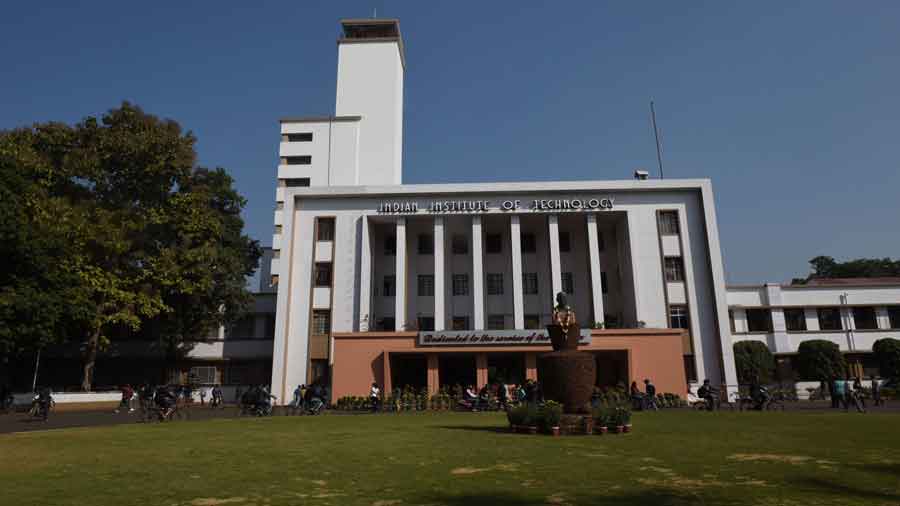 IIT Kharagpur
File Picture
---
Calcutta
|
Published 30.12.22, 04:19 AM
|
---
A group of IIT-Kharagpur alumni has come together to offer its home state professional expertise to give Bengal's economy a big push and ensure proper and equitable distribution of gains.  
In a "first-of-its-kind initiative" for Bengal, the former students have set up the Aspiration Bengal Foundation, a nonprofit that aims to intervene at the policy level to create the perfect environment to attract investments. The foundation has also created a corpus to facilitate proper research in Bengal's academic institutes so that farm productivity can grow and more scope is created in the food processing sector.
"There are around 300 members in our foundation from different parts of the globe.... Barring a couple, all come from IIT-Kharagpur. We feel a strong connection with the state and believe it is our duty to do our bit for it," said Partha S. Banerjee, a member of the ABF board of trustees.
"This sense of responsibility prompted us to come up with this initiative. We have done our research and there is no precedent of a group of alumni from any academic institute coming together to help a state," he added.
Founded in October 2021, the foundation has adopted a detailed approach in its bid to put the Bengal economy on a higher growth trajectory. As part of their plan to complement the state government's initiatives, they have identified Bengal's strengths and weaknesses to zero in on sectors that can attract investments.
Hence, initially, ABF has decided to focus on two sectors — food processing and micro, small and medium enterprises.
The foundation's decision to focus on food processing was prompted by a report it made in 2021 that shows it can be the most profitable for Bengal.
"It was based on thorough research and a comparative analysis of the last 10 years and on a contrasting study with other states such as Maharashtra and Tamil Nadu...," Banerjee said, adding that it was drawing up a food processing policy for the Bengal government with support from the National Bank for Agricultural and Rural Development.
As similar opportunities exist in the MSME sector, ABF representatives recently met department officials and industry representatives to work out a roadmap on how this sector's contribution to the state's total industrial production can grow from the existing 50 per cent.
As facilitating scientific research is a primary aim of the organisation, ABF intends to help commercialise at least 10 indigenous technologies developed by five state-run universities in the first phase. Later, the scale and the scope of the initiative — by augmenting the size of the endowment fund — will be expanded and industry-academic linkages will be promoted, said Banerjee.
ABF members have decided not to be mere cheerleaders of the government. That's why in a report, which they shared with the state industry minister Shashi Panja, they said that the state needs to simplify its land acquisition process and improve infrastructure at state-owned industrial parks. It also said industrial growth in Bengal is focused on Calcutta, Howrah and Haldia and there is a dire need for spatial dispersion.
In its first major initiative, ABF on Friday will unveil an approach paper on how it plans to draw up the food processing policy and also announce its endowment fund at the event in Calcutta.
"The state had a food processing policy after 2011. But in the last 11 years, a lot has changed in terms of technology and how things are done. We needed a new policy and ABF approached us. They have been tasked to do the research and collate information on how things are done in other states. Based on that, a new policy will be formed and announced early next year," said Subrata Gupta, the secretary for the food processing department.