ICSE starts today
BRIEFS: The first paper of the Class X exam is English language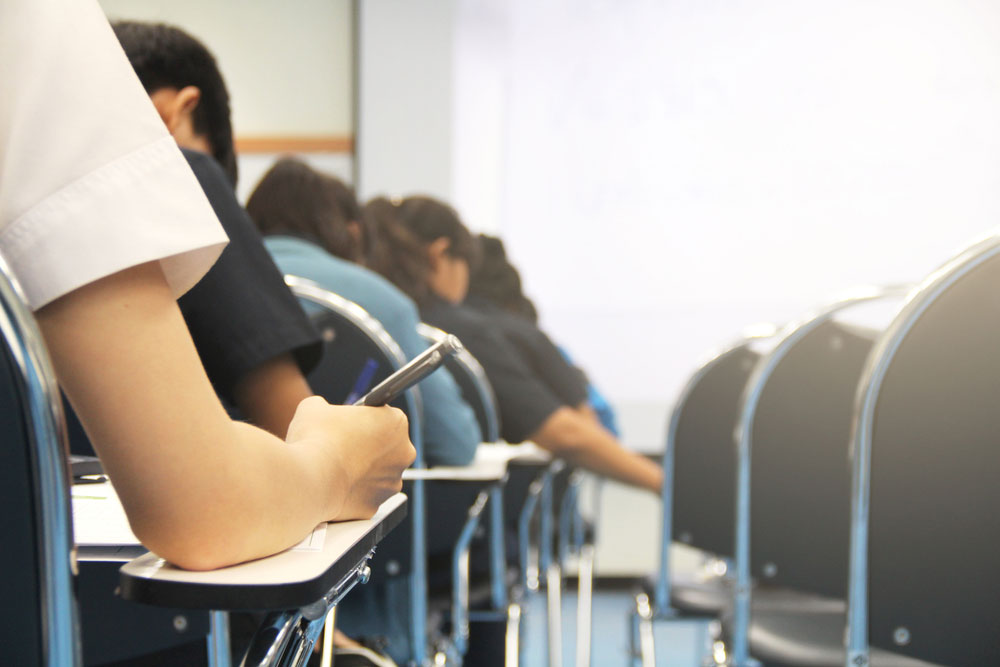 ---
|
Calcutta
|
Published 26.02.20, 08:47 PM
---
The ICSE examinations begin on Thursday. The first paper of the Class X exam is English language. It starts at 11am. Students will be given the question papers 15 minutes before. Schools have asked students to be seated in the halls at least half an hour before the test starts. The exams end on March 30.
Emergency landing
A Spice Jet aircraft with 183 passengers, which was headed for Guwahati from Mumbai, made an emergency landing at Calcutta airport around 9am on Wednesday, after the pilot suspected fuel leakage. After an examination, engineers detected water leakage and the aircraft was stranded. Passengers were flown out later on another plane.
4 held for running job racket
Four men were arrested on Tuesday for allegedly running a job racket. The men took money from aspirants against false assurances of getting them government jobs, including in the health, education and police departments, police said. Based on a complaint by a man who said he had paid Rs 5 lakh, cops arrested Santosh Hazra. The others were arrested based on his statement. Fake appointment letters and photocopies of admit cards of many job aspirants were seized.
Dupe cuffs
Two men were arrested on Wednesday for allegedly duping a Calcutta youth of Rs 1.66 lakh with false assurances of getting him a job in a pharmaceutical company. Jagdeep Singh Arora and Pradip Kumar, the arrested, sent fake a appointment letter to the complainant to convince him to transfer the money, the police said.
Sari theft
A man was arrested on Wednesday for allegedly stealing a bundle of saris from the front of a sari shop on Kalakar Street in Posta. According to the complaint, 23 saris worth Rs 50,000 were stolen. Analysing CCTV footage, police arrested Sheikh Ramzan and seized the saris.
Exam bar on pupils lifted
A high court division bench on Monday upheld a decision of the state child welfare committee and directed the authorities of Augustine's Public School, Howrah, to issue admit cards to 21 students. The students will be allowed to appear for the ICSE examinations scheduled to start on Thursday. The division bench comprising Justice Soumen Sen and Justice Saugata Bhattacharyya accepted the decision of the Council for Indian School Certificate Examinations, which has sent the admit cards of the 21 students to the school and changed the exam centre from Augustine's Public School to St Thomas Church School. The Augustine's Public School authorities had barred the students from appearing in the exam, allegedly after they insulted some teachers at a school event last year.
Economics PhD
Calcutta University has published a list of candidates selected for probationary admission to the economics PhD programme. The list has been uploaded on the university's website www.caluniv.ac.in.
Pumping station
Mayor Firhad Hakim will inaugurate a semi-underground booster pumping station in Senhati on Thursday. Education minister Partha Chatterjee and Calcutta Municipal Corporation chairperson Mala Roy will attend the inauguration. The station will supply potable water to Ward 116 of the corporation.
Missing complaint
The family members of a 30-year-old resident of Jagatballavpur in Howrah have lodged a missing diary after he allegedly disappeared on his way from Surat to Howrah. Ajay Chakrabarty had boarded a train on Friday night and was supposed to reach Howrah on Sunday. His family members said they tried calling him on his mobile phone but no one answered.
Book launch
The autobiography of a person who became addicted to drugs, alcohol, violence and gambling and managed to change himself to start life afresh was released recently. Subhasis Nath (in picture above), the author of Ami Parchi Tumio Parbe, now works to help addicts change their lives. He started a rehabilitation centre called Bhalo Basha at Haridevpur in 2000 and plans to conduct awareness programmes in schools, colleges and public spaces.
Climate change seminar
Calcutta University, in association with the Maulana Abul Kalam Azad University of Technology, will hold a national seminar on Climate Resilient Agriculture, Food Safety, and Environmental Sustainability on March 27 and 28. The seminar will be held on the Haringhata campus of the university.
Murder charge
A man was found dead outside a friend's house at Gabbati in Kakdwip on Monday. Shib Prasad's family lodged a complaint, alleging murder. Shib was found dead outside the house of his friend Swapan Sardar, police said. There were no injury marks on his body. Residents of the area alleged he had been poisoned. A probe has been started.
Attack complaint
A man lodged a complaint alleging his wife and her boyfriend had tried to kill him and his mother in Pratapgarh, Nimta, near Belghoria on Tuesday. Laxman Biswas alleged that his wife called her boyfriend after a fight and they attacked him and his mother. She has fled, police said.