Holi in times of coronavirus scare
Sales of colours drop as revellers shy away from crowded places to avoid infection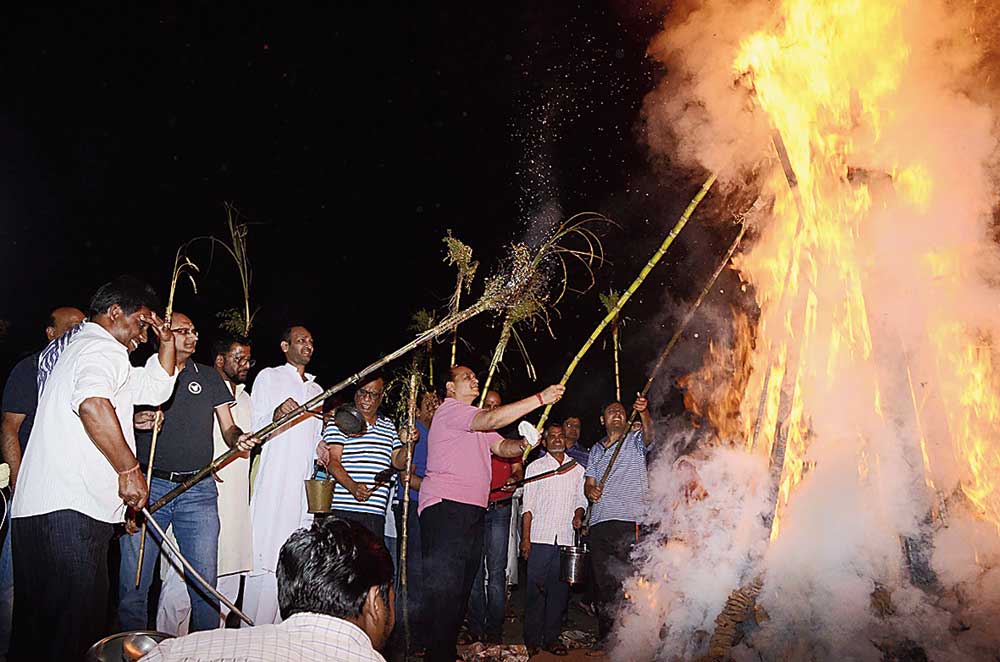 ---
|
Calcutta
|
Published 12.03.20, 06:53 PM
---
Holi has never been this drab. The abir was heaped in the markets, the water guns hung from the stalls but most revellers were too scared to pick them up and shout: "Holi hai!" Novel coronavirus 2019 all but ruined the first major festival of 2020.
"Usually Holi means a gathering of 150 friends and family members but this year it'll be a humble affair with no more than 20 people," said Shreya Gupta, a college student of CA Block, sadly on the eve of her favourite festival.
Same was the case with Vikram Choudhary. "I usually head to a five star hotel and join their Holi bash but this time it's too risky to be in such a crowded place. I'll skip the party and chill at home with four or five friends," said the resident of CD Block.
Some were scared of big gatherings, where anyone infected would spread it all around. Others were scared the colours were made in China and may spread the virus somehow.
"For the first time in 35 years, we had to cancel our Holi get-together," said Lalit Beriwala, president of Salt Lake Sanskrit Sansad. Their annual bash at BF Park is an extravaganza that draws around 12,000 people. "We had already paid in advance to event managers but couldn't risk the health of our members. We called it off three or four days before the event."
Better safe than sorry
Residents of BK Block led a prabhat pheri on the morning of Dol but instead of the usual 250 or so participants, only about 70 joined them this year. "They said it wasn't safe to be part of big gatherings," said Debasmita Mukherjee, who was in charge of the procession. "Even kids who usually play with harsh colours were told by parents to only use abir."
"Coronavirus ne toh maza kirkira kar diya," lamented Deepika Agarwal. "I had been eagerly awaiting Holi but perhaps I'll have to resort to attending bhajan sessions and phulon ki Holi, that is played by showering flowers on one another," said the AB Block resident.
Akash Singhi lives in a joint family of 16 and they usually head to the BF Park Holi bash. "This time we were utterly disappointed when it got cancelled," said the BC Block resident. "But there's no stopping the kids in our house. For the last couple of days they're playing with honey, curd and water!"
Tanay Todi of Class VIII and his kindergarten-going brother Reyansh were not to be deterred either. "We've been splashing about water balloons," smiled Tanay of AE Block. "And we've bought a new toy that expels foam like a fire extinguisher. We're using it as a substitute of colour-filled pichkaris." His father Anand Todi, however, had a strong hunch the toy was made in China.
The blues
Vendors selling colours say business was low this year. "Sales are down by half," said Nitai Chandra Debnath, who was selling colours near Baisakhi. "We've been in this business for 26-27 years and have never recorded such abysmal sales."
At CK Market, Mahadeb Giri said he had underestimated the paranoia about the virus. "Sales are down by 50 per cent," he says. Every year he sells 100g packets of locally made colour at Rs 10, herbal colour packets at Rs 30 and the best quality powder at Rs 300 for a set of five packets.
"Usually the local stuff sells the best but this time the other two have outsold it. It's not written on the packets but customers are still trying to check if it's made in India or China."
Some revellers did not take a chance and made their own colour. "We dried petals in the sun for three days and put them in the blender. It became powdery and we sieved it to get unadulterated herbal colour," said Shreya of CA Block.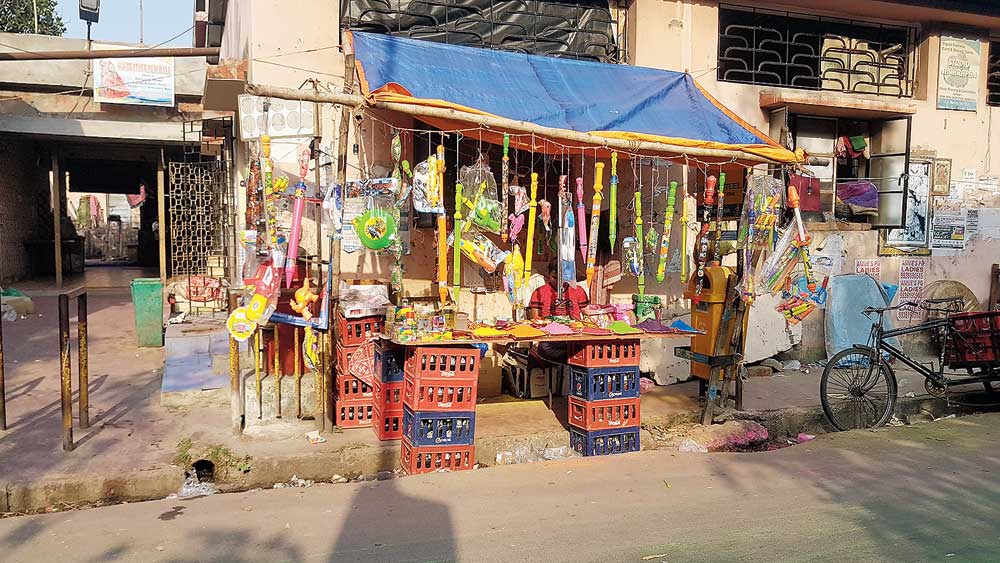 Despite the odds
There were some who played despite the fears. "We held a probhat pheri and even though people talked about coronavirus, they all joined us anyway," said Sumitra Paul Goshwami of CB Block.
AE (Part 2) shared the same fate. "We had expected a low footfall due to the virus scare and had ordered far less snacks than usual for our Dol celebrations in the morning," said Tapas sengupta, secretary of the association. "But way more people turned up and we had to quickly arrange for more food."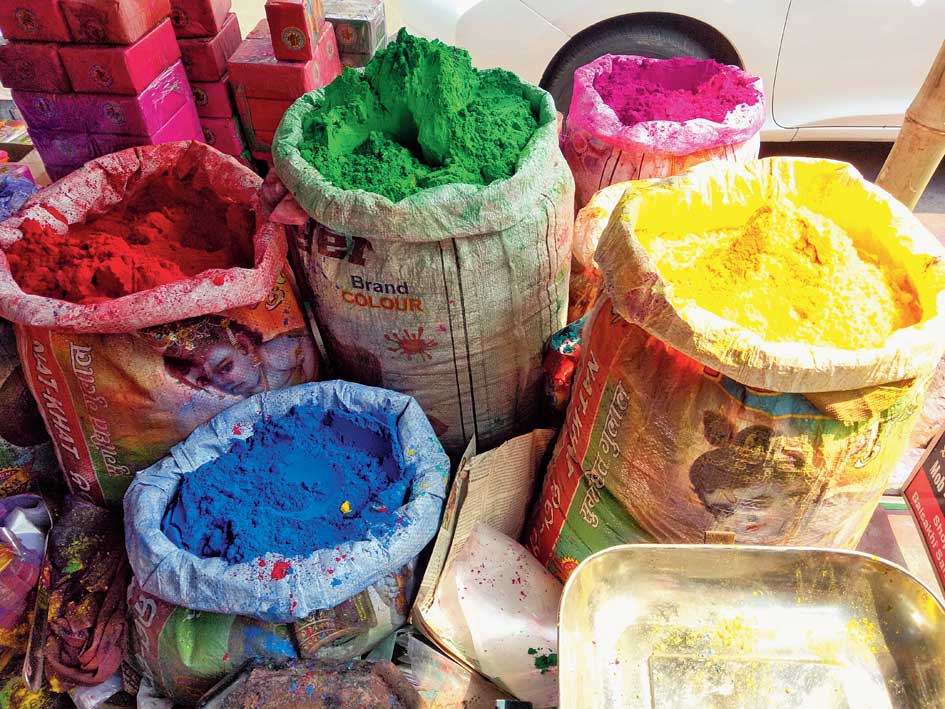 At AE (Part 2)'s Holika Dahan in the evening, those like Rohit Jaiswal made an appearance late, hoping the crowd would have dispersed by then, thereby reducing the chance of contracting the virus. "We can try to avoid big gatherings but can't stop following traditions, can we?" he said.
In DB Block, Priyanka Niyogi played her heart out with other ladies. "We also went to Vidyasagar Abasan later and found the enthusiasm as high as ever. But yes, we used Indian-made herbal colours," she said.
At EE Block's celebrations, in fact, the block committee barred residents from getting their own colour. "We provided organic abir procured from the state horticulture department. That way we could ensure quality and reduce risk of a virus spread," said Sujit Gupta, chairman of the block's cultural committee.
Inputs from Shatadipa Bhattacharya and Bharati Kanjilal