Gourikund: Downhill trek of 18km with 'no help'
Biswajit Roy and his family accused the Uttarakhand government of not assisting them for past three days amid 'disastrous weather'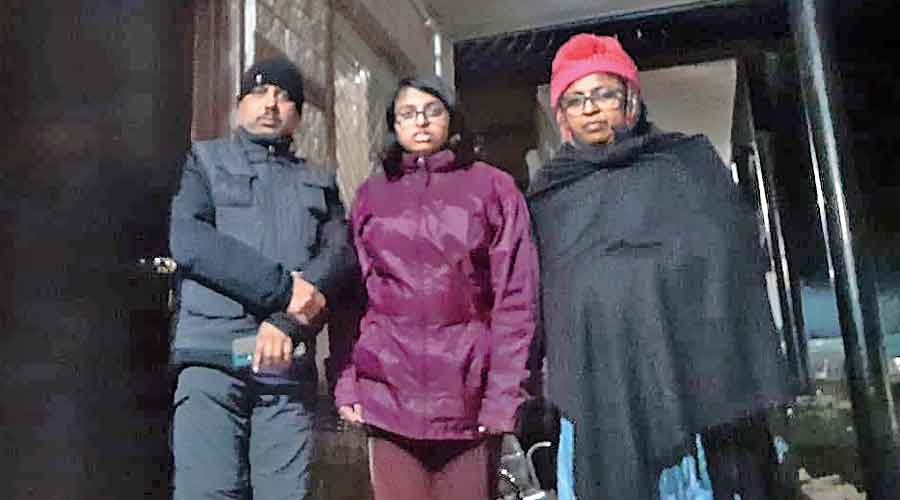 ---
Calcutta
|
Published 22.10.21, 04:10 AM
|
---
A 50-year-old resident of Hooghly, Biswajit Roy, his wife and teenage daughter who were stuck in Uttarkhand's Kedarnath following heavy rains, had to trek 18km downhill to Gourikund on Wednesday night for 12 hours after the family was allegedly refused a chopper.
The Roys accused the Uttarakhand government of not assisting them for past three days amid "disastrous weather" and despite "entreaties" from the Bengal government.
"I have never witnessed such inhumane behaviour as was meted out to us by the Uttarakhand administration. Senior officials, including one attached to Bengal's resident commissioner in Delhi, called me up and told me that the Bengal government had communicated with officials in Kedarnath. But no one came to our help, which is why I and my wife and daughter had to trek through the night risking our lives," said Roy, who works with the Chandannagore Municipal Corporation.
Sources said the Uttarakhand government had issued a red alert on October 18, following forecast of heavy rain and stopped at least 20,000 tourists from visiting Gouri Kund and Kedarnath.
However, those like the Roys who had already reached Kedarnath, were stuck.
Roy left home on October 11 with his wife Chumki, 45, and daughter Answesha, 19, for a tour of North India. When they reached Kedarnath on October 16, the weather had started turning bad. "We spent three days in biting cold with wet clothes, there were no shops to purchase food from," he said.
He and his family had queued up to board a chopper at the helipad but despite repeated chopper arrivals, they were not assigned seats, he alleged.
"We queued up at 5am on Wednesday and were refused the chopper after being made to wait till around 5pm, which made us frustrated. My wife became very worried as we had been stuck amid a disaster for the past three days without any attention from the government. Finally, we took the risk and started walking down from Kedarnath to Gourikund—the 18 km stretch," Roy added.
The walk through the mountain road was risky. In a few places, the trio had to pass through a stretch barely 3 feet wide", he said.
"We faced many spots where the roads were completely damaged by landslides. We carefully crossed those areas. In many places, we had to cross through icy water at midnight. The threat to our lives was ever-present as animals could also have attacked. We did not have any option apart from this as the government in Uttarakhand was not ready to help," said Roy.
When the Roys had descended around 5km, a phone call from NDRF personnel asked where they were and whether they needed any help.
"The NDRF officials also called me and asked how they could help the Roy family. But I said they were already on their way to Gouri Kund and it would be helpful if they could arrange a car so they could get to Guptkashi, where we were," said Arijit Shil, a youth from Chandernagore who accompanied the Roy family on their trip but failed to reach Kedarnath himself.
The Roy family had walked for around 12 hours after starting from Kedarnath, before they could reach Gouri Kund.
"It was a very bad road and threats to our life were everywhere. So, we had to take a lot of time. However, the NDRF did not provide any car for us Gouri Kund. We hired a car so as to meet two of our friends there," said Roy.
"It was our good luck that we reached safely. Now, we will go to Hardwar as our train ticket is scheduled from Lucknow on October 24," he added.
In a similar incident, family members of seven youths, including a woman from Bankura's Onda who had gone trekking in Uttarakhand, have sought help from the Bengal government after not being able to communicate with the youths over phone. Police said they had already communicated the families' concerns to Nabanna on Thursday.
Sources said three tourists from East Burdwan's Memari, including school teacher Sanjay Adhikari, are also stranded at an army base camp at Darma Valley in Uttarakhand's Pithoragarh district because landslides have left roads blocked. With temperatures dropping fast, the tourists have pleaded with the Uttarakhand government to rescue them and arrange their return home.