Gandhi statue repair move
President prod prompts plan by Visva-Bharati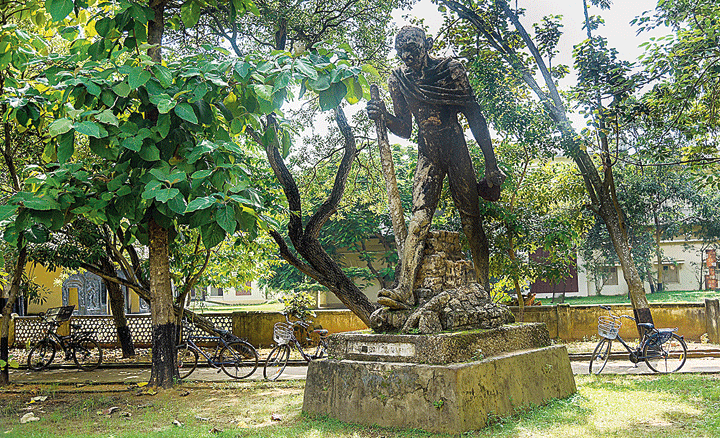 ---
---
Visva-Bharati's fine arts faculty, Kala Bhavana, has drawn up a plan to renovate the statue of Mahatma Gandhi — constructed in 1968 by artist Ramkinkar Baij — following a request by President Ram Nath Kovind to the varsity during its annual convocation on November 11.
Sources said the revamp would be the first after the statue was erected 50 years back.
The 25ft high concrete statue, which is uncovered, developed cracks and was damaged by stress.
"Apart from the President's request, the fact that the entire country is celebrating the 150th birth anniversary of the father of the nation also made us plan the repairs," said a varsity official.
On Saturday, senior teachers from Kala Bhavana headed by principal Sanjoy Mallick conducted a preliminary discussion on how the structure would be renovated.
"During his visit, the President wished for the proper renovation of the sculpture of Mahatma Gandhi. We discussed the plan for the renovation with senior teachers, including those from the sculpture department," said Mallick.
Ramkinkar Baij (1906-80), who designed the statue, is considered to be in the vanguard of modern Indian sculptors. He is renowned for pioneering the use of newer art materials, including concrete, and laterite pebbles from Khoai (the name of a geological formation found in Santiniketan) as prime ingredients of his artwork.
"Ramkinkar is the pioneer of using the cement-concrete medium in his sculptures. He used to throw balls of concrete pulp at iron structures to finish his works," said Pankaj
Panwar, a professor of sculpture in Kala Bhavana.
Varsity officials said Kamal Dhar, an assistant professor of sculpture at Kala Bhavana, on Saturday proposed seeking the supervision of Asit Dasgupta — the former head of the sculpture department of the Government Art College in Calcutta.
He had worked with Baij during the construction of the Gandhi statue in 1968.
"Professor Asit Dasgupta was my teacher. He is 78-years-old right now. I had heard from him many details regarding the construction of the Gandhi statue by Baij. He was in Santiniketan in 1968 as a student of the eminent sculptor. I think it will be great if we get suggestions from him now. All my colleagues appreciated the idea," said Dhar.
Varsity officials said there were eight sculptures by Ramkinkar Baij on the Visva-Bharati campus.
The sources said four of them, titled Mill's Call, Harvester, Sujata and Santhal Family, had been renovated earlier this year under the leadership of Dhar and other senior teachers.