Farmer seeks gold loan for cow
Milkman influenced by Dilip Ghosh claim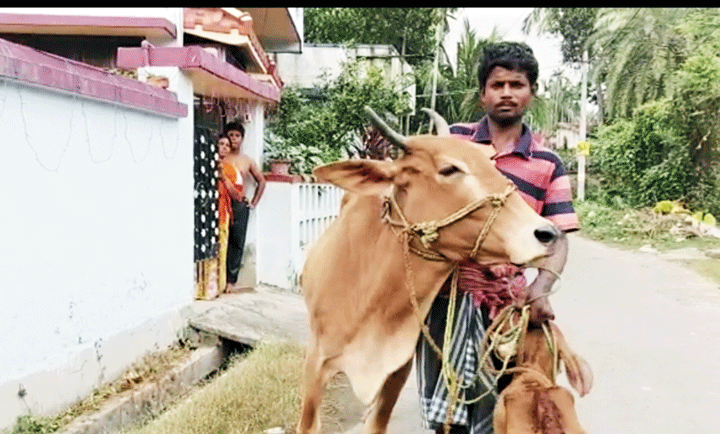 ---
|
Hooghly
|
Published 07.11.19, 07:34 PM
---
Susanta Mandal, a dairy farmer and milkman from Hooghly, heard about the widely circulated claim of Bengal BJP chief Dilip Ghosh that the milk of cows of Indian breed has gold.
On Wednesday, Mandal went to the local Manappuram Gold Loan office with an Indian cow and its calf, apparently hoping to take a loan by pledging the cow with the purported precious milk as collateral.
Eyewitnesses said Mandal, 40, stood in front of the Manappuram Gold Loan office for more than an hour after company officials allegedly mistook him for a miscreant.
"Mandal was obviously unable to go inside with the cows. So, after the officials dismissed him, he waited there for a while. Then he headed to the local panchayat office," an eyewitness said.
The plot thickens from there onwards. "It seems Mandal is a simple man and he had been goaded by mischief-makers," a source said.
State BJP chief Ghosh, who has become a butt of ridicule on social media after what he describes as "misinterpretation" by trolls, is seeing the hand of his usual suspect. "Does this farmer follow social media trolls? All of this is created by Trinamul, whose members are busy consuming beef and not cow milk," Ghosh, an MP, told this newspaper on Thursday.
Mandal, a school dropout, does not use a smartphone.
Ghosh has not distanced himself from the claim of gold-enriched desi cow milk while some of his supporters have been citing a 2004 "study" to throw their weight behind their leader.
Atanu Chatterjee, one of Mandal's neighbours at Garalgachha village in Chanditala, said: "People have been having a laugh about Ghosh's comments since Monday. I joked with Susanta about this a few days ago too, and he had said he would try his luck with Ghosh's logic at the local gold office. I cannot believe he was being serious!"
Mandal's wife said that after learning of Ghosh's widely circulated comments, her husband had confided to some villagers about his plan to take his 12 cows to the gold loan office.
"We are uneducated people, so what do we know? People had been ridiculing him at the market…. So, at some point, he became confused about what was true and what wasn't," said Purnima Mandal.
"They had been telling him the whole week, 'you should be a millionaire'. How can simple people like us resist that?" she asked.
Garalgachha gram panchayat pradhan Manoj Singha echoed her. "These are simple people. This poor man actually believed all the nonsensical comments and stood here, telling me that he had brought two healthy and beautiful cows to exchange them for gold," said Singha.
"He had come to me believing that if the gold loan officials did not heed him, at least I — as an elected representative — would," the panchayat chief added.
Singha said Mandal seemed more surprised than disillusioned when he learned that the cow could not be an alternative to gold. "He could not believe that people would joke about something like gold," Singha said.
"I did not want to ridicule him, so I just told him that he could not get gold against his cows. I told him that we would meet later in the week," Singha added.