Famous five women
Read more below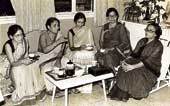 ---
---
Group therapy: (From left) Santosh Rohatgi, Shanu Lahiri, Shyamasree Basu, Karuna Saha and Meera Mukherjee in a meeting
In the Sixties, art movements were a rage in Calcutta and artists grouped, split, regrouped and thrived to create an active space for themselves.
But as with many other things of those times, the activism was restricted to male artists, and women were hardly a part of this canvas.
Apart from Calcutta Group that had a lone woman member — Kamala Das Gupta, wife of Prodosh Das Gupta — there was only Calcutta Painters, which had Anita Roy Choudhury to show for their gender equality.
Says Shyamasree Basu, an abstract painter who was a budding artist at the time: "It wasn't as if we weren't asked to be part of their group. I was invited to join Contemporary Artists, but all I found myself doing at their meetings was sit in a corner and sip tea, timidly listening to the men talk and take decisions."
Then a few women — some acclaimed, some new — broke the mould. Firebrand artists Karuna Saha and Shanu Lahiri led the way, sculptor Meera Mukherjee joined in. Artists Santosh Rohatgi and Shyamasree Basu followed, to form The Group, nicknamed "Pancha Kanya" by the media. They held their first exhibition at Academy of Fine Arts in 1983.
Today, three of the five founding members are no more — Karuna Saha, Meera Mukherjee and Santosh Rohatgi. Lahiri too has quit. But even 25 years after it came into being, the need for a women's only group still remains.
From five, The Group has swelled to 17 members and has a number of guest artists. The Group will hold an exhibition to commemorate its 25th year at the Academy of Fine Arts from September 23 to 29. Long live women's art!
The price of free
The in-flight magazine on a recent no-frills flight from the city announced a gift for every passenger. On her way out of the flight, a lady was handed her ticket to fortune, which read "scratch & win". She did what she was told to. And the words SATIN BEDSHEET peered out. She soon learned from other passengers that to claim her "absolutely free gift", she would have to pay Rs 100.
She was not disheartened. She thought Rs 100 was a small price to pay for a SATIN BEDSHEET.
But at the airline counter, the gentleman said: "No madam, we don't have bedsheets." Pointing to a showcase on the counter, he added: "Choose anything from here."
There were a metal karha, a wrist watch and a pearl necklace. She liked the necklace — though it was just a single strand of pearls and the beads were too large for her liking.
The tag said it cost Rs 2,990. For Rs 100, it was worth it. She fished out a Rs 100 note. "Rs 400 more, madam," the gentleman pointed to the fine print — …win Fabulous Gifts worth upto Rs 225,000 absolutely free. All that a winner would be charged is Rs 500 as taxes/handling charges…."
She got her pearl set for Rs 500. It's hard to resist the word "free", however much it may cost.
Heretical
A smart, young homoeopath was holding forth on an FM channel recently. His subject was hereditary diseases. He was a Bengali who did not have much English, but was generous with it. Each time he meant a hereditary disease, he called it "heretical". It left some listeners not doing very well.
(Contributed by Anasuya Basu and Sudeshna Banerjee. Illustration by Suman Chowdhury)