Elephant worry for Kurseong forest staff
These 200-odd elephants, roaming around in forests on the outskirts of Siliguri, are entering human habitats, damaging crops and homes, and even trampling on people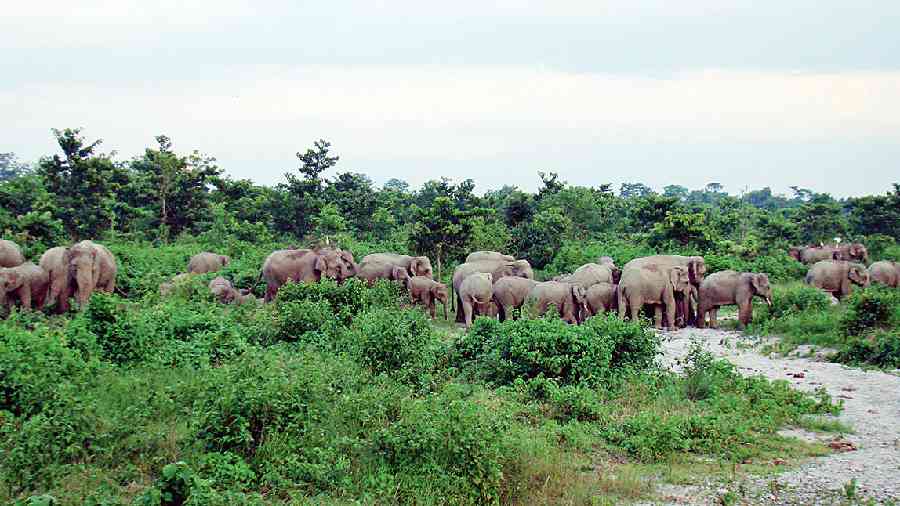 Trumpeting alarm
File picture
---
Siliguri
|
Published 26.10.22, 01:28 AM
|
---
Some 200 wild elephants are giving sleepless nights to Kurseong forest division in Darjeeling district.
These 200-odd elephants, roaming around in forests on the outskirts of Siliguri, are entering human habitats, damaging crops and homes, and even trampling on people.
Every year around October, usually 100-odd elephants of north Bengal wander into the forests of Matigara, Naxalbari and Kharibari blocks of the Siliguri sub-division, on the foothills. They roam along the entire span of the elephant corridor from the Mechi river at the India-Nepal border to the Sankosh river which flows through the Bengal-Assam border, covering the entire Dooars and Terai.
Occasionally, these elephants enter villages for food, as paddy starts to ripen.
However, this time, the number of elephants has doubled, possibly because food in their habitats is shrinking.
"Some 200 elephants have reached the area and are moving around villages in smaller herds. In the past few weeks, several crops and homes have been damaged. People have been attacked. We are putting all our efforts into keeping them in the forest zones, but it is tough," said a forest official of the Kurseong division.
On Monday, a 30-year-old man was trampled to death by an elephant on the fringes of Tukuriajhar forest when he was fishing.
Some employees in the forest division said didn't have manpower and resources to monitor so many elephants.
The elephant squad, a mere 13-member team, is  headed by a range officer.
"We have only one elephant squad for five forest ranges (Bagdogra, Panighata, Tukuriajhar, Bamanpokhri and Ghoshpukur). It is a huge area. If the squad is at one location to drive away elephants, another report of depredation comes from another area," said a source.
"For the entire stretch, from Bagdogra to Kharibari near the India-Nepal border, foresters have only two vehicles. And the squad also has other jobs like rescuing animals and monitoring the movement of animals so that they don't enter into human localities," the source added.
Foresters have planned to launch a "push back" drive to send back a section of these elephants to the Mahananda Wildlife Sanctuary on the northern end of Siliguri.
"As it is a rare situation, we have sent a proposal to senior officers to launch the drive and steer a section of the herd into the sanctuary, instead of letting them roam along the corridor which is the usual practice. We are waiting for approval. If everything goes right, we can start the drive next month," said an official.
Kishori Mohan Barman, a member of Siliguri Mahakuma Parishad, the sub-divisional rural body, who is in charge of the forest and land department, said he would take up the issue with senior foresters. 
"On one hand, people staying in villages adjacent to the elephant corridor are spending sleepless nights. On the other hand, foresters are beleaguered with limited resources at hand. I will request the officers to draw up a concrete plan to resolve this problem and engage more manpower and resources if needed," he said.
The Kurseong forest division has decided to serve notices to all tea estates under the division, directing no one should keep any open water reservoir in their gardens.
The initiative has been taken to prevent wild animal deaths. On Sunday, a leopard had fallen into an open water tank in a tea estate and died by drowning.