Duties no block for debut show
First-generation learners stage English play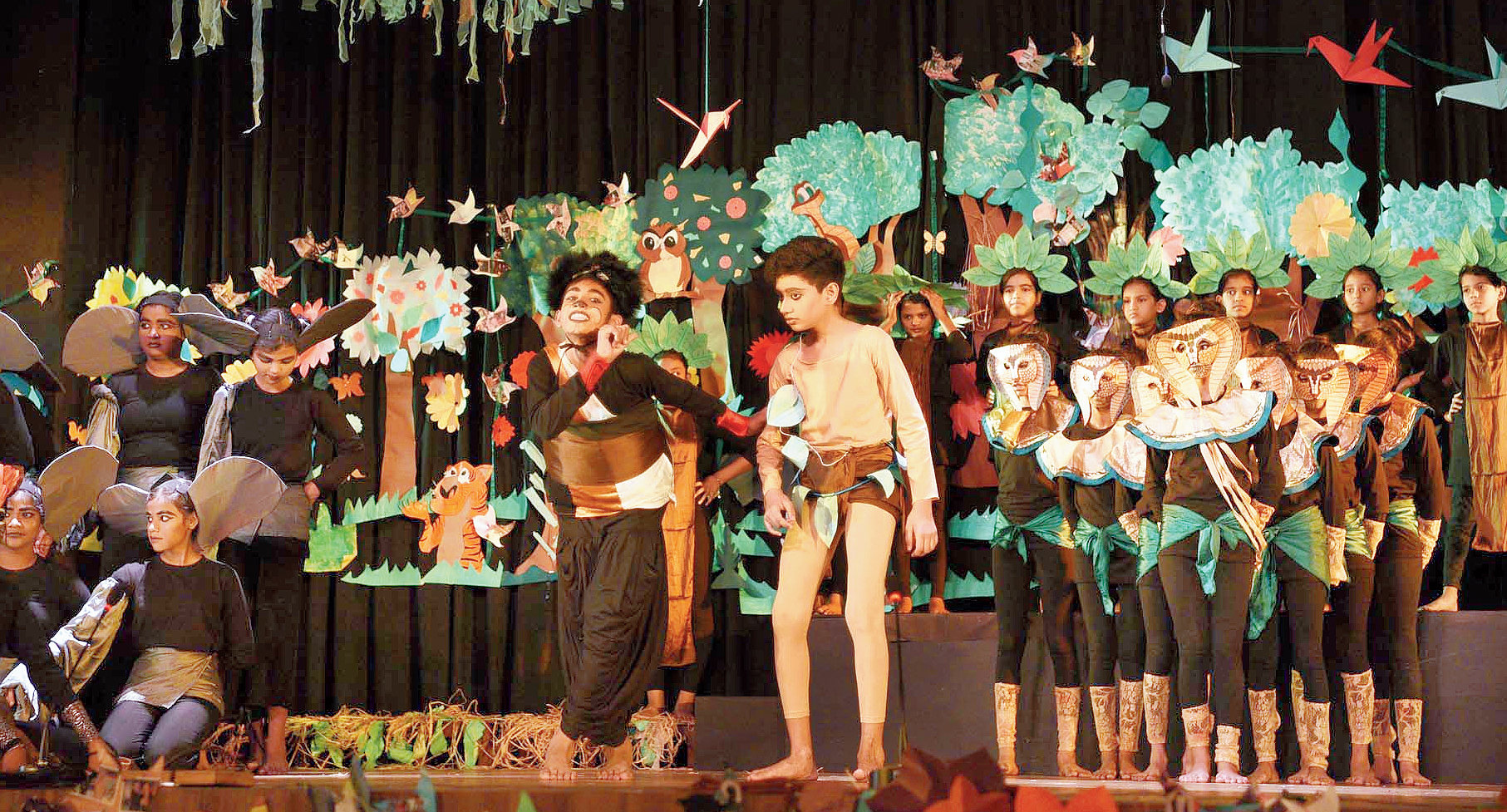 Children from Ek Tara, an NGO, perform at Indus Valley World School on Friday.
Picture by Gautam Bose
---
Calcutta
|
Published 15.11.19, 09:03 PM
|
---
A group of children who have to wash utensils, sweep the floor and cook before they can go to school every morning staged an adaptation of The Jungle Book to a standing ovation on Friday.
The 200-odd children from NGO Ek Tara would often have to skip rehearsals to attend to more pressing needs such as taking care of a younger sibling at home or helping with household chores.
"I would rehearse for three hours every day after school, return home and cook for the family and wash utensils. My mother is too weak to do the chores. At times I would feel tired after the rehearsal but I had to cook dinner for everyone," said Navrin Aslam, a Class VII student who played the role of Bagheera the black panther. Navrin's father makes slippers and also drives an auto.
Most of the children in the cast live in the Tiljala-Topsia area. Their parents either work in leather factories or pull rickshaws or vans, earning barely a few thousand rupees for a family of five, six or even more.
All first-generation English learners, the children worked on their diction for over two months and impressed the 600-plus audience at Indus Valley World School with their performance on Friday.
When Ek Tara began its journey eight years ago, it was a challenge getting the girls to school amid opposition from fathers, who thought their daughters were better off married.
But things gradually changed and when auditions were held for the play, parents were eager to see their children perform. "We conducted the auditions for a week and a half but long after the auditions were over, we kept getting requests to include more children," said Suman Sarawgi, the director of The Jungle Book. "I found the children to be very adaptive, eager to perform and sincere. The only hurdle was that they would not turn up for some of the rehearsals because they were caught up at with their duties at home."
The costume and the props for the play were all made at Ek Tara on Topsia Road.
The parents of the actors saw their children perform, many of them making their debut on stage, at Indus Valley on Wednesday.
Friday's show was for parents of students and teachers of the host school as well as other schools.
Indus Valley has collaborated with Ek Tara over the past year. Children from the NGO would visit the school once a week to learn basketball and attend the math lab.
"This is another milestone in our partnership journey. Right to Education is a law but it is through initiatives such as this that it gains its true meaning. Our children also see what these children are capable of doing and it's a huge learning for both our teachers and students," said Amita Prasad, the director of Indus Valley.
Ek Tara collaborates with many schools and reaches out to the community where it works. "We try to get girls who had dropped out back to school. Some of them are working with us. They are our changemakers in the community. They go home and convince their parents to send their siblings to Ek Tara," said founder and trustee Vinita Saraf.