Drone on mind to battle dengue
About 3,500 dengue cases have been reported in the Calcutta municipal area since January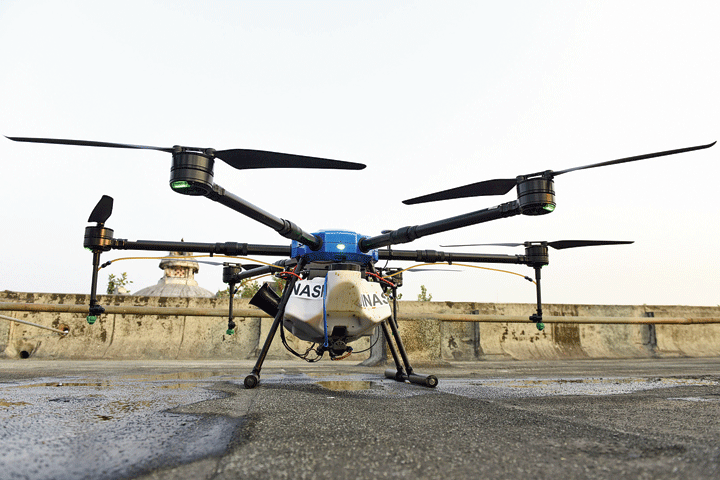 ---
|
Calcutta
|
Published 21.11.19, 09:13 PM
---
The municipal corporation is thinking of using drones to spray larvicide on properties that are potential mosquito breeding grounds but remain inaccessible to field-level health workers.
A drone was flown from the terrace of the civic body's headquarters on Thursday afternoon to check whether it can spray larvicides on targets. The drone was manoeuvred from a control station and made to move to various corners on the terrace and also fly across to the Futnani Chambers and spray larvicide there.
Officials of the Calcutta Municipal Corporation (CMC) said they had used a drone to take pictures of terraces and vacant plots in Jadavpur last year, but this was the first time they are thinking about using a drone to spray larvicide.
"We will use the drone for several purposes. It will first fly over properties that our workers cannot access and the ones they suspect to have mosquito-breeding sites. If the drone finds water accumulated in these places, it will take samples of the water," said deputy mayor Atin Ghosh, who also heads CMC's health department.
"If mosquito larvae are found in the samples, the drone will be used to spray larvicide on the property," said Ghosh.
An official said they had floated a tender to hire the services of a drone.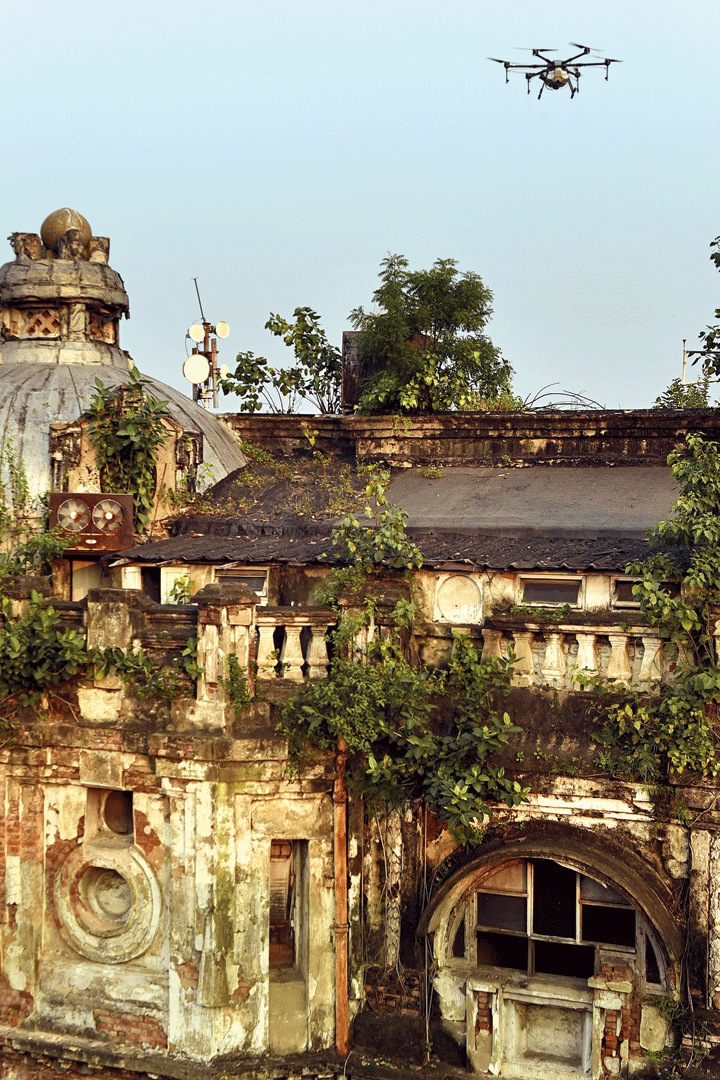 Civic officials have been saying for long that locked properties whose owners stay elsewhere for months are potential mosquito breeding grounds. Terraces where health workers are not allowed to inspect and vacant plots that remain under lock and key have multiple breeding pockets.

An entomologist said that the larvae of Aedes aegpyti mosquito, the transmitter of dengue virus, breeds in clean water that is left undisturbed for seven days or more. Civic health department officials suspect that all places where health workers do not have access to might have several breeding pockets of larvae of Aedes and Anopheles — transmitter of the malaria virus. "The drone will help us to destroy these breeding sites," said the official.
About 3,500 dengue cases have been reported in the Calcutta municipal area since January and about 2,500 of the cases since mid-September, suggesting a massive spurt post-monsoon.
Six people have died in places within CMC's jurisdiction this year and all the deaths were reported after August.
A CMC official said the civic authorities were mulling whether they can use the services of the drone from later this month or early next month.
Somnath Dasgupta, the director of Snaayou Healthcare and IT solutions, that manufactured the drone, had lent drones last year to take pictures of inaccessible places to look for water accumulation.
"The drone that we flew on Thursday has a 16-litre tank. It can fly for 10 minutes. We use two drones with similar features for the operation. While one is grounded and recharged, the other one is launched. So there is no idle time," said Dasgupta.
He said that each of the drones could fly for about three hours every day and cover an area of 1,500sqm.