Don't mix cricket with Teesta: Sheikh Hasina
Hasina confirmed she would be in Calcutta on Day One of the Test beginning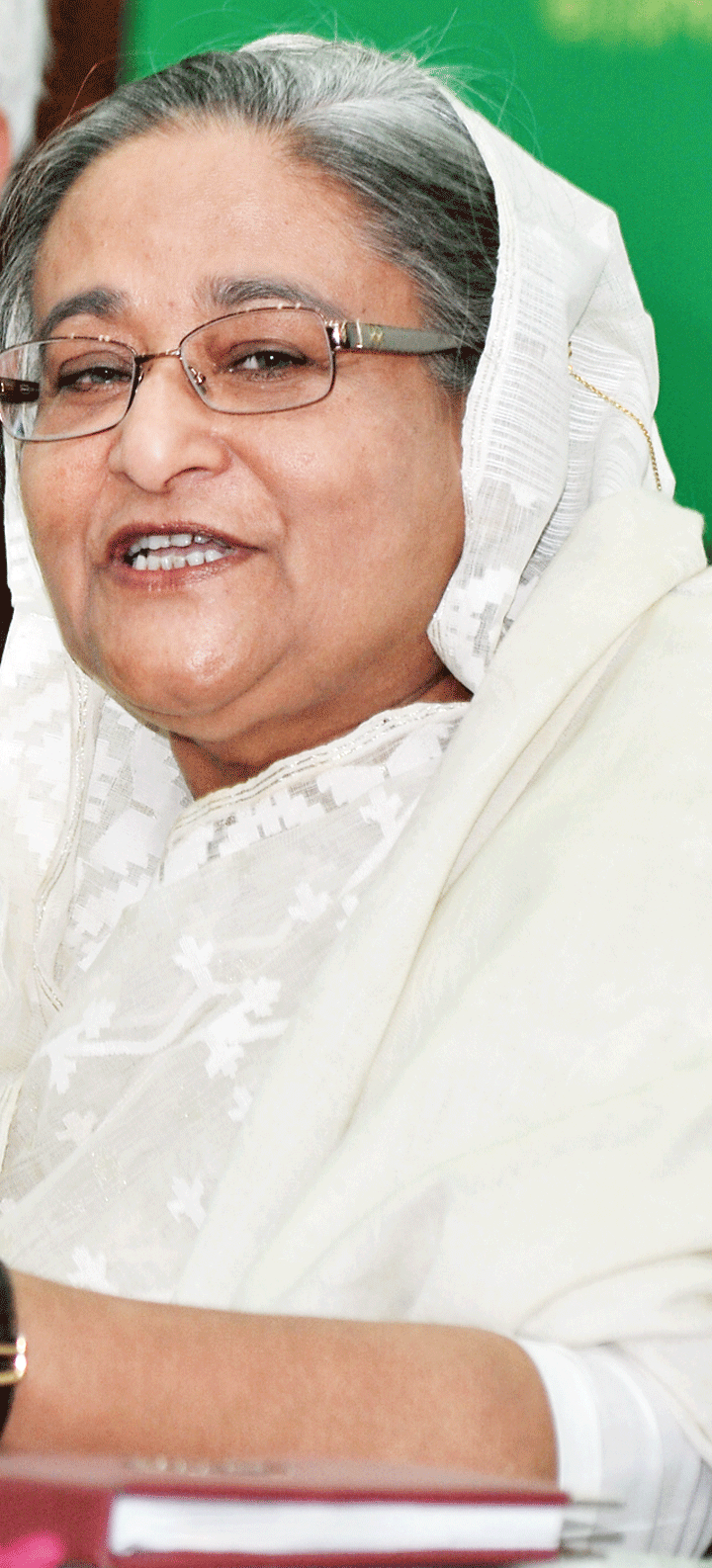 ---
|
Calcutta
|
Published 29.10.19, 07:53 PM
---
If a Bengali invites another Bengali to enjoy a game of cricket, there is no point "mixing Teesta" and pouring cold water over it.
Bangladesh Prime Minister Sheikh Hasina sent out this message on Tuesday as she requested the media to decouple an impending Calcutta visit — to watch the first India-Bangladesh Test match at the Eden Gardens — from the Teesta water sharing agreement.
Hasina confirmed she would be in Calcutta on Day One of the Test beginning November 22 but was quick to add she was coming "only because of an invite from a Bengali".
"Sourav Ganguly was an exceptional cricketer. When he took over as the first Bengali BCCI president, he immediately wanted to speak to me and we spoke over the phone. He gave me an invitation to be present at the beginning of the match. I agreed," Hasina told a news conference at Gano Bhaban, her official residence in Dhaka.
Since Ganguly has also invited Prime Minister Narendra Modi and Bengal chief minister Mamata Banerjee to the game — official confirmation of the duo's presence was awaited till Tuesday evening — there has been speculation in Dhaka on whether the three leaders will try to resolve the Teesta impasse on the sidelines of the Eden match.
The sharing of water from the Himalayan river has been an emotive issue in Bangladesh since Delhi's plan to seal a deal with Dhaka got derailed in 2011 due to Opposition from Mamata. Since then, expectations of a breakthrough on the Teeata arise each time the Bangladeshi Prime Minister meets her Indian counterpart or Mamata.
On Tuesday, Hasina was asked whether any meeting on the Teesta was lined up during her one-day visit for the Test match to Calcutta. The Bangladesh Prime Minister hit the poser for a six in characteristic style.
"I am not going on the invitation of the PM or the CM. A Bengali has invited another Bengali for a cricket match… Why are you mixing Teesta with it?" Hasina said.
"We have discussed it in the past and will discuss it in the future also. There is no point of bringing Teesta into a cricket match and creating bitterness over it," she added.
It was clear Hasina was trying to temper the Teesta expectations. She visited Delhi earlier this month, on October 3, amid expectations in Bangladesh about progress on the Teesta pact but that didn't happen.
Instead, Hasina agreed to a proposal for India to draw water from the Feni river for a drinking water project in Tripura, which led to howls of protests back home. The only progress was an agreement to prepare a draft framework for water-sharing on rivers like the Manu, Muhuri, Khowai, Gumti, Dharla and the Dudhkumar.
The contentious issue of Teesta was also discussed and Hasina was firm on sticking to a 2011 formula the two countries had agreed.
"Because of Bengal's resistance, there hasn't been any progress on Teesta water sharing. The Bangladesh PM is probably aware there isn't any likelihood of an immediate resolution and that's why she has delinked the water issue from the visit," said a source in Dhaka.
Sources in Dhaka said the list of who would accompany Hasina to Calcutta was yet to be finalised.
"It is not a bilateral visit and there is not much protocol involved. The details are being worked out," said a source.